8 Progressive Web Apps (PWAs) we'd love to see in the Microsoft Store
PWAs are the craze right now, and they are super helpful in bringing new apps to Windows devices. Here's a list of PWAs we think should be in the Microsoft Store.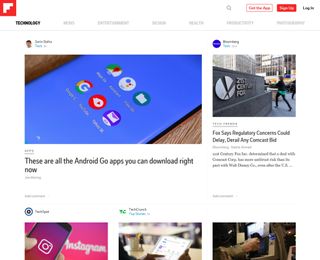 Now that Windows 10 supports Progressive Web Apps (PWAs) in the Microsoft Store, it's time to start looking at a few PWAs that are available online right now and that would be right at home in the Store. Bringing PWAs to the Store is an easy and convenient way for developers to bring apps to Windows 10 without having to port an existing app from iOS or Android. And PWAs are universal, across Windows 10, and other platforms.
Since PWAs are basically just websites that can be accessed on any platform, developers can build a PWA and have that app run on any platform that supports web apps, which includes Windows, Android and iOS. Of course, PWA apps will also help Microsoft in any future mobile efforts, as a lack of apps was one of Windows Mobile's biggest criticisms.
Here's a list of PWAs we'd love to see in the Microsoft Store for Windows 10.
Uber
Uber's Universal Windows Platform (UWP) app no longer works, unfortunately, as the developer decided it wasn't worth updating because not many people used it. Uber has a neat PWA, however. Since Uber already has an app listing, all it would need to do is switch out the UWP with a PWA, and functionality would be restored. Check out the PWA here.
Tinder
Are you looking for a date? On Windows 10 you're not. Tinder unfortunately never built a native app for Windows, but it has a sweet PWA that would work great on Windows 10. Finding a date on your PC could come in handy if you're at work and can't be seen on your phone. Check out the PWA here.
Google Maps and Photos
Google doesn't often play nice with Microsoft, but it would be really nice if we saw Google Maps and Google Photos show up in the Microsoft Store on Windows 10. While many people use Windows, not everyone is part of Microsoft's ecosystem. Lots of people use Google services for things like email and photos, so it would be great to see the Photos app in the Store for users that need it. Check out the Maps PWA here. and Photos here.
Flipboard
Flipboard actually has an app in the Microsoft Store, but it's an old Windows 8 app that's pretty basic. Flipboard could switch out its old Metro app with a new PWA app and update it with native support for Windows 10, with things like the Share menu, Live tile, and actionable notifications. Check out the Flipboard PWA here.
Starbucks
Coffee drinker? Starbucks has a PWA that might benefit you. You can check out all the different coffee on offer, and even sign in to see your Starbucks Rewards. Check out the Starbucks PWA here.
Paper Planes
Paper Planes is a cool little "game" that lets you send a virtual paper plane around the world for someone to open up. You can also catch paper planes sent from other people, and find out where the paper plane was sent from. It's a simple idea and a great example of the kind of app you can build with PWA. Check out the Paper Planes PWA here.
Guitar Tuner
If you play guitar, a tuner app would come in handy. Guitar Tuner is a PWA that listens via your microphone and tells you the Octave of the sound that's playing.Check out the PWA here.
What do you think?
Those are my picks for PWA apps I'd love to see in the Microsoft Store on Windows 10. Do you have any thoughts on PWAs you'd love to see in the Store? Let us know in the comments.
Get the Windows Central Newsletter
All the latest news, reviews, and guides for Windows and Xbox diehards.