Qualcomm's new processors bring premium features to mid-range devices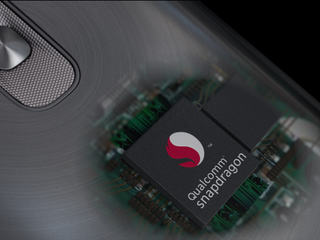 Qualcomm today announced four new processors for mid-range mobile devices.The new Snapdragon 620, 618, 425 and 415 chips will enable features and capabilities previously reserved for premium hardware. The former redefine the Snapdragon 600 series with significant advances in performance with integrated 64-bit ARM A-72 CPUs, as well as the new X8 LTE modem. The 425 and 415 bring new tech like octa-cores to the 400 series.
The new 600 tier chips, the 620 and 618, pull down advanced features previously available in the Snapdragon 800 tier. Consumers rocking devices with these two new chips will be able to take advantage of dual ISP camera, 4K video capture and playback, HEVC hardware encoding, enhanced W-Fi connectivity, and a richer gaming experience. You also have Qualcomm's QuickCharge 2.0 technology thrown into the mix.
The new 400 tier chips are also seeing some notable improvements and we're not simply talking the number of cores available. According to Qualcomm, the new Snapdragon 425 doubles LTE download and upload speeds with the X8 LTE modem (yet another first for the 400 tier) and introduces advanced camera features with dual ISPs, while the 415 processor integrates the X5 LTE modem.
Qualcomm confirmed that the Snapdragon 415 is expected to be inside hardware in the first half of 2015, while the 620, 618 and 425 will arrive in the second half of the year. See the press release below for more details.
Qualcomm Introduces Next Generation Snapdragon 600 and 400 Tier Processors for High Performance, High-Volume Smartphones with Advanced LTE
SAN DIEGO, Feb. 18, 2015 /PRNewswire/ -- Qualcomm Incorporated (NASDAQ: QCOM) today announced that its wholly-owned subsidiary, Qualcomm Technologies, Inc., has introduced four new Qualcomm® Snapdragon™ processors aimed at enhancing user experience and connectivity for high-performance and high-volume mobile devices. The new Snapdragon 620 and Snapdragon 618 processors are redefining the 600 tier with significantly higher levels of performance with integrated 64-bit ARM Cortex A-72 CPUs and the new X8 LTE modem. The new Snapdragon 425 and Snapdragon 415 processors both feature octa-core CPUs, a first for the 400 tier. The Snapdragon 425 doubles LTE download and upload speeds with the X8 LTE modem, another first in the 400 tier, as well as advanced camera features with dual ISPs and high-fidelity audio, while the Snapdragon 415 processor integrates X5 LTE, supporting download speeds of up to 150 Mbps. The Snapdragon 415 chipset is sampling now and expected to be in commercial devices in first half of 2015. The Snapdragon 620, 618 and 425 processors are expected to be in commercial devices in the second half of 2015.
As part of this announcement, Qualcomm Technologies also has extended its flagship brand, Snapdragon, to its discrete modem chipsets, and introduced LTE modem classes (including X8 and X5) across its latest system-on-chip and discrete modem products for mobile devices. The new X8 LTE modem, which supports both downlink and uplink Carrier Aggregation, supporting peak download speeds of up to 300 Mbps and upload speeds of up to 100 Mbps. X8 LTE connectivity supports wideband (up to 40 MHz) downlink and uplink carrier aggregation for the first time in the 600 and 400 tiers. X5 LTE, found in the Snapdragon 415, features integrated 4G LTE Cat 4.
The Snapdragon 620 and 618 processors also include features previously only available in the Snapdragon 800 tier, including dual ISP camera, 4K video capture and playback, HEVC hardware encoding, richer gaming with next-generation Qualcomm® Adreno™ graphics and advanced Wi-Fi connectivity. All of the new processors are designed to enhance the consumer user experience and are available with the latest camera features, amazing download speeds and fast-charging with Qualcomm® QuickCharge™ 2.0 technology.
"It has always been Qualcomm Technologies' strategy to introduce industry-leading features first at the premium Snapdragon 800 tier design point, and then scale these features into our Snapdragon 600, 400 and 200 products, so that we can help our customers deliver great user experiences to cost-conscious consumers," said Alex Katouzian, senior vice president of product management, Qualcomm Technologies. "We are excited to announce the Snapdragon 620 and 618 processors with next-generation graphics, camera, 4K video capture and connectivity, all premium tier features previously only found in our Snapdragon 800 class products. The Snapdragon 620 and 618 also both come with X8 LTE, as does the Snapdragon 425, marking the first time we've supported this amazingly fast speed at the 400 tier."
The new Snapdragon 620 and 618 processors integrate superior user experiences for high-tier mobile devices, while maintaining superior battery performance, including:
X8 LTE connectivity: Seamless, always-on connectivity with LTE Cat 7 modem supporting 2x20 MHz Carrier Aggregation for data speeds of up to 300 and 100 Mbps, in the download and upload, respectively. Single SKU global multimode LTE design capable of LTE Broadcast, LTE dual SIM, and VoLTE
Superior performance: Fast responsiveness, application loading, web browsing and file access are made possible with high-end 64-bit Cortex-A72 CPUs. Snapdragon 620 combines 64-bit quad-core ARM Cortex-A72 CPUs and Cortex-A53 cores; Snapdragon 618 is configured with two ARM Cortex-A72 cores paired with quad Cortex-A53 CPUs. Dual channel LPDDR3 memory increases the memory bandwidth to seamlessly run intensive applications such as 4K video.
Realistic graphics: The next-generation Qualcomm® Adreno™ GPU is designed so users can experience even more realistic scenes and graphics for a greatly enhanced mobile gaming experience at lower power.
Exceptional camera: High quality camera with dual Image Signal Processors (ISP) supporting twin 13MP cameras, gyro image stabilization, enhanced autofocus and local tone mapping to improve image quality beyond HDR.
Advanced multimedia: 4K video capture and playback with HEVC (H.265) for the first time in the 600 tier, along with support for Quad HD (2K) displays and wireless streaming full HD.
Continual, low power sensors: Dedicated Qualcomm® Hexagon™ DSP sensor engine supports real-time, always-on use cases for motion, location, health and environmental sensing, and minimizes the need for an external sensor hub, supporting high performance at much lower power.
Exceptional Audio Experience: Qualcomm Immersive Audio allows consumers to enjoy movies and music with theater-like sound, first-person games with unprecedented realism and fully immersive audio experience without the need for headphones. Also supports High-Fidelity 192kHz/24bit music playback for the most demanding audiophiles and music aficionados.
Qualcomm Technologies also introduced the Snapdragon 425 with enhanced X8 LTE connectivity and premium camera, audio and multimedia features. Featuring integrated 4G LTE Cat 7 with downlink speeds of up to 300 Mbps and uplink speeds of up to 100 Mbps, Snapdragon 425 is designed to support greater network speeds, stability and coverage in the high-volume segment. Together with the Qualcomm RF360™ Front End Solution, the chipset supports all major modes and frequency bands across the globe, including 5-mode, as well as up-and-coming requirements such as dual SIM, LTE Broadcast and VoLTE support. With the Adreno 405 GPU, eight 64-bit ARM Cortex-A53 CPUs and a superior video engine with support for Full HD 1080p playback and hardware HEVC decode, as well as premium multimedia features such as dual-ISP camera and high-fidelity audio, the Snapdragon 425 is positioned to be a leader in the high-volume segment.
As 4G LTE networks ramp up speed and coverage across regions and price points, the Snapdragon 415 processor with integrated X5 LTE helps price-conscious consumers have access to LTE speeds and dependability. Designed for high-volume smartphones and tablets, the Snapdragon 415 chipset supports full HD 1080p capture and playback, eight 64-bit ARM Cortex-A53 CPU cores and Adreno 405 GPU for high quality graphics.
Qualcomm Technologies anticipates releasing the Qualcomm Reference Design (QRD) versions of the Snapdragon 620, 618, 425 and 415 processors, with support for Qualcomm RF360 Front End Solution. The QRD program offers Qualcomm Technologies' leading technical innovation, easy customization options, the Qualcomm® Global Pass which features regional software packages, modem configurations, testing and acceptance readiness for regional operator requirements, and access to a broad ecosystem of hardware component vendors and software application developers. Under the QRD program, customers can rapidly deliver differentiated smartphones to value-conscious consumers. There have been more than 1,080 public QRD-based product launches in 21 countries.
Qualcomm Technologies continues to deliver advanced, high-speed connectivity solutions, through its discrete modem product line, for a wide range of applications, from smartphones and embedded computing devices to mobile routers and automotive telematics. Its most advanced modem chipset, formerly known as Gobi 9x45, has transitioned to the Snapdragon modem brand, and features the ultimate in mobile connectivity – X12 LTE – with up to 450 and 100 Mbps download/upload speeds respectively.
Windows Central Newsletter
Get the best of Windows Central in in your inbox, every day!
Rich Edmonds was formerly a Senior Editor of PC hardware at Windows Central, covering everything related to PC components and NAS. He's been involved in technology for more than a decade and knows a thing or two about the magic inside a PC chassis. You can follow him on Twitter at @RichEdmonds.
Seems no use of Windowsphone line-ups..... Bcoz we still haven't used Snapdragon 410 , 600 , 610 , 615 , 805 , 810 , 210 ...... Then why do we need more and more processors .... Less number of phone models is main reason for slow growth of Windowsphone

I'm hoping Windows Phones at some near-future point will be x86-based now that RT is no more.

Its great for gaming (have you seen Unreal Engines take on mobile gaming)?"Also for higher end video and picture quality. I have the Lumia 1020 but I'm looking for a new variant that will take advantage of a 41mp-50mp camera

They will more than likely be used in the mid and lower range X40 model phones, if they are coming to market middle to end if this year. You have to remember, phones are usually tested for months before release. Not always, but usually.

The new flagship phone, slated for this year is supposed to get an 810.

Yes there is a high-end Lumia with Snapdragon 810 & Adreno 430 coming with Windows 10 Phone

Now mid range devices will be extra bit costly ! Price of 7xx series devices will be near to 8xx series devices !

Hopefully the production isn't much more if anything compared to current mid range chips. A year + should bring the cost down on all tech involved. Might be wishful thinking though.

That's not necessarily true. Productions cost go down over time. At the moment quad core phones are mid tier while still holding mid tier prices, which wasn't the case not so long ago. They aren't introducing new tech, just what used to be high end becomes mid and then later low.

Nope. Qualcomm is trying to increase shipments.

Who says they're increasing prices?

Not necessarily true. A quad core PC with huge hard drive and 4GB RAM is cheaper today than a single core PC with 40GB hard drive and 512MB RAM was 10 years ago.

That's just what I wanted to say. @TJWINS

Thanks everyone for replying. Now I understood clearly how technology evolves.

True but do we want to wait ten years?

You're missing the point lol. Prices have stayed the same if not continued to drop throughout that span.

Hoping these are already slated for upcoming Windows 10 mobile devices.

Wonder if this now brings "Hey Cortana", to future mid-tier Windows Phones.

That's what I was hoping when o read this article...

How are you sure? I didn't see any hint on that on the article. Any other proof?

Considering 830 doesnt have 'hey Cortana,' it seems improbable. I know im going to be assassinated for saying this but it also makes sense to leave 'Hey Cortana' for high-end devices, making it an exclusive feature for an extra reason to invest in flagships ...juuuust sayin' =p

What I have seen of Cortana depending on device but it consumed battery

Ok google feature is on every device nearly..!!

If you have Google Now Launcher than yes but that only works for devices with I believe 4.2 Jellybean which a majority of Android phones are but not everyone has it in android verse. Posted via the Windows Central App for Android

That would be possible, but you would need to get another new mid-tier phones in the future which is by that time, our present high-end phones price will be the same with the new mid-tier in the future.

The Lumia 840 should use SD-620.

And the 830 should've used the 615 already...

That's what I've been saying all along! If the L830 debuted with a SD600 series SOC (for the same price), I would have replaced my L920 by now. SD 400 is fine for Lumia 6xx and 7xx but the Lumia 830, the "affordable flagship", should have had an "affordable" high-end processor which, in my opinion, describes the SD600 processors.

so those snap 600s can do what the snap800s on the camera department like the ones in the 1520 and 930? i don't wanna read those tech things

oh i understand what you mean.... you want more pictures and less words. *sigh

Hope one of these supports passive listening feature required for Cortana

oh yeah, do those snap600s can do Hey cortana, too?

this is quite similar to the new snapdragon 810 especially the 600 series

That's great to hear! I was wondering wither they'll make a successor to the 600 our not.

I'm surprised as it's a rarely used chipset, it appears OEMs preferred the 400 or 800 in 2014. Guess it all comes down to pricing.

Actually, it predates both the 400 & 800, it was all the rage back in early 2013 ... used in over 20 devices.

The 830 would've made a lot more sense if it used a 600 series chip, especially at its price point

Our flagship will probably have a
600

actually the lumia flagship will have the snapdragon 810.

WC mentioned it. Taken from a Qualcomm press release. Dead cert.

Where did you hear this Alex?

If you follow windowscentral regularly you would have known. Can't get the exact post now, but an MS insider had revealed this. Snapdragon 810 lumia should be out within 6 months.

At the Microsoft presentation in January, Satya Nadella himself confirmed the fact that a future Lumia flagship with SD810 is coming later this year.

Another reason to keep my phone for a while longer. I hope you're wrong Someone2639 xD

I know it's an 810, it's a joke

where are the phones ? let me use some alchemy to conjure up some unicorn dust to magically make phones appear from a proccessor announcment ....i'll get right on that

Hope the next "affordable flagship" has the SD810. The 830 really could have been a 920 replacement if only it had a little bit better specs. Yeah I know "affordable" but I dont think $500 for a mid-range is a good buy. Could have atleast had the SD600.

It won't. 940 = 810, 840 = 620 probably.

I think these processors will certainly revolutionize smartphone industry

nope. it's just more numbers. more of the same. they will change nothing. there is no single feature that will significantly change anything. So you got 8 cores now? who cares. You weren't using the 4 you had anyway. so you can capture 4K video? who cares. it will just be larger files that will make you run out of storage sooner. do you have a 4K TV? didn't think so. Even if you do, so what? most people don't give a rat about 4K except videographers and they aren't going to be using a phone, they'll be shooting with an FS7, Red, or similar gear.

4k on a full hd tv dosent seems to be too much diference ... I take most of my videos in fullhd because 90% of the people don't have 4k

Isn't the point of videos so you can watch them later? You know in a few years all TVs will be 4k.

I beg to differ on that. 4K capture has meant that my Lumia 930 can now effectively take quality 8MP images at 30 snaps per second. It has truely redefined what burst-mode meant in photography. Video capture isn't the only use of the technology. That said, the point of video capture is so we can revisit it later, when we do have the means to watch it. Would you enjoy watching a 144p video captured on your old dumbphone now? That's what we would have in the future if people like you have it your way!

To say 4k is useless shows some ignorance on the subject. You may never use it, but recording in 4k will produce a higher quality video over the same sensor recording in 1080p. Even if you scale the 4k video down to 1080p it will be superior to recording in 1080p. Also, to say we aren't currently using 4 cores is also a lie. You can download CPU monitoring apps on Android and see all cores being utilized. Quad and Octa core devices give you the ability to have better or true multitasking, as well. It wont be long and smartphones will be just as capable as desktop OS's, multitasking included. I mean real multitasking, not simply playing music in the background. Lol

So the next lumia 7xx series phones will perform like the lumia 92x/93x series? Awesome!

730 already performs better than 920. 740 will probably not perform better than 930 but it will be quite close. 840 should perform better than 930 though unless Microsoft repeats Nokia's mistakes. That is obviously if we assume they will continue with so many models and that naming scheme.

Really? An 830 doesn't perform as well as an 820 which has the same APU as a 920, so you're saying the 730 performs better than an 830? I am very surprised. Since 820>830 I assume it will be 830>840. The 8xx range is not on an improvement curve, it is dropping so it will fit better with the new WP 'cheap & cheerful' range policy. I expect the 9xx range to stay up there but the 8xx range is clearly not going to be comparable to the 9xx range in core power differentiated by screen, camera & features any more.

In what way does 820 perform better than 830?

new WP 'cheap & cheerful' range policy

There is no such "policy".

I don't know if it actually does outperform 830, but the 820 does have a stronger GPU and it's drawing less pixels. Makes sense it would perform better. The CPU is a tad weaker if all of 830s cores are fully utilized.

Since I'm always buying midrange phones I'm still holding on to my HTC 8S, since I didn't feel like snapdragon 200/400 was worth the upgrade. 415 now seems like a good candidate

Mmmm! But meh, I like high-tier anyway. Better stability and power.

Interesting enough. Here's hoping for a 13xx Lumia with SD62x SOC.

8 cores is worthless spec crap. I rather see higher frequencies as most apps are not going to use more than 2 threads anyway. Also I'm sure windows phone will not support any of these new chips until they are half way into their lifespan so whatever.

This .... Windows phones never adopt latest chips always sporting 400 or 200

You mean lumias never adopt latest chips*

Do you read that it actually using big.LITTLE setting? It's essentially like utilize dual-quad cores depends on performance requirements. So yeah, it does have smaller and higher cores in tandem.

I hope the next Lumia 7xx will come with the SD415 or SD425 and the Lumia 8xx with SD620 .

It's all prmising but it's up to When and How MS picks up nice,latest and robust SoCs for next Lumias. I would like to see one midrange Lumia with SD SoC 620 (ARM 64bit Cortex A72 === Latest and twice as fast as A57) in early days. Though there is a rumor MS is already testing SD 810 (ARM 64bit Cortex A57) for flagship. Lets wait and see!

Remember when SD 600 was top of the line super flagship?

It's almost impossible how quickly technology advances... Can you imagine how it's going to be in 10 years with Qualcomm Snappier Dragon 8k?

'Hey Cortana' here I cum.

Leave your personal stuff out of it sunshine.

Why is everything about midrange lately? I want a new flagship.

Not everything is about midrange for Microsoft. There are also low range and rock bottom range devices.

Let's bring 'em to x40 series lumias with windows 10

How about some low end love as well?

Lol this pretty much is low end buddy. Low barely gets new chips, they just get handmedowns from midrange once they're old. The 400 line is considered low end

High end devices have sd 810.
Mid devices have sd 620 like.
Low devices have sd 425 and 415.
All flagship may be octo core for windows phone 10.
Quad core processor are hit very lower end devices like Lumia 520 successor or 420 series.
So windows user happy 2015.
This is my guess.
I decided to change my Lumia 520 to windows flagship devices.

Low end will get the Snapdragon 2xx lol

This should be just right for the Microsoft "vision" for windows phone

So np "hey Cortana" for any chipset?.

This smells to me like another year of a "flagship Lumia aka 940" and then specs going down with lower hardware....but all we are asking is a "everywhere available " like GS6 or iPhone 6, Lumia ONE with bigger Lumia ONE MAX and smaller more affordable Lumia ONE mini...that will sell like hotcakes while living space for other manufacturers like Samsung, Sony, Lg and Moto to make their own W10 line ups like it is in Android World...amen.

If lumia flagship can ship as much as iphone6....no need of other products....microsoft will go mad, i can bet on that...so better let it be slow shipments

10 years ? Pff. How about 2 years from now :P.

So
Is it okay now to hope that "Hey Cortana" will work on whatever new 7xx series phones come out if they have these chips?

Till microsoft can(if) improve so much shortcomings of windowsphone and came with a new era of windows....i can say these processors are for mighty android phones....

Those model numbers are almost nokia-quality material

Better chips and Waterproof handsets ;)

Will mid range phones get hey cortana now? 840 with hey cortana will be super sexy!

I want to see a high end successor to the 1020 with external sound support. Is that feature processor dependant?

Still waiting for the snapdragon 420

Let's see a neat octacore 64 bit Windows Phone xD

Hope Microsoft uses latest chipset for their phones rather than going for 2 years old chipset.

I belive that Microsoft will skip Snapdragon 410 and will go for Snapdragon 415 I think that will be something like: Lumia 44x: snapdragon 210 Lumia 54x: snapdragon 210 Lumia 64x: snapdragon 415 Lumia 74x: snapdragon 415 Lumia 84x: snapdragon 615 Lumia 94x: snapdragon 810 Lumia 134x: snapdragon 615 Lumia 153x: snapdragon 810

This would be beautiful if it actually happened like this. Hopefully, the Microsoft guys that visit the site take note of this and make it happen.

But Cortex A-72 is for 2016 smartphones! Why?

That's what I heard too! cortex A-72 2016...I read her officially announced http://www.arm.com/about/newsroom/arm-sets-new-standard-for-the-premium-...

Now let's see if Microsoft will bring these new Snapdragon processors in their low range Lumias with Windows 10 onboard. Not that I will ever buy a low-mid range Lumias.

Hopefully, we can see those 600 level chips in this year's 700 and 800 Lumias.

http://www.arm.com/about/newsroom/arm-sets-new-standard-for-the-premium-...

First they will intoduce 210, 410 & 610 with much high prices charged for them....hmmm 830
Windows Central Newsletter
Thank you for signing up to Windows Central. You will receive a verification email shortly.
There was a problem. Please refresh the page and try again.