Quick look – Candy Crush Saga for Windows 10 is super tasty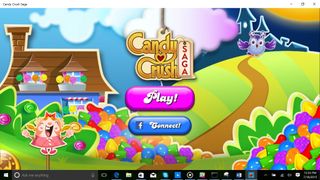 It's no secret that Candy Crush Saga is ported over to Windows Phone and Windows 10 using Microsoft's Windows Universal Platform Bridge aka Project Islandwood. Microsoft revealed the news during their Build event in March, and now it's a reality.
Late in the week, Candy Crush Saga finally arrived for Windows 10. Although everyone in the world can play Candy Crush Saga on their phones or through Facebook, being able to play it as a full app on Windows is a new experience.
So how is it? The graphics are outstanding and look great on those new high-resolution displays, which are so common. Additionally, the app uses the empty sides of the app efficiently by filling them in with your friends.
Don't yet have Windows 10? No worries as you can check out our quick hands-on to see what you can expect. Candy Crush Saga will come preinstalled on some Windows 1 0 machines through the update.
Download Candy Crush Saga for Windows 10 (opens in new tab)
Daniel Rubino is the Editor-in-chief of Windows Central, head reviewer, podcast co-host, and analyst. He has been here covering Microsoft since 2007 when this site was called WMExperts (and later Windows Phone Central). His interests include Windows, Microsoft Surface, laptops, next-gen computing, and for some reason, watches. Before all this tech stuff, he worked on a Ph.D. in linguistics and ran the projectors at movie theaters, which has done absolutely nothing for his career.
This is great, but how does the developer feel about project islandwood? I'm sure they didn't voluntarily opt in to this project.

Of course they did. Microsoft cannot port a company's apps without their cooperation and permission. King and Microsoft worked closely together on this and have been for sometime.

But any ideas as to how they feel about it after the project has completed? Reactions, etc? It would good to hear the dev's perspective on it.

Big companies rarely have feelings.

Big companies can be heartless at times, but King.com takes the crown in that regard (so their company name is well chosen). This immoral bunch thought it was acceptable to sue a promising but poor indie-developer for their use of the word "Saga" in a completely unrelated game. (The Banner Saga). They did this just after they tried to register the words "King" and "Candy" as exclusive trademarks. Let alone the fact that the basic gameplay from their only successful title was ripped from old games like Bejeweled and they also tried to sue a developer for making a "clone" BEFORE Candy Crush was even released. How Microsoft thought it was a good idea to partner up with this evil company is beyond me, but maybe they saw it as a necessary evil to make the Windows Store a bit more popular.

I'm not even disagreeing here with the assertions, however, this article was really more about the prospects of iOS games coming to Windows 10 and how well the "ports" are with Microsoft's bridge platform. There is a very good chance we are going to see a lot of iOS games come over in the next few months and CCS is a stunning example of how well they could look and play. For that, I'm super excited about and is the real meaning for this article.

Even the ios ccs on wp8.1 works really well

Does project Islandwood die if Apple sues Microsoft for API copyright? Oracle won against Google.

no, because its developer who choose to port their apps not apple.inc!

Yes Dan iOS games!! OMG can't wait when iOS apps and games fill the app gap, and I think project islandwood is enough, no need astoria

Isn't there another version of this that is popular? I wonder if they are going to port that over too

You're talking about Soda saga... I guess it depends totally on King's decision to convert it without MS paying them...so it probably won't be ported.

Played it for the first time last night

I don't understand, though, why are there empty spaces to fill? Can't the main screen occupy everything for better view?

You mean modify the level to fill the empty area on the tablet? Then how would that level look on a phone? That way Level 55 on a tablet won't be the same as Level 55 on a phone, would it?

This will add to limited download Mb in India

I hope other developers take the time to port other applications. There are many programs we have, but have limited functionality on Windows and Windows phone.

Come preinstalled? As in bloatware? I understand Windows 10 uses containers for their apps but still, that's clogging up tubes. LOL!

This game was a candy-ified Bejeweled before it took my soul

Is it better than classic bejeweled? I've been thinking about picking this game up.

It's pretty much bejeweled with a different skin. And with a wallet vacuum that rivals Steam Summer Sale.

If you're the type to pay to get to the next set of levels or bug 3 friends each time to play on it's great.

3 fake Facebook accounts and you're done.

Their other games are coming too.

If you can't wait just install Andyroid and play all the King games through it. Just install virtual box 4.3.30 (5.0 doesn't work) then custom install AndyRoid to skip virtual box installation. I believe it supports HyperV also but haven't tested it.

I have Bluestacks and Andyroid n my Surface Pro 2. I would have to say, ny opinion, Andyroid is better. You don't get bugged to pay for the service or download apps once a month like in Bluestacks.

Again, why this is not on Windows 8.1/RT? I thought "Universal Apps" are meant to be universal, not "universal" only for Windows 10.

You thought wrong. That was the win 8 universal apps, we're now on win 10 ones, will only work with win 10.
Their not going to support anything prior to win 10 apart from security patches I assume.

So we have another "Windows Phone 7" situation on our hands? Will be lovely for people with Window RT devices as they cannot upgrade to Windows 10. MS never learns.

RT is a problem. And yes, that pretty much is another WP7 situation. However, sales were really low for RT... I suspect there are a lot fewer RT systems out there than there were WP7 devices. I am speaking as someone who loves the idea of RT and has the devices. I had my mother buy one and it's been great... ZERO malware or viruses! A tech son's dream! But it's hard to expect them to continue to support a dead platform that had almost no sales.

Yea, and as has been mentioned it's pretty much exactly like wp7. It got an upgrade to 7.8, win rt is getting an update later on this year, but we have no idea what's in it! Best can hope for is win10 universal app support, which would be a huge win. But I wouldn't bet on it.
Good devices that did exactly what they meant to and did it well, but not been sold for a while now, and has reached eol.

This is old news. Microsoft has said for a long time there's no Windows 10 for RT. Where have you been? Microsoft learns not to do anything with ARM on tablets in the future.

Not exactly. For RT, sure. For 8/8.1, not so much

Again, really, doesnt take much to bump another misinformed fool...

So, MSFT is in bed with the "company" that sued the guy who made a nearly identical game two years before this game and dedicated it to his deceased mother, to remove his game? That looks good for MSFT. How's my sarcasm?

Never heard about that and I'm sure most mainstream users have not either. Regardless, business is business and that is not Microsoft's problem nor their job to weigh in on the matter.

It has been looking good for Facebook, Google and Apple way before Microsoft. If what you said is true, then the law should be on the side of the other guy. As a matter of fact, the judge would have thrown out the case faster than you say hasta la vista.

Ur too late Mr we played in system through Facebook

The Facebook version is a steaming pile of garbage though, but hey, if you like it like that versus full HD graphics and smooth gameplay, high-five!

I am not sure you need "smooth HD" for match-3 game, though.

It can lag like crazy on the phone with Win 10. Especially when you get a notification banner. Turns to super slow mo.

Tell me more about the ccs lag on facebook?because even on my system with 32 GB ram and all of the ahits sometimes it gets some lag.

Are you the bew hater here?

But you can exploit the bugs in the flash version ;)

If this is universal I guess it will become available for phones when they update to Windows 10?

Or you could go download it on Windows Phone right now...

It's not showing in the search results for me. Edit: But I was able to get it through the direct link: https://www.windowscentral.com/e?link=https2F%2Fclick.linksynergy.co...

On your android phone. Check the play store. /sarcasm

In the US as that's what they call "softdrink"

Awesome...but is this the only one? I mean what other popular games r comin thru project islandwood... Or devs are still waiting for win 10 launch which is just weeks away? Is it released for all devs or still private only?

The project is in beta and invite/accepted enrollment only at this time. My guess (and it is just that) yes, we'll see a mini-flood of ported iOS games to Windows 10 in the next few weeks. Of course, like Candy Crush, we won't even know if it is a port or pure native in the true sense.

Lets hope Hearthstone gets ported over to Windows Phone at least. Now that would be awesome.

@Daniel.... Thanx... Waitin impatiently for those awesome games

Wow, a solid 4.5 in the store. Very nice.

First Treat App to unified billion's OS

Candy crush is not available in Finland, no Phone or pc, damn!

Great! But when we will have new apps to play??? Candy Crush works awesome on Windows but what's the big deal if they don't show the new games to port.

I never played this game before, I'll give it a try now :)

The inevitable comment wishing it had Xbox Live achievements. Not necessary but preferable.

I have Windows 10 installed but cant find the app.

Thats one problem with the Windows Store. You have to search it manually at the moment.

I plaid that game , not my cup of tea and removed it . Not sure why is it that popular ? Try Tank Recon 3D instead , now that's a nice game

So anytime I try to download candy crush, it gives me an error code and says it can't download, anybody else have this problem, I have a Nokia Lumia 640

Of all the great games or apps Microsoft could have used to showcase iOS ports to Windows, they had to pick this terrible game.

Looking forward to see what more this version has compared to the current WP version.

What if crap app developers on crapdroid port their crap to windows 10?? I'm worrying that

I think were all failing our titles here of being Microsoft fans. This is exciting stuff either way.

Devs MUST port clash of clans, and ms will get customers in the Philippines.

Thats good...but its very disappointing that the windows phone port of CCS is completely useless...it doesnt download, neither installs...and even dont run and update...its happening from last 6 months...and many users are complaining in store...but bigger disappointment is that no one is listening...neither microsoft nor king... I was hoping thatvwindows central may raise the voice on that....but i think i was wrong...

why is it very slow on my windows 10?

Candy crush playing through windows 10 tile is super slow now
Windows Central Newsletter
Thank you for signing up to Windows Central. You will receive a verification email shortly.
There was a problem. Please refresh the page and try again.