A quick look at the Inateck MarsBox Bluetooth Speaker
By Brent Zaniewski last updated
There's not much to dislike about the MarsBox Speaker — great sound, cool construction, and exceptional battery life for extended use.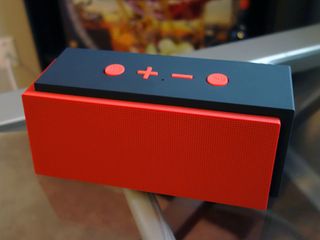 Since the MarsBox is fairly compact in size, you can rock this wireless speaker just about anywhere you see fit. It measures approximately 7.25 x 2.37 x 3-inches and is coated with a soft matte finish that's easy to grip. The front grille is as solid as the rest of the chassis, painted in red to compliment the black behind it. There are 2 anti-skid feet on the bottom that do an excellent job of keeping the speaker in one place as well. The slightly angled top panel adds to its unique design, and is also where you'll find the main buttons for operation. Surrounding the volume buttons are your play/pause and multifunction buttons — all made of a bright red rubber that's easy to press.
On the back of the MarsBox is the power button, microUSB charging input, auxiliary input, and reset/power status LED button. Bundled with the Bluetooth speaker is a 4ft microUSB charging cable and matching 3.5mm cable for a direct connection to your mobile device. The cables are braided with tidy velcro straps to control any excess length — also great for storing when not in use. Powering the MarsBox is a 10W amplifier with dual 8W drivers pushing a frequency of 2402-2480MHz. Its rechargeable 2,200mAh battery provides 10-15 hours of playback on a full charge.
To pair using Bluetooth, simply press and hold the power button a few seconds to make it discoverable to your mobile devices. The multifunction button on top switches between an FM radio — which didn't provide a very sound experience for me — and taking calls over the speaker using the built-in high sensitivity microphone. The volume buttons also work for skipping tracks when pressed quickly.
Pros
Great grip
Good sound quality
Cool design
Cons
Fingerprint magnet
Lackluster FM radio
Bass not very thick
The verdict
The Inateck MarsBox Bluetooth Speaker (opens in new tab) provides acceptable sound quality for its $59.99 price tag, adding style anywhere it goes. Although the FM radio wasn't a great experience, it's not a feature I would have utilized anyhow. If you're after a basic speaker that's easy to function and stands out in design, consider giving this one a go.
Buy from Amazon ($59.99) (opens in new tab)
Lol, I was thinking the exact same :-P

Inateck, sounds like an Office Space reference.

I came to the comment section just to see if anyone else was going to pick up on that.

Shouldn't you guys be working on your TPS reports?

That's what I was thinking... hahaha The speaker's colour is Swingline red too! Not for me though, not enough flair. The lack of bass is ok though, since I'd only be playing Michael Bolton songs through it.

Only thing missing is a door lock.

I just hope no one is angry with their purchase of this speaker that they would take it out to a field to take their frustrations out on it....

Brent theses stats for the speaker make no sense. 10W amp, is that per channel or both combined? 8W speakers, is that what they produce or can handle at top capacity w/out distortion? The threshold of hearing is 20hz to 20,000 Hz, what's all Mhz wording? It seems like you just copied and pasted this stuff or made a crude summary of the manuals highlight of specs and features. Did you do tho after Happy Hour last night? ;-)

Windows central running out of articles

I'd like to see a review of current Bluetooth speakers that have/don't have stereo (two speakers) capabilities.

I rather like how it looks. Good write up. I wouldn't mind this in my backyard shop I never seen this product before so I'm going to check.it.out.
Windows Central Newsletter
Get the best of Windows Central in in your inbox, every day!
Thank you for signing up to Windows Central. You will receive a verification email shortly.
There was a problem. Please refresh the page and try again.