A quick look at New+Rising games for your Windows Phone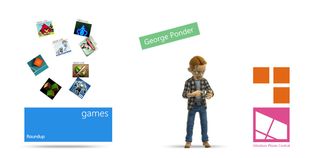 Windows Phone Central's Roundup of New+Rising Games
Sure... you can use your Windows Phone for checking email, making phone calls, taking pictures, and other productive activities. But it's also a great device to play games on.
Couldn't really come up with a good theme for this week's Windows Phone Central Roundup so I decided to pick a few games from the New+Rising list over at the Windows Phone Store.
No rhyme or reason as to which titles made it to the roundup and if you've stumbled across a new Windows Phone game you'd like to recommend, sound off in the comments.
PenguinAirborne (free): PenguinAirborne is a racing game of sorts that involves skydiving. You compete against four other penguins to see can reach the ground the quickest without going splat.
As you fall, you can tilt your Windows Phone left or right to try to catch bonus items as you plummet to earth. Last to hit the ground gets a bomb dropped on them, ending the game for that penguin. Survive all five rounds, you get promoted and move on to the next level.
PenguinAirborne isn't a feature rich game but it's still a nice way to pass the time with. PenguinAirborn is a free, ad supported game for your Windows Phone that you can land here (opens in new tab) in the Windows Phone Store.
Egg Man Rally (trial/$.99): Egg Man Rally is a Windows Phone game that will test your speed and balance. You are racing a buggy across a hilly course, maintaining balance and avoid bouncing your egg out of the buggy. Balance is maintained by forward and reverse, on-screen controls.
You can modify your buggy suspension and weight balance to better the odds. The game spans race courses in eight Countries and each Country has six courses. Egg Man Rally also has online leaderboards through Scoreloop.
Again, not many features to this game but Egg Man Rally has nice graphics, fun game play, challenging physics and is nice addition to the Windows Phone gaming library.
There is a trial version available with the full version of Egg Man Rally running $.99. You can find Egg Man Rally here at the (opens in new tab) Windows Phone Store.
Fingerball Free (free): Fingerball wasn't exactly what I expected but it's ends up being a simple game that has an odd addictive quality to it. Gameplay is about as simple as it can get. Tap the ball to bounce it in the air and keep tapping it to keep it airborne. If the ball hits the ground, game over.
There are six different scenes to compete in and six different difficulty levels (harder the difficulty, the smaller the ball). Each tap earns you a point and naturally you try to earn as many points as possible. The game sounds easy but it's more challenging than you would think.
Fingerball has online leaderboards and if you achieve the high score, you'll earn a champions cup. When someone tops your score, you lose the cup.
Fingerball is a free, ad-supported game that you can find here (opens in new tab) at the Windows Phone Store.
Sparks (free): Sparks is an interesting puzzle type game for your Windows Phone where you have to guide a light through a maze of tunnels while avoiding various enemies. Along the way your light or spark needs to light torches (black little lighthouses scattered about) and can collect floating shards to regain health.
A virtual joystick in the bottom left of the screen is used to guide your light. A combat joystick sits in the bottom right to give your light a burst of speed to destroy your enemies. Sparks is a minimalistic type of game that has it's fair share of challenges. It is a multi-level game and not a bad way to pass the time with.
Sparks is a free, ad-supported game that you can find here (opens in new tab) at the Windows Phone Store.
Obsessive Collecting Disorder (free): Obsessive Collecting Disorder is a multi-level platform game for your Windows Phone. You have to guide your character through a maze of dangers, collecting coins along the way. Collect all the coins and you're transported to the next, more challenging level.
Left and right movement is controlled by tilting your Windows Phone. The more you tilt, the faster the little stick figure goes. When you're ready to jump, just tap the screen.
Obsessive Collecting Disorder has seventy levels spread across seven stages. The only downside to this is that if you leave the game, you have to start each Stage at the first level. Some of the levels can be tough so it sucks to have to replay them instead of resuming where you left off at. It reminds me a little of Shift 2 but will less of a puzzle solving element.
Obsessive Collecting Disorder is a free, ad-supported game and you can find it here (opens in new tab) in the Windows Phone Store.
Again, no rhyme or reason behind selecting these games from the New and Rising section of the Windows Phone Store. I did begin to try Trick Shot Bowling (opens in new tab), which looks like an interesting game, but it kept crashing right after the start screen.
Of the bunch, Egg Man Rally was the most enjoyable but each game wouldn't be a bad way to pass the time with. If you've spotted a New+Rising game that you would recommend, jump on board and speak up in the comments.
Windows Central Newsletter
Get the best of Windows Central in in your inbox, every day!
George is the Reviews Editor at Windows Central, concentrating on Windows 10 PC and Mobile apps. He's been a supporter of the platform since the days of Windows CE and uses his current Windows 10 Mobile phone daily to keep up with life and enjoy a game during down time.
When are we going to see games that are as good as ios\android like nova

Here in italy we can see the gameloft's games spot in the highlights page of xbox games app... i don't know if in the other country is the same, but this make me hope that nova and co. are near the corner...

we have it here in the US too. for 7.5 and 8

Nova wasn't my favorite either but that was just an example.

most games WP 8 is awful. Sorry but it's true. I have nokia lumia 920 and i'm disappointed from apps and games.

For these games i can still use my good old 710, why did we need the Qualcomm S4 if there aren't any good 3D games?

That's what I'm sayin. Seems all these game are just recycled clones. *shrugs*

Tilt controls are the scum of the earth.

Little mouse and paper dash are good

Paper Dash is kinda fun, but took me a little while to get use to the controls (kinda wonky). I also like a new game Wake Woody; and although not a new game, I really enjoy Pegs 'n Holes.

Lately I've been playing unicorn savior. It a nice little game but a bit pricey considering what you're getting. I enjoy music in that game.

I don't know why but I love this http://www.windowsphone.com/en-gb/store/app/donkey-classic/81aea352-ae91-4e0c-b96e-441ea8f0ab64 Retro from 1981, the first PC game apparently but I wasn't even born! Just like the way the donkey laughs when he wins.

I like how ½ of these only have like 1 star reviews etc because they crash on start up etc..... Great recommendations haha

I didn't know ½ was 5 out of six. Go back to school. Only one has lower then 2 stars. All the rest are rated 3 stars or more.

Looks like you can neither count or read! I said 1star reviews, not the overall score out of 5*.
There are 6apps highlighted and 3 (½ last time i checked) have poor reviews etc so get your eyes tested before going off on someone

Check again, only Trick Shot Bowling has below three stars, sitting at two stars. Problem is that they have so few ratings this story can change that by the hour. Moral of the story, chillax all.

And from my phone it shows 3 apps at being at 1*(bowling),1½*(penguin) and 2*(fingerbowl) which isn't good from what I can see. But as I said before, I was commenting on individual reviews not overall

If you look at the reviews people only really rate 5* or 1* and nothing in between, you should take them with a pinch of salt download them yourself and make your own mind up, they're free after all. Its also worth noting that reviews are per region so it might only have 2 ratings in one country but 200 in another.

Check out Metrogue! Great award-winning game. The trial version is enough to play through the entire game with no important restrictions but I bought it anyway to support the author and get into the net ranking.

http://www.windowsphone.com/en-us/store/app/metrogue/b7927fca-3069-4e18-...

HINT: Don't try to attack stuff until you find a weapon!

stupid market fragmentation. many of popular applications is not available in Russia, Brazil, Italy and others. not fair

Where is Halo Mobile and Age of Empires RTS; Make it happen. I already played these stupid games years ago on my 3gs.

Undead carnage is fun had the demo when it was out. Its plays like Devil May Cry. It's addicting.

Everybody should get the Snes8x for WP8. An awesome Snes emulator that is also available as a Windows start-app.

Doom and Destiny should be rising. That game is fun! Just save a lot because stability is an issue

ColorBlast is a very good color matching /bejeweld style game. Ad supported only, but it is free and has realtime online leaderboard play as well.

I'm going to vouch for Egg Man Rally. Such a good game. I've spent hours playing it. Well worth the money. If you see Bobbyeggo on the leaderboards, that's me. :P

Let me see... No one is this list is available here in Brazil!! :( Please, devs, if someone is reading this, I know how to publish your games in here and I can help. (@guilhermemanso on twitter)

GuilhermeManso...Is there anyway that you can search Bing for the app to get the developers website, and then click on the Contact Us link to contact them about said app? I find this method effective as I've always gotten responses from developers via email (most recently 10Tons, who have several games on other platforms, and recently Windows 8, and within a couple of weeks, WP8).

It's possible that developers aren't visiting fan sites such as this and will only respond to inquiries when you contact them via e-mail or Twitter or Facebook.

I already do this for quite a while. The problem is that many large developers and producers are not accessible. For example, the Gamehouse: If we count the Realnetworks games published include 13 games. I've tried contacting him 7 times, not counting the various tweets. And none of them I got a correct answer. They've always been reported that has no knowledge of these games for Windows Phone. I spoke in a chat. I would very much like to speak with EA Games as well. All of them already have ESRB certificate, then it would be extremely easy to publish games on my country, but I never get a response from them on social networks, and the site is very difficult to get any info!

Titan, Pumpkin Smash, and 3d Brutal Chase are good.

From the last: Decoy (reminds Jackal), omgTangram, PiggySpanker, DragManArds, Linergy, Hamstas'n'Kitties.
Windows Central Newsletter
Thank you for signing up to Windows Central. You will receive a verification email shortly.
There was a problem. Please refresh the page and try again.