A quick look at the upcoming Podcast Lounge update - now a valid solution for podcast support in Win Phone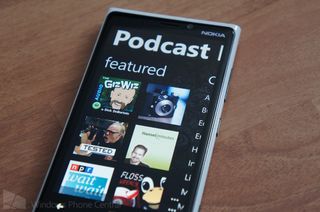 Podcast Lounge, the name sounds familiar, right? It should as the app was previously branded BBC Podcast Lounge, which is highly rated in the Windows Phone Store. Due to some legal entanglements with the BBC, Igneous Software has tasked itself with rebranding its app, along with improving the catalogue of podcasts available and implementing new features.
We've been playing with the beta (now into revision 3) for little over a day and are impressed with what we've seen so far. So what can you expect to see in the upcoming version when it's released and available to download? We'll quickly run you through what's new and initial thoughts on improvements applied to the experience.
But first, what's the deal with the BBC? If you're out the loop, we've previously looked at the issues Igneous Software has had to either solve or workaround and the upcoming version of Podcast Lounge is the polished result of effort poured into development. On a basic note, it was revealed to us complications have arisen between the BBC and the company regarding compliance with the corporation's third-party business license.
Now it's time to check out the update.
Say hello to the new Podcast Lounge
Podcast Lounge is the revamped offering from Igneous Software, which expands on the previous BBC focused app. The current version is already a seamless experience and offers solid foundations for Podcast Lounge to be further developed.
The catalogue of podcasts has been bumped to over 20,000 podcasts. It's now a valid solution for those who can't enjoy native podcast support in Windows Phone. Podcasts can even be added manually using RSS feeds, should the collection of bundled shows not suit your requirements. If you're a major podcast listener, Podcast Lounge does offer a unique feature - the ability to pause and resume playback at a later time (the app remembers the play position).
A rich search system is implemented that enables users to find even the most obscure podcasts. We've had no issue locating shows we've missed or would like to tune into. As well as locating programmes, overall app performance has been improved and a number of bugs have been addressed. Full download and offline playback functionality is pulled across for those who hop in and out of signal coverage or endure long journeys.
The Windows Phone Central Podcast is also featured too!
Here's a changelog detailing everything that has been altered or implemented over the course of the beta thus far:
Totally new podcast library engine offering over 20,000 programmes
Unique Podcast search facility that's unbeaten on Windows Phone
Added support for remembering play position both inside and outside the app
Added multi-selection facilities to the download manager
General performance improvements across the board
Can handle deletion of playing podcasts
Revised status text on episodes now shows playback status
Improved buffering notice on player screen
Added support for programme website links
Disappearing downloads issue identified and corrected – facility added to recover lost downloads
Added ability to get to original programme from the downloads section
Added "My Library" support allowing users to specific their own RSS feeds
Improved panorama by allowing headers to scroll like Zune
It's quite the update, with the main focus being the rather large collection of shows available. As stated already, we've been playing with the latest beta for some time and have found the experience to be top notch. The manual podcast management, rich search system, offline playback with download manager and solid stability makes Podcast Lounge a perfect podcast solution.
We'll be sure to update you all once the app update has been submitted to the store. For now, you can download the current version of Podcast Lounge for $1.99 from the Windows Phone Store.
Windows Central Newsletter
Get the best of Windows Central in in your inbox, every day!
Rich Edmonds was formerly a Senior Editor of PC hardware at Windows Central, covering everything related to PC components and NAS. He's been involved in technology for more than a decade and knows a thing or two about the magic inside a PC chassis. You can follow him on Twitter at @RichEdmonds.
FYI, the trial does not let you download episodes. But you can stream.

Microsodt Research released BLINK, the one they promised in September

http://www.youtube.com/watch?v=gRr21h5PHW8&hd=1

Does this app
a) auto download podcasts in the background while you're charging and on WiFi (and remove old podcasts at the same time)
b) insert the downloaded podcasts into the default music player
Those two things are essential to getting a podcasts experience comprable to WP7 (and iOS for that matter)

Hi geoken,
In answer to your questions:
a) It does auto-download podcasts in the background even when the app isn't loaded. At present it doesn't remove old podcasts, but we're looking at adding support for this in an upcoming version.
b) We do use the Music+Video player to play the podcasts (which means you get valid history entries etc.). We unfortunately cannot write to the phone's music store (API limitation), meaning that the downloaded podcasts can only reside within the app's isolated storage.
Richard

So basically this app does what our phones should already be doing oh and a larger library

Wish they made a Win 8 version that was synced with my phone. Then it would really plug the gaping hole MS left.

I've used this app before but only briefly as I have little interest in the BBC apps. I really hope it can offer a better experience from current podcast apps as I'm not really happy with any of them. I currently use Podcatcher and while it offers some worth-while functionality, resuming a podcast is just completely broken and I often find that going back to listen to a podcast will just reset to the beginning. This is also impacted by Whatsapps shitty use of the audio API.

Everyone try wpodder. It has working restart from where you left off and it integrates with gpodder so nicely that you can have a one stop account with all your subscriptions on. Give it a look!

I'm missing something here. I love podcasts and am always looking for something better than the built-in solution, but what is the gaping hole that MS left here, and what does it do that my phone doesn't already do? I'm missing something pretty obvious I know, but I'm pretty happy with what's built into my HTC 8x & it runs podcasts pretty rock-solid. Thanks for filling me in!

The built in Podcast feature and storr is only really available to those who live in the US.

Thought as much. So typical of MSFT to shoot themselves in the foot in this manner! Thank you!

Windows Phone 8 does not let you specify an RSS feed for a Podcast that is not registered in the MS database. That is one of the gaping holes this will fill.

Bought the Podcast Lounge app - not impressed - I can't beleive it can't play Video podcasts - important point not covered in the review above. I'm sticking to WPodder - still the best solution out there. If WPodder can find a solution to auto download episodes in the background while charging it would pretty much be the perfect podcast app for me.

I downloaded Podcast Lounge this weekend and found it to be yet again an incomplete podcasting solution for wp8. As of now I cannot find any way to download new episodes. The feeds are supposed to update automatically while charging, but the notes say that is only for 7.5 and there is no current support for WP8. That wouldn't be so bad if I could manually refresh the feed, but I don't see an option for that anywhere.
For now I'll have to stick to WPodder but I much prefer the user interface of Podcast Lounge. WPodder also has stability issues which I haven't seen in Podcast Lounge, and WPodder refuses to recognize some of the RSS feeds I typed in. Podcast Lounge is the only one out of 5 or 6 podcast apps for WP8 that was able to load in every feed I formerly listened to on my iphone. I urge the developers to keep working on this. You are so close to having the hands-down best WP8 podcast app.

Yeah I'm a bit disappointed about the lack of background downloading in WP8. Really wanted an app to automate the whole process. It is mentioned on the Store so I can't complain and I'm sure Igneous software is trying to fix this ASAP.
Should have been mentioned in the review.
Looking forward to the all singing dancing version.
Windows Central Newsletter
Thank you for signing up to Windows Central. You will receive a verification email shortly.
There was a problem. Please refresh the page and try again.