A quick look at Xbox Game Pass cloud streaming (xCloud) on the Xbox PC app
Game Pass cloud streaming comes to the Xbox app.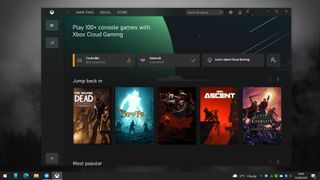 (Image credit: Windows Central)
You've been able to stream Xbox Game Pass cloud gaming titles to your PC for a fair while now, thanks to the browser version (found via the Xbox.com/play (opens in new tab) website). However, a new update to the Windows 10 Xbox app for users who are part of the Xbox Insider Program can test the first iteration of Xbox Cloud Gaming and Xbox to PC console streaming from within the app. The console streaming aspect sets it apart from the web-based version, which does cloud-only.
For those who aren't in the program, I decided to go hands-on for a bit this morning to offer some impressions. I have to say, I'm pretty impressed with how well Xbox Game Pass cloud gaming works thus far. You can always check the requirements for Xbox Game Pass cloud gaming here, and learn how to join the Xbox Insider Program over here.
Xbox streaming on PC: Hey, it just works
The timeless words of our lord and savior Todd Howard feel apt to apply to Xbox Cloud Gaming on PC. Indeed, it just works.
If you're part of the Xbox Insider Program on your Xbox console, you should see a new console connectivity button in the top right corner, next to the search bar. Additionally, you should have a new "Cloud Gaming" menu in the Xbox Game Pass section, beneath the main banner.
A tap on the cloud gaming section brings you to the above menu, showing your connectivity strength, connected controller, and the menu of games you have available to play.
Indeed, this is still cloud gaming and comes with all the expected limitations therein. If your home Wi-Fi isn't good enough for Xbox Game Pass on your phone, it probably won't be good enough for cloud gaming on your PC either. Microsoft has recently upgraded their cloud servers to Xbox Series X-level hardware, though, offering boosted speeds and more rapid video encoding. The performance delta between the current servers and the state of the servers last year is truly massive, and despite having a pretty rough network environment where I presently am, I found the experience to be more than viable.
My laptop doesn't have the best network card in the world. I was recently invited to a game preview, but was unable to attend due to my network quality. The company was using competing cloud provider Shadow to let previewers remote in and play games from the cloud. Based on my Wi-Fi where I presently am, it was just too laggy and choppy to get any sense of how the game played. As such, I'd expected Xbox Game Pass cloud gaming to offer a similarly laggy experience here, but it was not the case.
I tried a few games out and I was once again reminded of Microsoft's prowess in the cloud space. NieR:Automata ran near-flawlessly, hitting 60 frames with ease. I could feel the added latency from using a Bluetooth controller coupled with my less-than-ideal network environment here, but it was completely playable and very easy to adjust to. I also tried out the new console-to-PC streaming feature, and found that it provided a similarly great experience — far superior to that of the old Xbox companion app, which is due to be retired in Windows 11. For those who want a better experience, configuring your home Wi-Fi to force a 5GHz SSID can improve the experience in some cases. In my scenario, I'm simply physically too far away from the router for it to be completely flawless. Despite these hurdles, Xbox Game Pass cloud gaming remained completely viable.
The Xbox app doesn't seem to be navigatable using an Xbox controller at this time, which is a bit of a miss considering you can't use a mouse and keyboard to play any of the games available on Xbox Game Pass cloud gaming. I'm sure that will come in a later update, though. What is interesting is how the cloud portion uses the Xbox Game Bar for its menu system, instead of the Xbox guide menu. Typically, when hitting the nexus button on your Xbox controller while in the cloud, you're given a slimmed-down Xbox menu inside the game. Xbox Game Pass cloud gaming for the Xbox app (try saying that fast three times) is platform-aware, and instead opens up the main Xbox Game Bar PC overlay instead. From here, you can quit out of the game, and also set it up to take captures and screenshots of the game being played. Although, it will also record any performance degradation too, since it's a window capture, rather than a server-side capture.
Does cloud streaming on PC make sense?
I have a Razer Blade 17 Pro with an RTX 2070, which has served me well for PC gaming for some time. You may be wondering, "Well, what exactly is the point of cloud streaming for anyone who has a gaming PC?" There are some pretty nifty benefits for doing so. First, I can play the Xbox versions of games, complete with cloud saves. For Pillars of Eternity for example, it downloaded my save files from the cloud (included as standard with the Xbox platform), and let me continue from where I was. Second, I didn't need to install the game. It booted up in seconds from an Xbox Series X-based cloud server, somewhere local to me in Europe. Third, in the summer months, my laptop gets bloody hot, and I mean, turn my office into a sauna kind of hot. With Xbox Cloud Gaming, the fans don't even kick in. This is a low-power option, and therein lies the main point.
Even if you have a beefy gaming PC, many, many, many gamers don't. Especially younger gamers often have laptops oriented around schoolwork rather than gaming, which has doubtless contributed to the proliferation of low-intensity games like Roblox and Minecraft. Bringing console-quality gaming to the masses wherever they are, regardless of what device they're using, is a cornerstone of Microsoft's growth strategy for Xbox.
Streaming games to phones from Xbox Game Pass is problematic for a number of reasons. Pairing a controller with your phone, adding in one of the Xbox controller phone clips, then squinting at the tiny fonts designed for larger displays form a host of ergonomic issues with cloud gaming on mobile. Future games and cloud-aware APIs will solve this problem to some degree. But as of today the library plays better on a larger screen, making low-power PCs an ideal place for Xbox Game Pass to grow and thrive.
I've written recently about how bad the Xbox app on Windows 10 is overall, however. Owing to slow speed and thin features. Cloud streaming definitely helps the app's toolkit, and puts the final nail in the coffin of the old Xbox companion app from the Windows 8 era. In the case of cloud gaming, though, the app does exactly everything it needs to do. Once you're in a game, the extraneous features don't matter; the app fades into the ether and you're transported into another world. And in that, Xbox Game Pass cloud gaming delivers.
Infinite games
(opens in new tab)
À la carte gaming

An absurdly great service with absurdly high value, Xbox Game Pass Ultimate gives you an absurdly large amount of games to play for an absurdly low price. It's absurd.
Windows Central Newsletter
Get the best of Windows Central in your inbox, every day!
Jez Corden a Managing Editor at Windows Central, focusing primarily on all things Xbox and gaming. Jez is known for breaking exclusive news and analysis as relates to the Microsoft ecosystem while being powered by caffeine. Follow on Twitter @JezCorden and listen to his Xbox Two podcast, all about, you guessed it, Xbox!
Great article, good stuff this cloud gaming. Now they should add cloud gaming as an enhancement to all xbox games on console and pc. They could boost fps, raytracing, load times and more.

Cloud Streaming on the Steamdeck with Windows 11! It's literally a portable Xbox in all but name!

Cloud streaming could give a second life to all Xbox One consoles currently out in the wild. Imagine a case where, rather than buy a Series X or S, you just stream the Series X enhanced versions of games to your old XB1 or X1X. Then you take your time to upgrade to later on when it's more readily available.

This should be out already, seriously. I don't think MS will have a problem with this. They're keeping people on Game Pass, what's not to like? It's still a win

Bluetooth controller barely add any latency VS a wired.

Hmm, maybe it depends on the BT radio or CPU in the device. I have seen huge amounts lag compared to using an Xbox Wireless Dongle.

Can you stream Free Games like Apex Legends and Fortnight?

Only if they are installed on your Xbox console, which must be connected to the app via console-streaming. Cloud-Streaming works only for selected games from the GamePass Subscription Service

I have one thing to add that's kind of frustrating. Using the new Xbox app cloud streaming feature to stream to your local console still treats it like a cloud console. Specifically, it cuts you off for inactivity in just a few minutes. You'd think since it's my own console, I wouldn't get cut off, especially when streaming on the local network. I've used the side-loaded Xbox streaming beta app (since the Console Companion app doesn't do Series X|S) and don't have that problem. I hope this is something that's addressed in future updates.

Sounds like something for the feedback hub?