RadarScope review: An extremely detailed weather app on Windows 10
Whether weather is your passion or profession, RadarScope coming to Windows 10 is good news.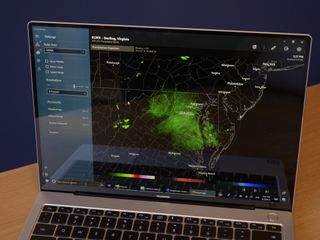 Extreme weather can pose a risk to health and also affect any plans that are outdoors, especially with hurricane season in full effect. If you're trying to stay up to date, then you might want a more detailed set of information than you get in most weather apps. RadarScope is a powerful weather tracking tool that lets you see an incredible amount of detail on your PC.
The app is available for $29.99 on Windows 10. There are also versions available on Android (opens in new tab), iOS (opens in new tab), and MacOS (opens in new tab).
(opens in new tab)
$30 (opens in new tab)Bottom line: RadarScope is a detailed weather map for enthusiasts and people seeking highly-detailed meteorological data.
For
Powerful weather tracking
Option to choose weather sources
Support for subscription services
Extreme detail
Before you scoff at the high price tag, remember that this isn't your average weather app. You won't see a weekend forecast with a beautiful Live Tile. Instead, what you get is incredibly detailed weather information. For example, you can view NEXRAD Level 3 data or Level 2 Super-resolution radar data. You can track the eyewall of a hurricane, see detailed tornado information, and track other detailed information from NOAA, AllisonHouse (if you have a subscription), and more sources.
You can use the app to keep track of extreme weather around supported areas and also save favorite locations.
RadarScope is aimed at people who are passionate about tracking weather information whether they're using it for professional use or as a hobby. The interface of the app will take some getting used to for people who haven't used an app like this before, but the amount of information you can track is incredible.
One thing that you'll notice right away is that RadarScope doesn't smooth out radar information. You're getting raw data that you can interpret and digest yourself. I'm by no means a meteorologist, but it's fun to browse through the different information and notifications that the app offers.
Just a bit behind
While the Windows 10 version of RadarScope is powerful, it's been a bit behind its Android and iOS counterparts at times. Both the pro tier one and pro tier two were unavailable in the Windows version for a long time after the app's release on Windows 10. Luckily, these are available as options now. With these, you get dual-pane displays, hail contours, and cross-platform support among many other things. The tiers do require a paid annual subscription, but having the option is nice.
RadarScope has gained the pro features of its iOS and Android siblings, but it's unfortunate that the developement of the Windows version of the app seems to be behind.
Overall thoughts
RadarScope isn't the type of app I'd recommend for everyone. It's a niche app that provides an incredible set of data to people who care about heavy-duty meteorological data. To those types of users, the relatively high price tag for RadarScope is worth it.
It's a little disappointing that some features ship to the Windows version later than the iOS and Android version of the app. But the pro tiers are available now on the Windows 10 version which is a welcome addition.
Detailed weather
(opens in new tab)
Specialized weather information

$30 at Microsoft Store (opens in new tab)RadarScope is a detailed weather map for enthusiasts and people seeking highly-detailed meteorological data.
Updated September 2, 2019: We updated this article with our new format for reviews and information about the pro tiers being available.
Windows Central Newsletter
Get the best of Windows Central in in your inbox, every day!
News Writer and apps editor
Sean Endicott brings nearly a decade of experience covering Microsoft and Windows news to Windows Central. He joined our team in 2017 as an app reviewer and now heads up our day-to-day news coverage. If you have a news tip or an app to review, hit him up at sean.endicott@futurenet.com (opens in new tab).
Why so expensive? The Android app is $9.99 while the Windows 10 app is $29.99

because Nadella think we are richer than android or ios users

Nadella has nothing to do with what a developer sets their prices at. Microsoft takes less of a cut than other app stores as well so that comment seems very confusing.

I'm not sure why the price difference, but this is by far the best radar app I have used, without spending hundreds and a subscription. I am really quite happy with my purchase. Is it possible that this version has the Super Res and the Android does not without upgrading?

It's the same price as Mac OS.

The macOS one is also $29.99. Desktop software is just more expensive for some reason ¯\_(ツ)_/¯

You're forgetting that the Android version also has IAPs which the Windows 10 version doesn't.

It's the same price as Mac OS.

Join us at /r/Radarscope for more info and discussion about the app. It's a great product that I've used for years on mobile. I'm super glad it's available on desktop now. https://reddit.com/r/radarscope

Other weather radar software at this level of detail runs about $60 to $80 so it actually is a great deal. I was happy to see it become a part of the Windows Store. Shows some growth.

Surprised it's not mentioned in the review, but it seems the developer built Windows 10 RadarScope in UWP: no icon in title bar, no permission to access all system resources, Hub support. A nice small slap in the face in the UWP hatefest often seen around here.

This is 2018, not 1999. Apps are not $30.

I wouldn't consider this an app, this is software. Pretty powerful software.

An app os software. What you call program or software are in fact applications by definition.

That is why indies or startups, smaller capitals now have hard time competing with older or bigger players on AppStore and PlayStore.

Worth every penny IMHO. I have been looking for high endish radar software for quite some time, but could never justify the cost, or the subscription many have. Not only is the price of this great in comparison, it is super easy to use as compared to "high end" weather software.

Do you like being paid money for your job?

RadarScope is by far the best radar app on the market to date. It is simply unbeatable. The Windows and Mac apps are $30, but it's worth the price.

I was just looking at that matebook pro, DAMN Huawei needs to make a 2 in 1 version of that with pen support. HELLO HUAWEI

Very expensive. If this can replace Weather app with live tile support, I would buy. Microsoft weather app live tile is still broken...

Just use windy.com for free, I'm amazed they provide such functionality for free and don't know why they do it.

nice post
thank for this site
https://www-nbiclearancecom.com
Windows Central Newsletter
Thank you for signing up to Windows Central. You will receive a verification email shortly.
There was a problem. Please refresh the page and try again.