Radiohead's 'A Moon Shaped Pool' is now available on the Microsoft Store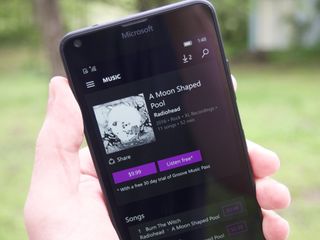 Radiohead's latest album, A Moon Shaped Pool, is now available on the Microsoft Store. The band's first album in five years was released over the weekend, and you can purchase it from Microsoft for $9.99, or listen with your Groove Music Pass subscription.
In addition to the Microsoft Store, you can also get the album directly from Radiohead for $13, which you can download as a 320kps MP3, or a 16 or 32-bit WAV file. All told, the album features 11 tracks, for a total of 53 minutes of new music.
Get A Moon Shaped Pool from the Microsoft Store (opens in new tab)
Windows Central Newsletter
Get the best of Windows Central in in your inbox, every day!
Pulled down the .wav directly from Radiohead this morning. Groove still won't recognize it. #SadTrombone

You mean to incorporate it to your collection through the metadata? Weird, as the album is available it should do it automatically. I never understood how that works, sometimes there's albums that are correctly scanned even when they are not available through searches in Groove, and sometimes there's no way to add them.

Just launched Groove and searched for album info and it found it!

Please correct the article text in the main page, it says "Google Play Music". We understand you copy and paste text but please change it, it looks sloppy and unprofessional.

Lots of other bands have released music there too!

It seems kinda strange to focus in on one album...even if it's the writer's favorite.

FYI, it's a 16-bit or 24-bit WAV file. Support Radiohead and buy it from their website. Awesome album, btw. I've ordered the physical CD (arrives later) and 24-bit WAV files which I then converted to FLAC for use on WP/DAC & dedicated High-Res DAP.

Correct. I paid $19 for the 24-bit .wav file and had no qualms about it!

True love lives on Radiohead.com

Bored platform, bored music group

Bored music group? What the **** do you even think of yourself? Nothing can be boring than you commenting **** about a world class band. Thom Yorke has received respect and recognition through his music, what have you done with your life?

I wonder, does Dan listen to Radiohead? Judging by his ear piercings, he looks like a metalhead.:p
Windows Central Newsletter
Thank you for signing up to Windows Central. You will receive a verification email shortly.
There was a problem. Please refresh the page and try again.