Rainbow Six Siege Operation Para Bellum: Everything you need to know
From new operators to new maps, plus new tools to take care of foes, there's a lot coming in the next Rainbow Six Siege season.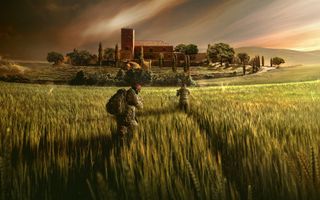 Following the launch of last season's Operation Chimera, Ubisoft is looking at what's next for hit tactical shooter, Tom Clancy's Rainbow Six Siege. After a diverging from its traditional content structure with a zombies-themed Outbreak event, the next drop is set to return to the established multiplayer-centric formula.
After a full reveal of Operation Para Bellum at the Atlantic City Pro League Finals, we now have a clearer idea of what the coming season entails. Here is everything you should know about Rainbow Six Siege's forthcoming Italian expansion and what it means for you.
Availability: Release date and times
Operation Para Bellum is currently on track for Thursday, June 7 release on Xbox One, PlayStation 4 and PC. As usual, Ubisoft is deploying the update on a per-platform basis, staggered throiughout the day. Each platform will see at least an hour of scheduled server downtime to deploy the update.
PC: 9:00-10:00am EDT (2:00-3:00pm BST)
PS4: 10:00-11:00am EDT (3:00-4:00pm BST)
Xbox One: 11:00-12:00pm EDT (4:00-5:00pm BST)
Updated June 7, 2018: Ubisoft has extended Xbox One maintenance, delaying the platform's update until 1:00pm EDT (6:00pm BST).
Once the Operation Para Bellum update hits your platform, a mandatory game update will be required before connecting to Rainbow Six Siege's servers. While a majority of the expansion's content will be available from this point forward, you'll have to wait for the new operators if you don't own the Year 3 Pass.
New Operators: Alibi and Maestro
Like previous seasons of Rainbow Six Siege, two new playable Operators will debut with Operation Para Bellum, hailing from a new counterterrorism unit. Tying into the expansion's Italian theme, both offer their skillset under the "Gruppo di intervento speciale" of the Carabinieri military police. This season's new Operators play defending roles, following the two attackers of Operation Chimera.
For those with Rainbow Six Siege's Year 3 Pass, both Operators should be available at no additional cost on June 7. Seven days later on June 14, these Operators will be available to the public using Renown or R6 Credits.
Rainbow Six Siege Operation Para Bellum: Tips to master Alibi and Maestro
Aria 'Alibi' De Luca
One half of this season's duo is Alibi – a three speed, one armor Operator leveraging holograms to deceive foes. Despite Libyan origins, Aria de Luca immigrated to Italy, gaining a knowledge of firearms at a young age and developing exceptional sharpshooting skills. After proving her talents through combat, she was ushered into Team Rainbow as a GIS representative.
Alibi is expert in illusions, utilizing throwable "prismas" to display holographic decoys of herself. Up to three projectors can be placed per round, which each summon a stationary bait for attackers. However, if enemies shoot or touch these holograms, they'll be marked for the whole defending team. This establishes a new factor to gameplay, where attackers should think before pulling the trigger.
The Mx4 Storm submachine gun is Alibi's signature weapon, delivering a fast rate of fire and considerable damage. This can be swapped out for a new fully-automatic shotgun – the ACS 12. She also has access to the Baliff 410 and Keratos .357 as secondary armaments.
Rainbow Six Siege - Alibi Operator Trailer
Adriano 'Maestro' Martello
Maestro is an Operator focused on heavy firepower, with an established background in reconnaissance and target acquisition within the GIS. After growing up in a large family, Adriano Martello entered the military from the age of 18, where he remains today. Though his arsenal allows him to jump into the action, his remote cameras also provide support from afar.
Two "Evil Eye" bulletproof cameras are Maestro's primary gadgets, which can be deployed on any surface, like Jäger's ADS units. These devices conceal a remote-controlled laser, which can be fired after opening its bulletproof glass sliders. Each shot only deals five damage but attackers will have to take them out to stay focused.
Maestro is defined by his ALDA 5.56 LMG, which provides formidable stopping power and destructible capabilities. Like Alibi, he also has access to the ACS 12 shotgun, Baliff 410 and Keratos .357.
Rainbow Six Siege - Maestro Operator Trailer
New multiplayer maps: Villa and Clubhouse buff
Operation Para Bellum also introduces a new multiplayer map, "Villa." Set on the estate of the Vinciguerra crime family, the map offers a blend of traditional Italitan architecture and contemporary luxury.
Villa is pitched as one of Rainbow Six Siege's most competitive maps to date, embracing the game's renowned close quarters gameplay and destructive environments. Attackers will spawn on the surrounding courtyard, before breaching the three-story building housing the objective. The villa also stows some varied locations, including a stylish living space, dark cellars, and vibrant gardens.
As unveilled at the Six Invitational in February, this season is also set to deliver a "buff" of the existing Clubhouse map. Addressing player feedback and data, changes are being made to the map's layout to improve balancing and flow.
Some of the biggest changes include a new hallway between the upper floors, connecting the bedroom and the cash room. New walls have also been added to the bar, breaking apart the environment into smaller sectors.
Villa will be added to Rainbow Six Siege's multiplayer map roster once the update is available on your platform. All players will gain access to the map, and the Clubhouse upgrade, regardless of owning a Year 3 Season Pass.
New cosmetics: Thatcher Elite set, new weapon skins
New customization options are on the way with this update, including four new seasonal weapon skins. The Carnevale, Renaissance, Ancient Marble and SPQR skins all add an Italian flair to any firearms, with availability limited to the duration of the season. These are available for purchase with Renown or the game's premium R6 Credits currency.
After being teased at the Atlantic City Pro League Finals, Thatcher also receiving his first Elite set. This premium skin set is available exclusively with real-world money, themed around the 1980 Iranian Embassy siege. Contents include the Fookin Smooth victory animation, Screw Top gadget skin, Elite Thatcher Chibi, and Maggie's Resolve weapon skin on the L85A2, M590A1, and P226 MK 25.
The Thatcher Elite set is expected to cost 1,800 R6 Credits, while the shop-wide discount offered to Year 3 Pass holders grants a reduction to 1,620.
Rainbow Six Siege Elite Skins complete list
Upgrades: Xbox One X and PlayStation 4 Pro
Operation Para Bellum also marks the long-awaited arrival of visual upgrades for the latest flagship consoles on the market. Enhancements are set to drop for Xbox One X and PlayStation 4 Pro users, through resolution bumps beyond standard consoles.
Xbox One X owners will see an upgrade from 900p on base consoles, to 1728p. While not native 4K resolution, this should still guarantee sizeable gains on 1440p and 4K displays. On PlayStation 4 Pro, gameplay will render at 1440p instead of 1080p. Ubisoft also plans to roll out improvements to render scaling at a later date, utilizing dynamic scaling for improved overall render quality.
This pairs with the already steady 60 frames per second (FPS) gameplay Rainbow Six Siege players are accustomed to in existing versions.
New system: Pick and ban
Rainbow Six Siege is also set to inherit a common feature from multiplayer online battle arena (MOBA) games, through a new pick and ban system for competitive matches. When enabled, pick and ban phases will allow teams to choose two Operators to be eliminated from play entirely. This keeps gameplay fresh in the competitive scene, forcing foes to change up their approach on the fly.
This move will have a major effect on how multiplayer plays out, allowing teams to eliminate counters for their strategies. This will be limited to Pro League and custom matches for now, leaving casual and ranked matchmaking will be unaffected.
Other changes: Bulletproof cameras, Echo buff and more
Earlier this year, Ubisoft announced an end to "mid-season reinforcements" – major reworks released between content drops with balancing tweaks and various fixes. While updates can still be expected between seasons, the move prevents regular drastic changes to gameplay flow for Pro League players. With changes now tied to new seasons, a number of balancing changes have amassed for this update.
One of the biggest changes is a new bulletproof camera, available to Mute, Castle, Doc, Frost, Caveira, and Vigil. Equipped as a secondary gadget, these thermal cameras can be deployed on almost any wall or floor. This allows defenders to keep a watch more angles, outside of dedicated intel Operators.
A new prevention for "drop-shotting" is also being deployed, where players rapidly enter prone in combat to avoid gunfire. Once deployed, players will be forced to stop aiming down sights when transitioning between stances.
A vartiety of other changes are being deployed alongside the update, as listed below:
Echo buff: In response to feedback, Echo is receiving an upgrade to change his role in combat. The Operator will now stock two Yokai drones, allowing him to take more risks as a permanent anchor. To balance these changes, each drone's maximum charges has been reduced from three to two and charging time has been increased to 20 seconds.
Speed changes: Operator movement speeds are being tweaked this season in an attempt to further balance gameplay. One speed Operators will now move faster, while three speed Operators will move slower. All players will also receive a speed boost when their secondary is equipped.
Scoring tweaks: An overhaul to multiplayer scoring is being made, changing how drones and Operator gadgets distribute points. This generally reduces the points for deploying gadgets, while delivering higher rewards when using them to contribute to the team. For a deeper breakdown of these changes, check out the official blog post on the subject.
New user interface: This update also brings new interface to Rainbow Six Siege, which changes the heads-up display (HUD) styling and other in-game menus. The observation menu has also seen a reworked to better navigate between team cameras.
Counter defuser change: A new animation is being implemented for the "Bomb" game mode, with defenders now using a dedicated defusal device. While this system is unchanged mechanically, this adds new audio and visual cues while defusing.
Tower removal: The controversial "Tower" map is being removed from Ranked play, following strong community backlash.
Glaz OTS-03 rate of fire: Glaz's rifle has been upgraded from 220 RPM to 235, allowing the Operator to deliver follow-up shots even faster.
Grenade throwback: The ability to throw back grenades has been removed, with the feature prone to collateral damage.
Claymores: Tweaks have been made to claymores, allowing the explosives to be easily placed near objects and on various terrain. Claymores can also be no longer deployed inside barricades.
What's next for Rainbow Six Siege
And that wraps up everything we know so far about Operation Para Bellum. How do you think the next season is shaping up? Drop into the comments section below with your thoughts.
Check out Windows Central's Rainbow Six Siege hub for in-depth coverage of upcoming content, latest updates, and tips to improve your gameplay.
Updated June 7, 2018: Refreshed this article with Para Bellum release times.
Get the Windows Central Newsletter
All the latest news, reviews, and guides for Windows and Xbox diehards.
Matt Brown was formerly a Windows Central's Senior Editor, Xbox & PC, at Future. Following over seven years of professional consumer technology and gaming coverage, he's focused on the world of Microsoft's gaming efforts. You can follow him on Twitter @mattjbrown.