Rayman Jungle Run update for Windows Phone adds 20 tough new levels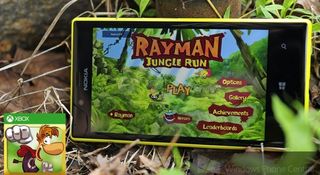 Last month, the Windows 8 version of Rayman Jungle Run received a sizable update. Ubisoft added 20 new levels to their beautiful 2D platformer, and for free. New levels are all very well and good, but what about the Windows Phone 8 version of the game? We assumed it would receive the same update at some point, but Ubisoft couldn't confirm it for us.
Looks like we assumed correctly! The Windows Phone 8 version of Rayman Jungle Run just got updated with 20 new levels. The update pushes the game's download size from 49 MB to 78 MB, but that's still not a bad size for a AAA downloadable title. Head past the break for details and screenshots of the new stages.
Less hassle, more joy
The Windows 8 version of the game required players to manually download the new levels as a free In-App Purchase after installing the title update. Not a huge hassle, but still an unnecessary step.
Thankfully the Windows Phone version dispenses with the extra downloading and simply adds the new levels automatically when the update is installed.
More levels to love
The new levels come in two sets. The first set is called Pirate Ship. You'll see the enemy's flying pirate ship in the background of 6-2, but you won't face it until 6-7. At that point, the flying ship chases after our hero, firing cannonballs into the foreground. You'll have to jump quickly whenever the cannon aims for the platform you're running on!
The second new level set goes by Giant Plant. These levels are filled with fast-growing vines. Rayman and team won't have to wait as long to fight the Giant Plant boss (first seen in Rayman Origins). It pops up in 7-3, chasing our heroes. You'll have to quickly punch switches to open pathways in order to stay ahead of tthe massive creature. If it catches up, it's instant death.
These new levels add some beautiful backgrounds not formerly seen in Jungle Run. They also bring a few mechanics back from Rayman Origins for consoles, such as moving background pieces. Sometimes the only way to go is up, and Rayman must hurriedly jump between huge pieces of land falling from the sky.
Pirate Ship and Giant Plant include two brand new Teeth of Death levels. To access these stages, you'll need to collect five or more teeth in each new area. Collecting a tooth involves grabbing all 100 Lums in a level. Once you've got enough teeth, prepare for some extra tough platforming challenges. The new Teeth of Death levels also get their own leaderboards.
One major issue with this update: music doesn't play during the new levels! The older levels are fine, but the music cuts off as soon as you start a level in the sixth or seventh world.
Easier Achievements?
As with the Windows 8 version, the new levels don't add any new Achievements to the game. Free updates don't play that way. But the extra levels do potentially make the game's hardest Achievement 'Lums Survival' a little easier.
The Achievement requires players to collect 3600 Lums in a single run without dying. Jungle Run always provided a potential 4500 Lums to grab by the end of 5-9. After the update, a player who reached 5-9 without getting enough Lums could just go on to the new levels. It's not all that likely that someone would get to 5-9 in one life without enough Lums though.
Running through the jungle
Rayman Jungle Run was always an excellent platforming game - see our full review for the hows and whys. The new levels make it that much sweeter, not to mention more challenging. They will have to tide us over until the sequel Rayman Fiesta Run pops up later this year... Let's hope Ubisoft fixes the sound bug introduced in this update before then though.
Thanks to WinMaverick for the tip!
Rayman Jungle Run – Windows Phone 8 – 78 MB - $2.99 – Store Link
Rayman Jungle Run – Windows 8 and RT – 58 MB - $2.99 – Store Link

(opens in new tab)
Paul Acevedo is the Games Editor at Windows Central. A lifelong gamer, he has written about videogames for over 15 years and reviewed over 350 games for our site. Follow him on Twitter @PaulRAcevedo. Don't hate. Appreciate!
The Xbox game release of the day is the 20 new levels for Jungle Run?? :)

Yep, better than nothing!

No new game and they delist 3 games today and we are ment to be happy about an update to this??
Not a good day for xbox on WP

Hate to sound like a jerk, but I hope not.

Well, we still have a slight chance to get bsd biggies.. You know, it was released for bb10 today? So getting it for WP8 today makes sense. Or then next week :/

Its ok. I have manuganu and CJ strike back to hold me over until then.

MS made us so desperate that we are the last to receive an old update for an old game (superb game though) and after all be grateful for that!
I think that with this moves that Microsoft is making
1)Slow and poor OS updates and more important fixes!
2)Slow (and wrong in my opinion) Xbox certification proces
3)Release and update first Microsoft apps on iOS and Android and if we are lucky receive them or receive the update on WP
and many moreee.......... etc........
will for sure become the top mobile phone platform

anyone else having problems with music not playing ingame?

Dang, I thought I had turned the music off. Looks like the sound bug only affects the new levels. Updated the article with the info.

You can try the Win 8 version which have a 1 level free trial. That only made me buy this great game... and of course the red stripe deal. The only positive about "no try" is they keep away those 1 star reviews: "Great game... please make it free". Grrrr... I hate these people

Yep, those people are very annoying.

Lol, I actually like no trial games to keep it clear from the "free" crowd "reviews".

Seriously, right!? What is with those people? "This game is like super fun but it should be free. $.99 is way too much! One star until they fix this."
I'd still prefer to have a trial though. I bought this game without a trial (the only one I've ever done) and I didn't really like it (it's too hard to get the Achievements). I'm interested in UbiSoft's other game, Babel Rising 3D, but also no trial :( I won't buy without trying first. P.S. I leave awesome reviews: detailed and informative, written for other users interested in buying.

And I thought we Indians are only spoilt by Android (sideloading) :P

Keep an eye when it goes on Sale, its worth it

Are you going to try a sip of Starbucks before you buy a cup?

That game was total hell. Can't wait to play more!

Edit: I mean this in a good way. Challenging platformer, great game.

Yes was extremely fun and challenging

Does this work on 512mb devices?

Love this game. Gives me reason now to revisit it.

Lol its been so long since I played I'm rusty as hell

Nice! And doesn't bother me the adsence of the music. I always cut the music on the games anyway (except for Contre Jour that has a gorgeous soundtrack). Btw, Paul, how's the review on Babel Rising coming?

Babel Rising! Oh man, I need to get to work on that game. Maybe next week.

I bought it for my 520 the other day, like WinMaverick says, it's butter smooth. I got it free for iOS in one of those weekly Starbucks promotions and have been playing it ever since.
The levels seem to be different than on the iOS version though, just a little bit. The music variations too. One of those games that make me realize just how much more vivid and overal clarity the 520 display has compared to my iPad Mini. The sound quality of the audio is flipping fantastic too.
Don't hesitate on buying it. The pricetag is scary, but it's a console quality game. I wish the 3DS version of Rayman Origins had looked this good, if it had, I wouldn't have returned it for being so horrible looking on my basic 3DS. Definately prefer Jungle Run.

Great game. Missing one extremely hard achievement and left it as it is (i'm not going to challenge that crazy requirement). This update will keep me busy until Angry Birds SW2 comes with an update. Hope they fix the music bug soon.

Now support for double wide tile

No music in new levels, anyone else?
Windows Central Newsletter
Get the best of Windows Central in in your inbox, every day!
Thank you for signing up to Windows Central. You will receive a verification email shortly.
There was a problem. Please refresh the page and try again.