Rayman Jungle Run update for Windows Phone adds 20 tough new levels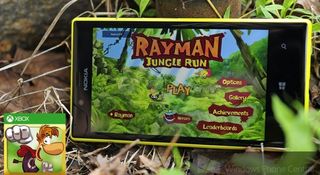 Last month, the Windows 8 version of Rayman Jungle Run received a sizable update. Ubisoft added 20 new levels to their beautiful 2D platformer, and for free. New levels are all very well and good, but what about the Windows Phone 8 version of the game? We assumed it would receive the same update at some point, but Ubisoft couldn't confirm it for us.
Looks like we assumed correctly! The Windows Phone 8 version of Rayman Jungle Run just got updated with 20 new levels. The update pushes the game's download size from 49 MB to 78 MB, but that's still not a bad size for a AAA downloadable title. Head past the break for details and screenshots of the new stages.
Less hassle, more joy
The Windows 8 version of the game required players to manually download the new levels as a free In-App Purchase after installing the title update. Not a huge hassle, but still an unnecessary step.
Thankfully the Windows Phone version dispenses with the extra downloading and simply adds the new levels automatically when the update is installed.
More levels to love
The new levels come in two sets. The first set is called Pirate Ship. You'll see the enemy's flying pirate ship in the background of 6-2, but you won't face it until 6-7. At that point, the flying ship chases after our hero, firing cannonballs into the foreground. You'll have to jump quickly whenever the cannon aims for the platform you're running on!
The second new level set goes by Giant Plant. These levels are filled with fast-growing vines. Rayman and team won't have to wait as long to fight the Giant Plant boss (first seen in Rayman Origins). It pops up in 7-3, chasing our heroes. You'll have to quickly punch switches to open pathways in order to stay ahead of tthe massive creature. If it catches up, it's instant death.
These new levels add some beautiful backgrounds not formerly seen in Jungle Run. They also bring a few mechanics back from Rayman Origins for consoles, such as moving background pieces. Sometimes the only way to go is up, and Rayman must hurriedly jump between huge pieces of land falling from the sky.
Pirate Ship and Giant Plant include two brand new Teeth of Death levels. To access these stages, you'll need to collect five or more teeth in each new area. Collecting a tooth involves grabbing all 100 Lums in a level. Once you've got enough teeth, prepare for some extra tough platforming challenges. The new Teeth of Death levels also get their own leaderboards.
One major issue with this update: music doesn't play during the new levels! The older levels are fine, but the music cuts off as soon as you start a level in the sixth or seventh world.
Easier Achievements?
As with the Windows 8 version, the new levels don't add any new Achievements to the game. Free updates don't play that way. But the extra levels do potentially make the game's hardest Achievement 'Lums Survival' a little easier.
The Achievement requires players to collect 3600 Lums in a single run without dying. Jungle Run always provided a potential 4500 Lums to grab by the end of 5-9. After the update, a player who reached 5-9 without getting enough Lums could just go on to the new levels. It's not all that likely that someone would get to 5-9 in one life without enough Lums though.
Running through the jungle
Rayman Jungle Run was always an excellent platforming game - see our full review for the hows and whys. The new levels make it that much sweeter, not to mention more challenging. They will have to tide us over until the sequel Rayman Fiesta Run pops up later this year... Let's hope Ubisoft fixes the sound bug introduced in this update before then though.
Thanks to WinMaverick for the tip!
Rayman Jungle Run – Windows Phone 8 – 78 MB - $2.99 – Store Link
Rayman Jungle Run – Windows 8 and RT – 58 MB - $2.99 – Store Link
Get the Windows Central Newsletter
All the latest news, reviews, and guides for Windows and Xbox diehards.
Paul Acevedo is the Games Editor at Windows Central. A lifelong gamer, he has written about videogames for over 15 years and reviewed over 350 games for our site. Follow him on Twitter @PaulRAcevedo. Don't hate. Appreciate!