Rayman Jungle Run for Windows 8 gets 20 new levels for free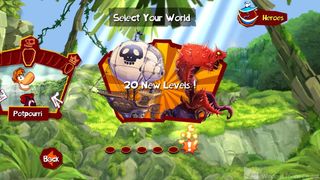 Console gamers might be aware that Rayman Legends just launched on Xbox 360 and other platforms this week. By all accounts, Legends is another sublime platformer like Rayman Origins before it. Awesome for Xbox owners, but how about mobile Windows platforms? Don't they get any love?
Turns out they do! Windows 8 and RT users, anyway. Rayman Jungle Run, one of the finest Xbox Windows 8 games in town, got a major update recently. The free update adds 20 new levels, pushing Jungle Run's grand total up to 70 levels. Pictures and impressions after the break!
Grabbing the new levels
The update itself doesn't automatically include the new levels – just the ability to download them. I guess Ubisoft wants to let players decide whether to use the extra storage space on their devices or not. Users will need to select the "20 More Levels" button and then agree (?) to the free download.
More levels to love
The first set of new levels is called Pirate Ship. You'll see the titular pirate ship in the background of 6-1, but you won't face it until 6-7. At that point, the flying ship chases after Rayman or Globox, firing cannonballs into the foreground. You'll have to jump quickly whenever the cannon aims for the platform you're running on!
The second new level set goes by Giant Plant. These levels are filled with fast-growing vines. Rayman and team won't have to wait as long to fight the Giant Plant boss (first seen in Rayman Origins). It pops up in 7-3, chasing our heroes. You'll have to quickly punch switches to open pathways in order to stay ahead of tthe massive creature. If it catches up, it's instant death.
These new levels add some beautiful backgrounds not formerly seen in Jungle Run. They also bring a few mechanics back from Origins, such as moving background pieces. Sometimes the only way to go is up, and Rayman must jump between huge pieces of land falling from the sky. It's high intensity platforming.
Pirate Ship and Giant Plant also include two brand new Teeth of Death levels. To access these stages, you'll need to collect five or more teeth in each new area. Collecting a tooth involves grabbing all 100 Lums in a level. Once you've got enough teeth, prepare for some super tough platforming challenges.
Achievements
The new levels sadly don't bring any new Achievements to the game. Free updates seldom do. But they do potentially make the game's hardest Achievement 'Lums Survival' a little easier.
The Achievement requires players to collect 3600 Lums in a single run without dying. The game always provided a potential 4500 Lums to grab by the end of 5-9. After the update, a player who reached 5-9 without getting enough Lums could just go on to the new levels. It's not all that likely that someone would get to 5-9 in one life without enough Lums though.
Could Windows Phone be next?
This update is great for Windows 8 players, but the Windows Phone 8 version has yet to be updated. Hopefully Ubisoft plans to show Windows Phone some love soon too.
Rayman Jungle Run – Windows 8 and RT – 58 MB - $2.99 – Store Link

(opens in new tab)

Rayman Jungle Run – Windows Phone 8 – 49 MB - $2.99 – Store Link
Paul Acevedo is the Games Editor at Windows Central. A lifelong gamer, he has written about videogames for over 15 years and reviewed over 350 games for our site. Follow him on Twitter @PaulRAcevedo. Don't hate. Appreciate!
I had no idea this was on windows 8.

When I search for this game on a non-touch Windows 8 laptop in the UK, it doesn't appear to be available. Is this a mistake or is there a reason?

It appears just fine for me.

and what does it matter if its a touch or non touch laptop? its not like touch or nontouch will change anything about the game or app appearing on windows store. but its available worldwide so it seems its a error on your part.

Doesn't appear for me either. Running Windows 8.1 though, so that may be why.

Ten minutes till Wapner! Oh, you said Ray-man not Rain-man.

Underwear from WalMart on Tuesdays

Wonder when its coming to wp8. I really enjoyed this game

This is a great game. Glad to see more levels.

Not a bad few days for us Xbox Windows Phone gamers

I had this game on my Surface Pro. By mistake I uninstalled it and now, when I try to look for it in the store it tells me it's not available. Even if I follow this link. Any thoughts on what could be the problem? - Thanks

I can't find it either, it's not even showing up in my app download history. I tried a bunch of different regions, but it's not there, so something is definitely wrong with the Store.

I have bought the game, too. I can play original 50 levels but cannot play 20 new levels. The store says "not available for your location". I'm in Vietnam, PC.

I solved that issue. Go to the Xbox Games app > Windows games > Rayman Jungle Run > Explore game > Click the free extra material to the right and buy it for zero dong(?). I hope that works for you aswell. :)

Thank you for your help. But I still cannot get the new 20 levels. When I go to Xbox Games app > Windows games, I don't see Rayman Jungle Run in the game list, so I stuck this way. I see an item to "buy 20 new levels of Rayman" in Xbox Games app > Homepage. The item costs 0 (dong) but it says "not available for your region". The item just shows up once. When I go out then go in, I can't see it anymore.

Have you tried changing the region of your PC? Search region in settings category; choose "change date, time etc", there should be a tab that says "region (or something in vietnamese)". Downloading via the Games app worked for me here in Sweden, so try that region. Good luck! :)

I have tried changing the region of my PC to Sweden then restart PC for sure, but cannot see the item to unlock the 20 new levels. I think changing region of Xbox account could help, but I should not do that which may cause configuration conflicts. Thank you anyway. If my friends have the same issues, I definitely suggest your work around.

Even if you go to the UBISOFT page, it says the game is available for iOS and Android. No more mention of Windows 8. Thing is, I see many here saying they're enjoying the new levels. So, what gives?

Windows Phone 8 new levels?

Guys I know why disappear rayman (windows 8). Because I have laptop Asus vivobook now the game is exclusive for Asus apps windows 8 store.

Hoping these levels will come to the phone. One of the best platformers I have ever played

I paid for this game and now it's not showing up, not even if I open the link. It says this game is not available for my PC. WTF??

Great news, I was waiting for this :D Oh wait... No wp

It's not available for Win 8.1 Preview, that's my guess.

no, I have regular Windows 8 and I can't find it in the Windows Store.
I used to be able to find it months ago (when it first came out), but I wasn't interested at the time. then I tried to find it a couple of weeks ago and now I can't find it. I go to the link in the article and then it says it's not available for my PC.

Would love to get these levels on my windows phone! Rahman Jungle Run has been my favourite game on the phone and with all levels, bonus levels, and achievements covered... I'm itching for some more!

What has this got to do with windows phone?

Dude, that's boring, it has been written time and again WPC is now covering the entire ecosystem, and the majority of its users like that approach, albeit the main focus remains Windows Phone. And it's not like it's ruining anything, just don't read it, if don't want to.

Nicely said. And shoot, we've been covering Windows 8 since before it launched!

LOOK HERE guys. I have send Question to microsoft community (24 August 2013).
http://answers.microsoft.com/en-us/windows/forum/windows_8-windows_store....


Guys Its now visible again. FINALLY

Whoo! I'd been bugging Microsoft about that for over a week. :)

By the way Paul...is there any word from Ubi about releasing the levels on Windows Phone too?

No response, unfortunately. But I think WP will probably get them eventually.

Alright! Thanks Paul. Hope you are right!
Windows Central Newsletter
Get the best of Windows Central in in your inbox, every day!
Thank you for signing up to Windows Central. You will receive a verification email shortly.
There was a problem. Please refresh the page and try again.