Rayman Legends, Tomb Raider, and BioShock Infinite are the Games of Gold for March
By Joseph Keller last updated
Microsoft has announced the Games with Gold for March on the Xbox One and Xbox 360. On the Xbox One, Gold subscribers will be able to grab Rayman: Legends for free, while on the Xbox 360, they'll have access to Tomb Raider and BioShock Infinite.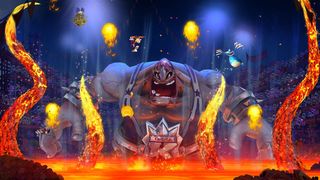 Rayman Legends is a platformer from Ubisoft. Built using the UbiArt Framework, Legends features branching levels and local co-op for up to four players. The game normally costs $39.99, and will be available for free Xbox Live Gold members for the entire month of March.
On the Xbox 360, Gold members will be able to download 2013's Tomb Raider for free from March 1-15. Normally $19.99, Tomb Raider is a third-person action game that serves as a reboot for the classic franchise.
If first-person action is more your speed, you'll want to check out the Xbox Store from March 16-31, when BioShock Infinite will be available for free to Gold subscribers. Set in the flying city of Columbia, BioShock is the strange, mind-bending, and violent story of your quest to rescue the mysterious Elizabeth.
Microsoft also announced that April will see double Games with Gold. Xbox One owners will have the opportunity to download two games that month, while Xbox 360 owners will be presented with four. No announcements were made as to what these games will be.
Source: Microsoft (opens in new tab)
Nice, finally can grab final piece of Bioshock set.

Same here. I almost bought it when it was on sale in December. I'm glad I waited.

Rayman is pretty awesome, I already own it though ha ha

Tomb Raider is one of my favorite games of last gen so grab it if you have a 360! Wish it was free for the One as well. Also Rayman is awesome!!

Also wishing it was the x1 version. Played and beat the story on 360 already.

Tomb Raider Definitive Edition will almost certainly be a free Xbox One game later in the year closer to Rise of the Tomb Raider release date.

I suspect the people who preorder the new game will get a free copy of it.

Rayman on One Vs Tomb Raider on 360!! Why does Xbox one owners keep getting the shitty games.

Rayman Legends is by far the BEST 3rd party game I've played. You should try it.

It was okay but nothing to make me go past the special demo(wii u/360)

Do you not also have a 360? Also, these are games that won't run on a One. Until we get further away from the launch when games like watchdogs can be offered for free, the One will continue to get small and arcade-like games for free.

For me, Rayman is much appreciated, been eager for this to go on a silly sale, this is even better.

Rayman isn't good?
Well, I guess you're correct, because its GREAT.
Have had it since day one, also have 2013 TR - highly recommend both. Can't say anything about Bioshock personally but only heard good things.
I hope when ID@Xbox starts filling out more consistently that they're is a push to get one of those on release and an older AAA for those who haven't played yet. That way based are covered to at least provide new content to everyone.

What?!? Rayman Legends is awesome, dude!

You gonna love this game!!

Hey guys,I have a question, if I have the disc version I can't play without the disc, can I install this on what I have installed now to remove disc requirement? Or do I HAVE TO redownload it all?

Uninstall and dl the free copy, so it can be recognized as a digital copy

should be able to install then play without the disc. I've often gone disc to digital and it doesn't redownload the whole thing. Visually it shows as downloading then done in a minute or two.

On 360 no you have to download and uninstall. On 1 you just have to simply run it without disc for it to convert(learned that during the fm5 trail weekend)

Tomb Raider was in my 360 bundle and I already bought Bioshock Infinite. :D Bad Luck E4est

What I usually do in those situations is download the freebie then sell my disc copy, you end up having cash in your pocket then.

I smell an April fools trick by MS

March Fools. People won't be expecting that. ;)

I think he's referencing the double games for April.

Hopefully they may discount the definitive edition.

It has been before. Was at £22 if I remember correctly. In fact it may have been under £20.

Yea I've seen it as low as $15 and regret not getting it.

It is bound to drop again. I have seen Amazon do it at £23 before. May even a future game with gold.

Probably the strongest games with gold yet

If you don't already have Rayman, you're in for a treat.

If you do, then you should be slightly concerned about why they're giving it free

Why should he be concerned?

I think Tomb Raider will be free on X1 when the sequel nears close.

Wow, this is probably the best offering yet. Good thing I still have my 360 hooked up.

Wow, this is excellent! I got only the X360, couldn't be happier with this.

Rayman I can take or leave but I've nearly bought both tomb raider and bioshock in the last week... Thank you ms! Nice reason to keep using my 360!

I gave mine to my kids. They have loads of games to go at now.

Bioshock infinite is one amazing game. The twist at the end was crazy.

Bioshock was amazing I agree. Started it when it first came out. 8 months later went back and finished it. Would've preferred Tomb Raider as the free XB1 game. Had Rayman, sold it after little play. Couldn't find the local coop mode.

I have Bioshock on my pc, I'm midway through, I won't bother grabbing it here as I don't have time to play the same game twice, plus it looks and plays much better on my pc anyway. I may grab tomb raider for the sake of having it (and to play 10 hours for some rewards points) but I've already played and completed it.

For a minute I thought they'd released Bioshock for Xbox One. Irrational really needs to produce something for the Xbox One. I understand they didn't want to regurgitate the same ocncept for xb1 but I'm anxious to see what they have in store. Unless they've already released or are planning something I haven't heard about.

Rayman confirmed for smash

Pretty excited for Rayman on the Xbox One. Played Jungle Run on Windows 8 and enjoyed it. Own Tomb Raider Definitive Ed. on the the Xbox One, its very good and fun to play.

Bioshock Infinite was phenomenal. With GTA V and The Last of Us, best games of 2013 for me. Posted via the Windows Central App for Android
Windows Central Newsletter
Get the best of Windows Central in in your inbox, every day!
Thank you for signing up to Windows Central. You will receive a verification email shortly.
There was a problem. Please refresh the page and try again.