Rayman Origins swings into January's Xbox Games with Gold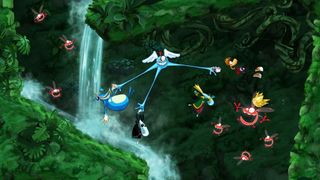 The free Xbox Games with Gold have been announced for January, and there's quite a bit here to like on both Xbox One and Xbox 360. In all, January will include $89 in free games with a total of 4,675 gamerscore at stake.
First up, Xbox One gamers will be able to grab World of Van Helsing: Deathtrap for free through the whole of January. If fighting games are more up your alley, you can also pick up Killer Instinct Season 2 Ultra Edition from January 16 thgough February 15.
For Xbox 360, The Cave will be available to pick up from January 1 through January 15. Rayman Origins will also go free from January 16 through January 31. As is always the case, both Xbox 360 titles up for grabs are also playable on Xbox One via backwards compatibility.
Which games are you planning to check out when they go free in January? Let us know in the comments!
Windows Central Newsletter
Get the best of Windows Central in in your inbox, every day!
Dan Thorp-Lancaster is the former Editor-in-Chief of Windows Central. He began working with Windows Central, Android Central, and iMore as a news writer in 2014 and is obsessed with tech of all sorts. You can follow Dan on Twitter @DthorpL and Instagram @heyitsdtl.
Rayman was free before, wasn't it? I definitely have a Rayman game, never paid for it.

Sort of. Rahman Legends was free on Xbox One. Which contains Origins also. So yeah sort of.

Don't get me wrong, KI is a great game but counting some character and outfit unlocks for a free game as a $39 game seems a little weak. At least the rest look entertaining.

Technically 2 games, since the Ultra Edition came with KI2 Classic as well.

Unh??? KI is split into 3 seasons. I have the first season. So this 2nd season is priceless. There's 8 new characters. New game modes and better visuals. Best thing any fighter fan could get free is any season of KI.

Is it really three seasons or just 3 DLC packs? This just seems like we are getting a DLC pack that is being touted as a game. When I play it with my kids we just use whatever characters are available (we have a bunch so I believe at some point "season 1" was a freebie) there appears to be nothing that would indicate a season as anything more than a fancy name for a DLC pack.

Season 1 was on a Games with Gold AFAIK. I think it's valid to have Season 2 on here and pretty sure it will also unlock on PC too...

To be fair, the updated visuals and Shadow Lords came for everybody including free users. What you're really getting is the 8 new characters and costume accessories (not sure about the 8 new stages; I assume they are now unlocked for you) Still, I think it's a great GWG offering. Killer Instinct is an awesome game.

Xbox deals are so much better than Playstation's, sigh

Yeah I agree, I don't keep a PS+ subscription. XBL all the way.

I'm excited that KI season 2 ultra edition is going to be free. I put off buying it, my hesitance is now well rewarded. XD

Yes! The Cave! I've been looking forward to playing that.

I was thinking of picking up a Rayman game to play with my 4 yr old, so this will be nice to try out the series. Everything he plays now is pretty much on the Wii. This seems like it is similar to a Mario game (or at least close enough), so he may play it. Right now, he only likes Goat Simulator on XB1, and I can only take so much of that, lol.

The Rayman Run games are great for kids since the controls are pretty easy.

Are those for mobile devices? Or on consoles? He kicks butt at Mario Bros, so I think a full Rayman game would be something he can handle. And it seems kid friendly. He's tried "Ori and the Blind Forest", but it has a lot of text cues that he can't read yet. Also, the characters are a little on the small side, so it can be hard to see exactly what you're doing.

Ori can be pretty tough (but very fair) when it comes to timing some of the platforming sections too....There's been sections I had to have a few attempts at which I think younger gamers may get frustrated with. Rayman will be perfect though

I was able to finish Ori, but yes, tough in some sections. I died ALOT in that last "run for your life" section until I figured out what to do, lol. I didn't try to get him to play it, but he saw me doing it, found it in the games section and ran with it. Honestly, I think he likes watching the opening sequence more than anything!

Just watched the video and looks like The Cave could even be good, doubly good for you and your 4 year old in Jan :)

Didn't even think to look at that one, I'll have to check out the video, thanks!

Rayman Origins was free on PC the other week so I've been playing it on that. Be nice to play it while sitting on my sofa though.

Oh Yes, Rayman is a favourite if mine, I used to play these games on the PC all the time, then on my phone, and now I'm going to enjoy it on my Xbox, well done Guys at Xbox!!!

Never heard of this specific Van Helsing game, is it new in January?
Windows Central Newsletter
Thank you for signing up to Windows Central. You will receive a verification email shortly.
There was a problem. Please refresh the page and try again.