Razer Blade 15 hands-on: Your new favorite gaming laptop
The new Razer Blade is here and it's going to be hard to resist.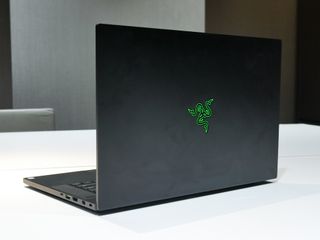 Our top pick for the best gaming laptop you can buy has been the Razer Blade for quite some time. Blending superb design with ultimate power and portability makes it hard not to recommend to anyone who wants a truly great gaming laptop.
There have been refreshes to the existing 14-inch model over the last couple of years, but now, it's being properly replaced.
This is the all-new Razer Blade 15, and it's going to knock your socks off.
Razer Blade 15 specs
Swipe to scroll horizontally
Category
Razer Blade 15
Processor
Six-core Intel Core i7-8750H
Memory
16GB (upgradeable)
Storage
128GB or 256GB NVMe SSD
Graphics
NVIDIA MaxQ GTX 1060 6GB
NVIDIA MaxQ GTX 1070 8GB
Display size
15.6-inches
Display resolution
1080p 60Hz (non-touch)
1080p 144Hz (non-touch)
4K 60Hz (touch)
Keyboard
Backlit, Chroma, Precision Touchpad
Material
Metal
Wireless
Intel 9260 wireless
Dual-antenna
Ports
MiniDP x 1, HDMI x 1, USB-C Thunderbolt 3 x 1, USB 3.1 x 3, 3.5mm headset
Battery
80 Wh
Price
From $1,899
Razer Blade 15: larger display, refined design
The first thing fans of the Blade will notice is the display. It's now larger but has seriously skinny side-bezels. As such, the whole footprint of the Blade 15 is just 10mm wider than the current 14-inch model.
For 2018 the display has been bumped up to 15.6-inches and it comes in three different variants. The entry-level Blade 15 will have a 1080p, non-touch, 60Hz display. The most expensive model will have a 4K 60Hz touch display. But for gamers, the sweet spot is right in the middle.
Razer has included a 1080p 144Hz display on the latest Blade and at first glance it's superb. You're getting 100% sRGB support, so it looks good, and thanks to that fast refresh rate you'll be gaming like you've never gamed before on a Blade.
The skinny side bezels around the display aren't the only design refinements Razer has made to the Blade. The whole body of the laptop is now more squared-off; it's a very clean design and certainly makes an impression. The only break to the flat black is the customary green Razer logo on the lid.
As always with Blade laptops, there's metal construction throughout, and while the trackpad has lost dedicated buttons this year, it's larger and most importantly; it's precision. The keyboard remains flanked by speakers, certified for Dolby Atmos, and the power button is smaller on this year's model.
Given what you find inside, the Blade 15 is incredibly slim, yet still offers a wealth of connectivity options. There's no Ethernet included this time around – and no Killer networking, instead, there's a dual-antenna setup with Intel 9260 wireless – but you do get a bunch of USB 3.1 ports, Thunderbolt 3, HDMI and mini-DP. Also, despite the slim frame, there's still a sizeable 80Wh battery inside.
And there's Chroma, of course. This is still unmistakably a Razer Blade, but it's a refined Razer Blade.
Razer Blade 15: Serious performance
You'd expect performance from a new Razer Blade, and you'd be right to do so. For the most part, the Blade 15 brings internals you'd very much expect to find in a 2018 gaming laptop, but not without some added interest.
To keep it fairly simple to choose between the different variants, all Blade 15s will have a six-core Intel Core i7-8750H processor and 16GB of RAM. This year, the RAM isn't soldered to the motherboard so you can upgrade it later on if you wish to.
Storage is either a 256GB or 512GB PCIe NVME SSD, wherever possible sourced from Samsung. So, not only do you get rapid storage out of the box, it too can be upgraded down the line. You know, when something even faster comes along.
Add a Razer Core X for even more gaming power
Alongside the Blade 15, Razer is also launching a new, cheaper version of its Core eGPU.
The Razer Core X will add a full desktop graphics card to your new Blade 15, if you really need more power, and for only $299.
Razer Core X is a lower-priced eGPU for laptop gaming
When it comes to gaming power, there are two choices. Both are NVIDIA MaxQ designs, but you've got either a 6GB GTX 1060 or an 8GB GTX 1070 to choose from. Razer has a fancy new cooling system for the Blade 15 that includes a vapor chamber to keep things frosty, but if you go for the GTX 1070 the laptop is a smidge thicker to allow a little extra cooling room.
The cooling system also boasts thinner fan blades than previous models. which provides an enhanced airflow when you need it most. The Blade 15 will also have fan control built into the Razer Synapse 3 application, with a range of pre-installed performance modes to choose from or full manual if you like to go it alone.
There's even a Chroma laptop stand
Of course, Razer put Chroma lighting into something as mundane as a laptop stand. Why wouldn't they?
The imaginatively titled Razer Chroma Laptop Stand syncs up with your existing Chroma goodies through Synapse just the same as anything else. But it's not just about adding some funky lights onto the front and have done with it.
It's also, naturally, not just for the Razer Blade 15, and it'll add a couple of additional USB 3.1 ports to your laptop, neatly tucked away around the back where you won't see the trailing cables.
It's actually a very good stand, built entirely from metal, rubber feet and grips for the laptop, and a nice angle to type on if you need to. There's no price information for it right now, but it's a neat little addition to the Chroma accessory family.
Razer Blade 15 makes a big first impression
Having only spent a very short time with the Blade 15, it still left a big first impression. It feels like the laptop that Razer's fans wanted it to make. Lots of little changes add up and make a significant difference.
This year's Blade is bigger without being much bigger, more refined, better looking, and it has a precision touchpad. There are aspects that come as no surprise at all, such as the processor and GPU, but it's a nice touch that Razer is now allowing the RAM to be upgraded as well as the SSD.
The price also remains about the same as the incumbent model. The entry point is $1,899 for the 60Hz 1080p display version, but that goes up to $2,199 for the one we're really interested in with the 144Hz display. The 4K model is only available with a GTX 1070, so there's an added premium there, and you'll be paying $2,899 for one of these. The 4K model is, at least for now, only available in North America and select European markets including the UK and Germany. It should be available from mid-June in Europe, but in the U.S. you can go buy one today.
We'll have a full review of the Blade 15 hopefully in the coming weeks. This is easily one of the most exciting laptops we've seen so far in 2018, and it's going to be hard to resist buying.
See at Razer (opens in new tab)
Richard Devine is an Editor at Windows Central. A former Project Manager and long-term tech addict, he joined Mobile Nations in 2011 and has been found on Android Central and iMore as well as Windows Central. Currently you'll find him covering all manner of PC hardware and gaming, and you can follow him on Twitter and Instagram.
Wish there was something like 8750H with 4K 144Hz OLED

Eventually there might be. Technology only advances so fast. Would be a total waste even if it did exist right now. No-one can realistically game at that resolution and frame rate.

Considering how much more resolution is needed for VR, it may be soon.

i wish the fix the pricing first, uk you have to pay $2299 and its $1899 in the us
LIKE WTF
also it needs a uk enter key for the uk XD
i would have expected for $3000 1440p touch and 144hz but hey ho and my ocd doesnt like 5 ports on the left 4 ports on the right, anything ethernet thunderbolt or sd card reader would have been nice

I mean you're just throwing specs out there. How many laptops on the market have a 1440p 144Hz touch display. This is a gaming laptop, and for most gamers, touch isn't something that even factors in. For those buying for like, video editing and such, there's a touch option with a high res display.

Would that beast of processor be in surface(like book3) it would be awesome, but wonder if its possible.

Easily. All Intel's new gen chips have more beef. You're getting Quad-Core in ultrabooks like the XPS 13 now. If it's got a quad-core i7 from 7th gen, it'd be reasonable to expect an updated model to have a six-core i7

Does the 144 Hz model have G-Sync? A few of the newer Intel 8th gen gaming laptops with 144 Hz screens seem to not have that. If I run a game at say 90 FPS instead of 120/144, do I get tearing without G-Sync?

No g-sync. For many, letting the display hit 144 Hz in a game is preferable.

"A few of the newer Intel 8th gen gaming laptops with 144 Hz screens seem to not have that"

Correct, in fact, it seems many are ditching it this gen.

Was looking to get a Dell Precision 5500 series (you can grab a Xeon processor and 1-2TB of SSD), primarily because the bezeless screen looks so incredible compared to my current razor blade, and it still has a realistic USB-A heavy port selection. Seeing the new Blade screen, I may have to think some more.

None of the previews I read (or watched) mentioned a fingerprint reader or IR cam.
Did Razer hint if Windows Hello support would be present?

Windows hello support, especially facial recognition is a must for me now. It's so fast!

There is no fingerprint scanner nor IR camera that we're aware of. Wasn't mentioned in our briefings or the subsequent press kit.

This laptop looks so sick unbelievable, but few concerned thoughts is reviews on tech support or therefor lack of, also the cooling chamber is totally new were other manufacturers go for heat pipes.
I e-mailed razer support my self and they seemed very knowledgeable, like that can upgrade RAM & SSD myself and if get any issues put original stock back in and send off, my only thing is that i suspect they use Samsung SSD's so the Samsung 970 ranage would be compatible i would think.

I can 100% tell you they use Samsung SSDs in the Blade 15 wherever possible. It's in this post ;-)

Dan, I was about to purchase the 17in 1080p 7th gen Razer but was halted on my purchase because this just came out, now I am very heavily considering buying this laptop instead. My question is: I have read many horror stories about Razer's customer service and reliability on their products. What is your experience with this if at all? Also with that, would you still recommend this laptop over any others with the same performance?

Earlier this week I had been looking at the Gigabyte Aero 15X and the MSI Stealth Thin and then all of a sudden I see this article here! Awesome machine and exactly what I wanted.
One question remains for me though: is there only 1 SSD slot or are there multiple. I need around 1TB, so if there's only 1 slot I'd have to throw out the 256gb one. If there's 2 slots I'll get the 512gb one and throw in another 512gb.

Believe there's only one slot. Or that's how it came across to me in the briefing. We haven't got one yet so can't confirm either way.

Ok, thx. In that case I'll go with the 256gb and replace it with a 1tb. But now I hear that Razer has quite some decent software that comes preinstalled. I know how to perform a clean install on a new harddrive, but how will I get this software on the new ssd?
Windows Central Newsletter
Thank you for signing up to Windows Central. You will receive a verification email shortly.
There was a problem. Please refresh the page and try again.