Our first look at the amazing new Razer Blade gaming laptop
Razer's back with a new, full-fat Blade. Here's our first look.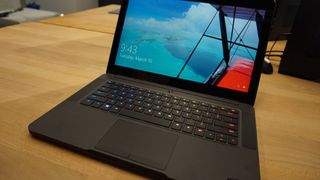 PC and console gaming giant Razer recently released the Razer Blade Stealth, a very sleek ultrabook computer that we'll be reviewing soon. The Stealth sacrifices gaming power for portability, though it can also connect to the upcoming Razer Core for the full desktop gaming experience. Some will want real PC gaming power on the go though, and for them, Razer has just announced the new Razer Blade.
The new Razer Blade packs some impressive gaming specs, including a 14-inch QHD screen, a 6th gen Quad Core i7 processor, 16 GB of RAM, an NVIDIA GeForce GTX 970M GPU with 6GB VRAM, Chroma keyboard, and Razer Core compatibility. And all for a surprisingly affordable price. Read on for full details on the 2016 Razer Blade, plus our hands-on video from GDC!
Killer specs
The previous Razer Blade gaming laptop (opens in new tab) launched at the beginning of 2015. This year, Razer has taken the Blade's sleek design and updated it to be better, faster, and more powerful than ever. And even though this model packs more horsepower than before, it measures a scant 0.7 inches thick and weighs only 4.25 pounds. The military-grade aluminum chassis surely aids with that portability.
The Blade still includes a 14-inch screen, now a QHD touchscreen. To go along with that vibrant display, the anti-ghosting keyboard has been upgraded to utilize Razer's Chroma technology. Users are no longer limited to customizing the keys with just one color. You'll now be able to change the color of every single key and select a variety of color effects. Developers can even create standalone apps for the keyboard such as music visualizers. Razer even has a portal to download and/or develop Chroma apps (opens in new tab).
Most of the Blade's other components have been upgraded as well:
Processor: 6th Gen Intel i7 Quad Core capable of speeds up to 3.5 GHz
Graphics: nVidia GeForce GTX 970M GPU with 6GB VRAM – twice as much VRAM as last year's model
Memory: 16 GB DDR4 dual-channel RAM (twice as much as the old mode)
WI-Fi: Killer Wireless AC for an improved Wi-Fi connection
Expansion: One Thunderbolt 3 and USB Type C port (Transfer rates up to 40 Gigs/second)
Despite those beefed up specs, Razer promises the new Blade will run cooler than the previous model thanks to improved thermal management. High temperatures were a sore point for some Blade owners, so this laptop's superior cooling should be most welcome.
Core support
With an NVIDIA GeForce GTX 970M, one of the best mobile graphics cards in town, the new Razer Blade is no slouch in the graphics department. But it's always nice to have more power, and the Blade has that option. Thanks to its Thunderbolt 3 port, this year's Razer Blade will support the Razer Core external graphics enclosure.
With a Razer Core, users will be able to install and tap into a full-sized desktop graphics card such as an NVIDIA GTX 980. The Core also adds four USB 3.0 ports and an Ethernet jack. So you can play games on the go, come home, and plug in your Razer Blade for a full desktop experience. The Razer Blade Stealth offers the same option, but the new Blade boasts even better specs.
Since the Blade has a beefy GPU of its own and Core users will be able to equip it with an even stronger desktop graphics card, you might wonder whether the two GPUs can be paired up for yet more graphics power. Razer tells us that a software tool will allow users to configure which GPU is used at a given time, but it doesn't sound like we'll get to use both GPUs simultaneously at launch.
Coming soon
The new Razer Blade will come with two solid-state storage options:
U.S. $1,999 – 256 GB PCIe SSD
U.S. $2,199 – 512 GB PCIe SSD ($500 cheaper than last year's Razer Blade Pro)
Like the Razer Blade Stealth, Razer is pricing the new Razer Blade quite aggressively. Compared to the top-of-the-line Alienware 15 for instance, the 512 GB Razer Blade is thinner, weighs less, and wields double the VRAM. As for the 2015 Razer Blade, it has been discontinued. Expect to see some deals on the retired model in the weeks and months to come.
Preorders for the 2016 Razer Blade open up March 16 on Razer's site, and the Blade will begin shipping in April. Stay tuned for more Razer news (and video from our man Jonathan Dollison) from GDC!
What do you think of the new Razer Blade's specs and price? Leave a comment and let us know!
Paul Acevedo is the Games Editor at Windows Central. A lifelong gamer, he has written about videogames for over 15 years and reviewed over 350 games for our site. Follow him on Twitter @PaulRAcevedo. Don't hate. Appreciate!
Bomb specifications.
1,48,205.45 Indian rupees

They probably won't release here anyway. The indian gaming market is very sparse. I personally have an Alienware desktop and a Lenovo y 70. You can get the y 70 if you want gaming at cheap prices. I got it for 55 after an exchange.

LOL affordable price... U.S. $1,999 – 256 GB PCIe SSD U.S. $2,199 – 512 GB PCIe SSD ($500 cheaper than last year's Razer Blade Pro) + why to pay for a gaming notebook if you need to cary a standalone GPU in a case? Thats just stupid. Buy a mini PC with built in discrete gpu for less money

You don't need to carry the a standalone GPU with the notebook. The Core is completely optional and meant to be used at home, not on the go. I think you might not have fully understood the article.

You gonna carry that mini pc around to game on the go? Why can't people grasp the concept of form factors determining the price. Expense goes up as the product gets more powerful and portable.

Because desktop players have the time in the day to sit at home and play. I'm basically never home, I could build the cheaper desktop and it would be used all of one day of the week. Or I could drop $1,500-2000 on a gaming laptop and use it everyday for 3-4 years. Also the whole "it's not going to play games well in 3 years" entirely depends on what games you play. Not everyone plays AAA titles non-stop and some people are okay reducing graphics to make nether product last longer. Posted via the Windows Central App for Android

After three years, my gaming notebook can play 80% of the games I throw at it well at 720p, including Dying Light. And by pairing the new Razer Blade with a Core and a good graphics card, you could get even more time out of that sucker.

Well, that mini PC sure helps when I take notes on campus, and then go to work afterwards and work until midnight. From the hours of 6am to midnight I'm not at home. What's a desktop going to do for me then? But with the small break I have in the day I can game on my laptop, and from 9pm to midnight I can game at work. I'm not going to pull out a mini PC, monitor, keyboard, mouse, speakers (since I can't use headphones) just because I'm an elitist PC DESKTOP race dickhole. Posted via the Windows Central App for Android

I admit, the article kind of mushed together the Blade and Core products... so it may seem as you require both "components." But they are in fact separate with the latter being an add-on component to the Blade. This is similar to the "graphics amplifiers" that can be added to any of the most recent Alienware laptops.

Hey hey, the article clearly states that the Blade comes with an nVidia GTX 970M with 6 GB of RAM. People just have to pay attention to what they're reading.

Save the money and put it towards a gaming rig that you can upgrade the video card when needed.

Well, technically you can do that anyway if you get the Core as well.

no one is expecting the external GPU to be comparable to onboard GPU though.

You're possibly underestimating the power of Thunderbolt 3.

Do you think this system is not good because it's external? http://www.gigabyte.com/press-center/news-page.aspx?nid=1338

I bet that desktop would be really heavy to carry around. And the battery life of zero would reduce portability as well. ;)

While I love the Razor Blade series (except for their newer small one), you arent going to utilize their GPUs on anything for more than an hour without plugging in (at least mine wont run witcher 3 for more than an hour without begging for juice). For the thousands of kids out there shopping for a gaming computer who often choose laptops that they never take anywhere, getting a desktop instead is solid advice for them and their parents. certainly there are lots of people who travel who really are in the market for this device, but most of the time i see gaming laptops its some family member's kid and the family member doesnt understand that laptop wont run games very well 3 years from now. and if laptops are really a necessity for the kid, there are a few companies that actually upgrade the mobile GPUs if you send it back to them in a couple years, which Razor doesnt (case is too thin, GPU soldered on).

But what if you're not using it for gaming? You should be able to get a few hours usage browsing, streaming etc. Just because it's a gaming laptop doesn't mean that people only game on it. And that's the beauty of the core box which will allow you to play newer more demanding games in the future.

Tbh if you don't want to game on the go, there's an even better option from Razer. The Stealth has no dedicated GPU but it will still connect up to the Core when you get home. And it's $999.

Yeah, one you can strap a chain to or put in a duffelbag as you carry it around town to/ from work and hotels.

Looks like a great gaming laptop. Not my cup of tea but some will get good use out of it.

No dedicated graphics, looks sexy however its a glorified ultrabook. I'm too old to rock a 3 headed snake logo on my notebook. Great gimmick for college kids

You should read the article before commenting.

yea I read it wrong thought it was only the core.

Ah, no worries. Anyway, I don't know why some people find the Razer logo immature. They're a gamer-oriented brand. Lots of old timers play games too.

perhaps, it takes the boring out of same ol same ol,

True, I read somewhere that 34 years is the average gamer age. Working professionals with disposable income.

ive been gaming since the 90's, while I revel the fact that my gen took gaming to this level and wish I had rigs then like are available now, life gets in the way of playing for 4-5 hours, I just cant do it anymore lol.

Do you really need.that job?!
Anyone remember King's Quest or Police Quest?

how is Customer support with this Company?

Depends on where you live apparently. Decent in the U.S, I can't speak for outside of it but the Internet doesn't like. Posted via the Windows Central App for Android

yea that's what I got from readit

Can I expect an EVGA SC17 hands on?

What a beast, in specs and price :P

It sounds like a very powerful gaming laptop, but I think Razer's timing is off with the new Pascal GPUs due for release this year. Some people will make good use of it, but I think most will wait until laptops start using the next line of graphics cards.

I'm sure they'll release a new model next year. :-)

"The original Razer Blade gaming laptop launched at the beginning of 2015.' Actually Paul, the 14" Blade dates back to 2013. This new model is actually the fourth generation Blade, and retains the same 970M GPU as last year but bumps the CPU up to Skylake. I owned the 2014 edition, the first to offer the QHD+ IGZO display, which was outfitted with a quad-core Haswell Core i7 and an NVidia Radon 870M GPU. The 2015 edition you linked to retained the Haswell CPU but bumped the GPU up to the 970M... The chassis and overall design of the Blade has remained the same, much like Apple's iterative annual updates to the MacBook Pros.

It's nice to see external graphics amplifiers such as the one introduced by Alienware and now Razer are appearing on the market. Its definitely a very nice compromise for those that need mobile first, then gaming capability later (albeit limited compared to a full sized PC such as Alienware Area 51 or home built).
Windows Central Newsletter
Get the best of Windows Central in in your inbox, every day!
Thank you for signing up to Windows Central. You will receive a verification email shortly.
There was a problem. Please refresh the page and try again.