Razer Blade 2016 laptop pre-orders are live again for shipping on Oct. 25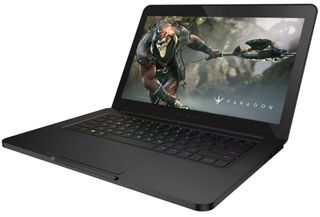 Razer has reopened pre-orders for the 2016 edition of its Razer Blade gaming laptop with Windows 10. Shipments for laptop orders placed today will go out on October 25.
Razer first announced the new version of its Blade laptop a month ago, which packs a 14-inch display, a 6th Gen Intel i7 6700HQ quad core processor, 16GB of RAM, a NVIDIA GeForce GTX 1060 video card.with 6GB of DDR5 VRAM, Killer Wireless-AC and Thunderbolt 3 connectivity. It also supports the $499 Razer Core graphics enclosure for additional PC desktop graphical power. People who purchase the Razer Core with the new Blade will get $100 off the price of the Core accessory.
Pricing for the new 2016 Razer Blade begins at $1,799 (opens in new tab) if you get the model with the HD display and 256GB of SSD storage. There are also storage options of 512GB and 1TB, and the screen can also be upgraded to one with a OHD+ display, but obviously the price goes up with those changes. It also comes with an offer for a free full license to FL Studio 12 Producer Edition, a music software product that is normally worth $199.
See at Razer Store (opens in new tab)
Windows Central Newsletter
Get the best of Windows Central in in your inbox, every day!
...and that is exactly why I don't game on PCs.

That's exactly why I don't game on laptops.

Pretty much... Hard to even try finding decent priced gaming laptop... Good thing Desktop custom build are cheaper if you only upgrade certain things at a time lol Posted via the Windows Central App for Android

That's an illogical statement. Because a laptop is priced high you won't game on a PC? You can build a capable gaming PC for under $1000 no problem. You can even go sub $500 and still play plenty of games.

I would agree that it is cheaper than 15-20 years ago to build a PC that is a decent machine to play on (although at reduced graphics or framerates for the newest games), but you would still need to reinvest more often than on console to keep it up (unless that has changed considerably). I really don't have 200-300 every few years to reinvest, plus buying games. Also, call it laziness, but I don't feel like trying to keep up to continue to be on the bottom of the gaming scale either. I know it may sound illogical to some, but that's the way I feel.

Games are much cheaper on PC and this investment in a better PC can also be worth it for other, productivity related, reasons.

Console refresh just became an almost 2 yearly exercise. PC upgrade costs are no worse.

Yeah we get a lot more for our $200-250. And it is easier to pick up and play at a friends house with several controllers. :)

You have to look at this way you would pay much more for a mac and there aren't as many games. You can get a cheaper priced acer, lenovo, MSI or whatever with similar specs. Then you are carrying around what seems like a mini desktops at 8+ pounds, what you are paying for is a impressively designed light weight and high performance laptop that sits next to all of the top class devices on the market such as apple's mac, microsoft's surface and Asus's zen etc.

Gaming on a laptop is only something I did when I had to. Like when I was deployed or on another type of remote duty. Now that I'm out and don't really travel like that, I have found no need for a mobile system beyond my Surface 3. The desktop is where I prefer to game, work.... Pretty much anything but surf the web.
Windows Central Newsletter
Thank you for signing up to Windows Central. You will receive a verification email shortly.
There was a problem. Please refresh the page and try again.