Your local Microsoft Store just picked up the ultimate gaming laptop, the new Razer Blade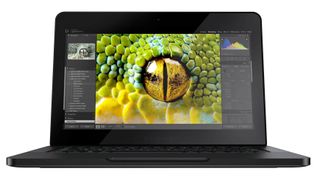 It seems like just yesterday that Razer made us salivate by announcing their new Blade. It's a 14-inch "ultrabook" that doubles as a gaming PC for when you're on the road. This bad boy is only available through Razer's website, but that changes soon. Microsoft Stores will soon be carrying this insane machine. If you're up in San Francisco you're going to want to swing by your local Microsoft Store today.
Let's refresh you of the specs on the new Blade. You get an Intel Core i7 quad core processor, 8GB of onboard memory and an NVIDIA GeForce GTX 870M with 3GB of GDDR5 VRAM. The display is a 14 inch QHD at a 16:9 radio (3200x1800) and with capacitive multi-touch. Head to Razer's website, linked below, for the full specs.
On Razer's website you can configure the new Blade to have either 128GB, 256GB or 512GB of storage. Though the 256GB model is the one you'll find at your local Microsoft Store. As of right now, the new Blade isn't listed online at the Microsoft Store website. Better hurry, we've heard most physical locations only have a handful in stock. The new Blade will set you back $2399.
Those in San Francisco might want to swing by the Microsoft Store located at the Westfield San Francisco Centre on 845 Market Street. From 6PM till Midnight there will be prizes and pro gamers hanging out to help launch the new Blade at Microsoft Stores.
Anyone thinking of picking up the new Blade? It's a serious machine that we'll be going hands on with soon.
Source: Razer (opens in new tab), Blade product page (opens in new tab)
I'll stick with Alienware!

I hope Alienware will follow the trend and release their own thin gaming laptop soon. 2 inch thick behemoths belong in the past.

That 2nd paragraph . . .
-·(:¬D........

It is, but it's totally worth it, it seems. PC's last for a long time.

3k display, killer specs AND ultrabook looks? (design, weight, slim). Yep, it's worth the price.

Seems faster, and that's an understatement!

Lol nope. May be 10 years later.

Pre-ordered the 512GB from Razer the day it was announced, still waiting for it to ship. If Microsoft Store's get the 512GB in stock before I get mine I'll be royally pissed!

I don't think the MS Store's will get the 512 model, just the 256. But the CEO of Razer tweeted out yesterday that they're building the new Blades as fast as they can! Demand has been very high. Congrats and consider us all very jealous!

I figured as much. I've gotten a couple emails already from Razer that the release date keeps getting pushed back due to demand. It's just frustrating that we're now hitting a month past when they were originally supposed to ship.

A guy I work with said that he initially had ordered his through Razer, but ended up cancelling that order because of the delays, and ended up going through Microsoft. He got it yesterday, so I would imagine that others that ordered through MS would be getting them shortly. We opened it up at lunch to check it out...pretty sweet machine.

Will be great if Razor made professional grade laptop with similar specs for editing , animation etc . How's the battery life on this beat btw?

What do you mean by professional grade? Most people seem to be getting 4-5 hours.

I doubt that. The old (2013) razer blade with the same CPU and battery size pulled anywhere from 4 to 6.5 hours. 5 as a high end is probably a little low. Haswell is probably slightly better figured out compared to the end of last year, and a new display isn't going to do that much to the battery life. 4 being at a low end "heavy" workload. http://www.anandtech.com/show/7119/razer-blade-14inch-gaming-notebook-re...

Engadget has a review and in their tests the battery was lower. It seems to be a result of the higher resolution

Higher res screen + more powerful GPU seems to be effecting battery life. Take a gander at some of the threads at notebookreview from people who actually have been using the laptop, which is where I got my numbers from http://forum.notebookreview.com/razer/

Yes, with a keypad would be nice.

I guess if you wanna overpay then it's cool... I still think building a PC is the way to go for gaming and gaming laptops are a rip off.

I wholeheartedly disagree. My Lenovo y500 is the perfect laptop at $1000 retail with 2 gt650m, 12gb ram, and it's marketed as a gaming laptop. I spent $800 on it. I use it for school, work and gaming. At the time, I would've spent those $800 on a custom desktop that was only slightly better and not portable. I like that that thing goes wherever I go. $2400 is too pricey though. Not a bad investment if you want portable top of the line gear.

I'd almost entirely agree with you - I like gaming laptops. However, "slightly better" in terms of power is a huge understatement. You can build a system with more power than a $1k gaming laptop for ~$500 or less, easily. At $800 you get big, big GPU upgrades.

Here's the thing, you can't take your gaming PC anywhere. Gaming laptops are great for people who move around a lot and still want to play some of their favorite PC games. No one is going to argue that you can build a desktop gaming station that plays better for cheaper, you just can't take it from place to place.

Clearly you don't need/want portbability. Gaming laptops are not used for the same reasons gaming desktops are.

If you go out a lot. You'll understand why this is awesome. You can't take your gaming PC anywhere.

I build PCs, but I heard a great analogy the other day from a non techie.
"Everyone gives me shit for buying a prebuilt PC, telling me I could have saved money if I did it myself. Yeah, and I could also save money by killing and preparing my own meat, but instead I choose to buy prepackaged meat at a premium instead of having to learn an entire trade because i don't have time to learn to do every single thing, and there's this thing called the free market where people exchange their services of their chosen career for money, and yeah it costs a little extra because that's how they make a living and pay their bills".

Building PCs is way too easy for that analogy to be apt, but I get what you're saying. I build my own PCs, but have no problem with people that don't.

No- you think it's easy. I think it's easy. Most people who know their trade would say their trade is easy. The analogy is accurate. Someone from the outside looking in will not know what to do. The BIGGEST barrier to entry- buying parts. I'm in IT and it takes me a few days to sort out what's good and what's overpriced junk. Imagine someone who has no idea what parts are compatible with what motherboard, what parts are even necessary for a PC, how many watts are needed in the PSU... Knowing what to buy is incredibly convoluted and takes a lot of time and research and understanding. Ok, so you could buy a bunch of parts doing the bare minimum research and as long as everything is compatible it will run (in fact most people I know who "build their own PCs" don't actually know what they're buying beyond "newegg said it was good and it works with my motherboard"). So all the parts arrive- what now? There aren't actually instructions for how to assemble anything beyond the motherboard manual, which is bare minimum and will never mention anything about airflow, or where to plug in things your chassis came with, or how much thermal paste to apply and where, how to handle the CPU and how to install it. God forbid he bought any nonstandard part.
Then if one of the parts is defective you have to know how to troubleshoot so you know which to send back, and after that you need to install an operating system... Building a PC is NOT easy. You just take your skill for granted.

Pcpartpicker.com lets everyone become a pro at building their own PC. It is a lot easier than it was in the past. If you can put together legos or a kitchen table (which is everyone), you can figure out a PC. It's not hard, you just need to have interest in actually doing it.

Couldn't have said it better

First off, killing an animal and preparing the meat is not so difficult. Messy, yes. Gross, maybe. Difficult? Well maybe if you're stalking it through the bush, but mostly it just takes patience. Ever gutted and filleted a fish? Welp, guess what - you've killed an animal and prepared the meat, and it wasn't so hard was it? Building a PC isn't so hard either. It just takes resources and patience. Hard to do extremely well, sure - but mostly it's just time and effort, like most things. I've found that skills are easy to obtain, but experience is what's expensive. Experience prevents mistakes, streamlines processes, breeds efficiency. THAT is what makes doing something professionally possible. Anybody can learn to do anything. ...but it takes time to learn how to do something right.

Since, being in the UK, my local MS store is prolly on the east coast of the US I think I'll pass. Anyone know when the Nokia Care Points are due to carry the full MS range?

For that price I'd prefer something like an MSI even though it's larger and heavier. The specs for a MSI at that price would includea a 17" monitor and 24GB of RAM.

Way to expensive! I'll pass
Thank you for the offer.

How much does a kidney cost these days? I've got a spare.

Lmfao. Best comment on the thread!

Next move: Europe. I hope.

... Xbox one?... Anyone? Is way too expensive for similar gaming quality (I did say "similar").

Nice, release it in India.

For how crazy high most of the specs are, only 8GB of RAM seems like a really odd choice.


They're sexy laptops, but seriously for that money I could get WAY more than the specs that offers. only 8gb of RAM? At that price most of them offer AT LEAST 16GB. It looks like a decent Photoshop machine but with that pricing no thanks.

8 GB looks fine for gaming, but not enough for PhotoShop or CAD. For gaming, gtx870m is pretty good. Anyway they always stated that the 17" Blade Pro was the one meant for professional use.

Spec-wise you could find a laptop with more for less money, but that laptop wouldn't have the same build quality and thinness as the Razer Blade. That's what you're paying the premium for.

You haven't seen even the first Generation of this, have you. They were pretty capable of more than just Photoshop. Gen 2 is a much better improvement. For the spec and FORM FACTOR there isn't a competitor.

I don't think gaming laptops worth the money because in 2 years the specs will be old and you wont have the ability to change them like desktop PC

I'd love one... If I had the money.

Holy crap, 3gb of VRAM in a laptop? They ain't playin!

What local Microsoft store?! :-)

Razor has a lot of momentum when it comes to PC gaming... Small company - big heart

Nice! I wish I could get this

Very expensive, but that display and graphics card don't come cheap. Looking at benchmarks this thing should outperform my desktop radeon 7870. And all in a ridiculously thin 14" package. This could be the first time I can actually replace my desktop entirely with a laptop.

I travel a lot. Hard to play COD on the plane with a 5kg desktop or xbox ;). Sign me up!!

I haven't used the blade but I've used their gaming tablet and it is terrible. I know the blade is infinitely better but the tablet scarred me a bit.

Finally a retail store with one in shop... I need to head down to check it out. First Gen was nice, but specs on this one are what I was waiting for.

Would love to have it. Can't afford it. Damit!

My Yoga 2 Pro is an i7, 8GB RAM, 256GB SSD, QHD, Touch, etc. for $1199. I guess if you don't really need the enhanced graphics you can save a bunch of cash. Or buy another Yoga 2 for a significant other.

Don't be put off by the Razer branding. This sleek laptop is made by MSI,which is a really good gaming brand. You guys can get almost the same laptop from MSI GE series for much cheaper I think.

maybe in a few years when batteries have advanced. that's still the one area where pc oems dont seem to be able to catch up to macbooks in
Windows Central Newsletter
Get the best of Windows Central in in your inbox, every day!
Thank you for signing up to Windows Central. You will receive a verification email shortly.
There was a problem. Please refresh the page and try again.