Razer Blade Pro: Can you build a similar desktop PC for much less?
The Razer Blade Pro is the desktop in your laptop. But how does it compare on price to building a high-end desktop rig?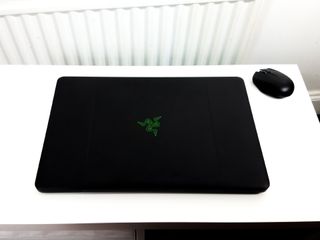 One of the main 'criticisms' if you can call it that from the more vocal parts of the PC crowd is that the Razer Blade Pro is way too expensive and you can build a desktop rig for much less. While there may be some truth in that, it does miss the point of what the Blade Pro actually is: a portable high-end gaming PC.
But we're never ones to shy away from science, so let's see just how the pricing stacks up when you compare a Razer Blade Pro to an equivalent desktop PC that you can build yourself.
We're pricing up an entire system here, too, not just the rig. The Razer Blade Pro has a mechanical keyboard, a precision trackpad input device and a 4K G-Sync display, so we'll be throwing equivalent parts into the mix for the desktop system, too. It's not an exact science, but we're getting as close a match as we can.
To recap first on the Blade Pro specs:
Swipe to scroll horizontally
Category
Specification
Processor
Intel Core i7-6700HQ Quad Core
2.6GHz / 3.5 GHz
Display
17.3-inch IGZO UHD G-Sync touchscreen
3840 x 2160 LED
Storage
512GB / 1TB / 2TB SSD
RAM
32GB dual-channel DDR4 2133MHz
GPU
NVIDIA GeForce GTX 1080
Keyboard
Anti-ghosting, backlit mechanical keyboard
OS
Windows 10 64-bit
Networking
Killer DoubleShot Pro
Wireless-AC 1535 (IEEE 802.11a/b/g/n/ac)
E2400 Gigabit Ethernet 10/100/1000)
Bluetooth
4.1
Ports
Thunderbolt 3, 3x USB 3.0, HDMI 2.0, SDXC reader
Audio
Built-in stereo speakers
Dolby Digital Plus Home Theater Edition
7.1 codec support (via HDMI)
3.5mm headphone/microphone port
Array microphone
Webcam
2.0MP
Security
Trusted Platform Module (TPM 2.0) security chip
Kensington security slot
Battery
99Wh lithium-iron polymer battery
Weight
3.54kg (7.8lbs)
Dimensions
22.5mm (H) / 424mm (W) / 281mm (D)
To build a similar desktop PC we'll need:
A case
A motherboard with USB-C Thunderbolt 3
A power supply
NVIDIA GTX 1080 GPU
32GB 2133MHz DDR4 RAM
Intel Core i7 6700k processor
512GB SSD
4K G-Sync display
Mechanical keyboard
Mouse
Windows 10 license - because it isn't free.
If you're building a PC yourself you'll be shopping around to get the price for the parts you want. For consistency we've got prices for each part from Amazon U.S., Razer peripherals where possible and with the comparison based in dollars. Naturally, prices may vary in your part of the world.
But here's what we're looking at for each:
Swipe to scroll horizontally
All that comes to $3,115.75. So yes, you can build a desktop rig that meets the spec of the Razer Blade Pro for less than its asking price of $3,699.99, and by a fairly substantial amount. Further savings can no doubt be applied, and that's the freedom building your own system affords.
But you can't take that system with you wherever you go. Sure, the Blade Pro is large, but it's still a go anywhere PC, which is entirely the point of it. High-end laptops generally command a premium over desktops, that's just the price we have to pay for the convenience of having our computer in our bag.
It doesn't take away from the remarkable piece of engineering that the Razer Blade Pro is.
Windows Central Newsletter
Get the best of Windows Central in your inbox, every day!
Managing Editor - Tech, Reviews
Richard Devine is a Managing Editor at Windows Central with over a decade of experience. A former Project Manager and long-term tech addict, he joined Mobile Nations in 2011 and has been found on Android Central and iMore as well as Windows Central. Currently, you'll find him steering the site's coverage of all manner of PC hardware and reviews. Find him on Mastodon at mstdn.social/@richdevine
Another thing that's included in the price is that THEY build the system for you, you don't have to know anything about it, they also build a premium product and they test it, so you don't have to worry about low-quality parts.

And a warranty, too, I guess!

If you talk about warranty, sure you would only have to deal with one company, but you may only get 1 to 3 year warranty. In my PC that I built, my part warranties go from 5 year to lifetime. So if your not afraid to build you could make one that would be sure to last a long time.

Well, if anyone takes time to learn its really not that hard. Also by learning you can find some really high quality parts for not much more than the cheaper ones. Just need to put a little effort into learning how.

Of course you can, but it wouldn't be a laptop so it's not a valid comparison.

Valid? No, but interesting and relative to a purchase, yes.

I'm guessing part of Razer's market is those who want something semi permanent than they can move if need be. For those people, a small form factor desktop may make more sense.

Can't use a small desktop PC on the train ;-)

wow.. I guessed you've never been on a train in ASIA pal... good luck with that

Brilliant comparison Richard. For those who complain about the price of the Razer when you see that it's only 16% more than a desktop version that shows real value for money spent. Also validates my purchase thank ;-)

Is t​he case in the picture the same as the one in the parts list? They look different to me.

It's definitely not. It's a Thermaltake. I think it's this: http://www.thermaltakeusa.com/Chassis/Mid_Tower_/Core/C_00002971/Core_P5...

Yeah we don't have a Fractal to hand and Rich's P5 looks better than my case ;-)

You missed webcam, microphone, speakers, WiFi and a thunderbolt PCI card. :/

Not really. All technically optional on a desktop rig. The mobo has TB3 built in.

Oh, you mean the things the Razer craptop has built in? You're picking and chosing what to compare and what not to compare. At least show some consistency. ****, the more I read of your replies, the snarky attitude and general lack of knowledge and consistency makes me wonder if you were paid by razer to give them a favorable review and to look like the better option.

This is clearly not a PC hardware guy writing this. The mobile 1080 won't be as fast as the desktop which is overclocked more(higher boost) and can take far more thermal load than a laptop. The 6700K is faster than the 6700HQ(base and max clocks). Also the Razor when running full tilt in games will get very hot and loud as the fans will have to run full speed again much more than a desktop. Much bigger display with the desktop and the 17 inch 4K on the laptop being way overkill. You wouldn't know the difference gaming compared to a quality 1080p IPS one. The Razor is an impressive machine though and I would take one in an instant if given it.

I mean...you could also have completely missed the point of this. The words towards the top are pretty useful here not just jumping to the comments. No, it's not an exact science as put into the post and you know what, we're just having a little fun based on those 'experts' who continually complain about the Blade Pro based on price, I could build better for less, etc, etc.

Possibility of a better rig for less is not a complain, it's a fact. It's also much better option for ~85% of gamers. You also wrote you're 'getting as close a match as we can', which is REALLY pushing it. Actual i7 6700K is over 40% faster than i7 6700HQ in Blade, something you forgot to mention. Not even close match. Hell, even much cheaper i5 6500K has ~10% extra. Have your fun, but how about not BSing your readers while you're at it?

Even more, I would customize it beyond what the razr brings, as for example I have no use for a Thunderbolt port.

Razer Blades don't have precision touchpads.

A desktop PC doesn't have a precision touchpad.

who uses touchpad on PC anyways... MKB

"Razer Blades don't have precision touchpads."

Guess what the Razer Blade Pro has? A Precision touchpad. No lie.

Ok, next step is to buy it, build it, and put the two head to head. :)

He didnt need to pick a 860 watt psu that costs $170 nor a $205 of keyboard + mouse, a $60-$80 cherry mx backlit keyboard woulda been fine as well as a $30-$50 mouse woulda been fine too. Also since the case was the favourite, that means we can lower down the price for the case by a decent amount as well

I mean...it's almost as if you didn't read any of the words in the post. We picked Razer peripherals because that's what you're paying for on the Blade Pro. A Razer keyboard/trackpad/scroll wheel thing. You're also suggesting someone building a super high-end rig wouldn't also be prepared to spend decent money on a nice case, keyboard and mouse.

I mean, it's almost as if you don't realize how stupid your parts selection is. Anyone with that sort of money is probably not going to be a moron, do their research, and build something sensible. There are better peripherals than Razer for less cost. Even the high end parts lists you'll find with a quick google search peg the budget a good $1000 or more below that estimate, and can pack a pair of GTX 1080's.

Just some quick guessing but you could easily take off another 200 or more with your final pc pricing.

"Further savings can no doubt be applied, and that's the freedom building your own system affords."

I like building because I get to choose how the end product turns out. And you make them look really snazzy. For me its enjoyable to build.

You forgot to factor in labour

You'll need champagne 🍾 to celebrate building the machine and first powering it on

There are all these arguments for building a desktop PC, how a 1080 on mobile doesn't perform up to par with one on a desktop, and ways and means to cut costs on the desktop PC front. Yet all the salty comments are from people who literally are /not/ the target audience of the /mobile solution/ that is the Razer Blade series. You can make the strongest cases simply for cost differences between a desktop and a laptop with the same specs, but you just cannot legit put any equivalent price value (and even a lifestyle) benefit to a /daily mobility/ standpoint of being able to take such power in a box everywhere and anywhere you want at any time.

Is there not a 17" G-Sync display available ?

You could drop the price a bit more by using an OEM version of Windows 10, If you want to nickle and dime.

Lol! To begin with a desktop pc is going to outperform a mobile CPU significantly. The i7-6700k is a high-end CPU while the i7-6700HQ is a high-end mobile cpu which places it lower down closer to mid teir. i7-6700HQ is going to perform more like the i5-6600k and even then the 6600k might be a bit better in real world situations. i5 is half the price. On top of that the amd FX-8320 is even cheaper with similar performance. The liquid cpu cooler is also something extra that you don't actually need and isn't what the razer blade has. The keyboard in the laptop is no equivalent to a black widow mechanical keyboard. Where does it specify that the SSD is a samsung at all (Knock off some of the cost by not paying for the samsung name and one of the highest performance SSDs?). I can see where the monitor is going to be expensive with 4k gsync but this is also a 27" where you are going to have a much better experience than a 17.3". Corsair Vengeance RAM? This is some very expensive RAM where does it say that they use Corsair RAM at all? The Killer NIC isnt something anyone would buy in addition. If you are getting a decent motherboard it will come with a NIC that performs the same. Obviously there are some things missing like a webcam and microphone (not that the microphone is even useful on the laptop if you are going to use it for gaming). I may have missed something else, but oh well. I think the Razer Blade Pro is amazing if you need something to be mobile with and aren't will to carry around a big case, monitor, and peripherals, but you will definitely be paying at least $1000 more for the mobility/size. You will also be getting a smaller monitor while paying more. This article should be helpful to some, but take it with a grain of salt. This is a very high end PC they have put together and it will outperform the Razer Blade Pro hands down.

Exactly this, seriously. Way to inflate the price, razer.. Even a 212 Evo would be enough of a cooler, and $30-40 at most. the 8320 is not a good comparison, it's several years old and dated. Go with at least an i5 6500, and an H170 pro gaming. Bam, SLi and Crossfire support, M.2 SATA, you don't need 32gb of ram unless you're doing heavy video/photo editing, 16gb is just fine.. Jesus, what a joke of an article.

For a site that suggests that it's tech related with the url, it's clear that the article writer RICHARD DEVINE has zero experiance with hardware.
The i7-6700HQ is almost identical in performance to an i3-3620 desktop CPU. building the closest matching hardware i could (without putting much effort into looking up prices) it would cost you $2,200 you'd have an actual gaming mouse, mechinical gaming keyboard with rbg, samsung ssd (better than what i'm seeing is kingston TLC ssd in that laptop), a 24" display giving you much larger screen size, and many other items.
Desktop hardware always has way more power than a laptop, even the laptop 1080 vs desktop 1080, the desktop 1080 will destroy the laptop in performance. Here's the link to the build to back up my claims https://goo.gl/NgGWyr
i'm sure you could go much cheaper on parts, getting it down to something in the $1k range. I chose to go a little over priced on keyboard, mouse, and cam. all 3 items will give you WAY better results than that laptop.
anyone using 4k under 35" is wasting money and negatively impacting their gaming experiance, for gaming you want something in the 1080 - 2k rage with 144 - 160hz and 5ms or less responce time, something you simply can not get with 4k.