Razer Junglecat and xCloud could make my 'Xbox Switch' dream a reality
By Dan Thorp-Lancaster last updated
The Nintendo Switch offered a unique take on portable gaming at its launch, but what if you pushed that concept further with xCloud?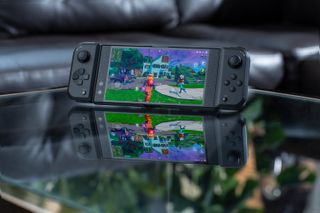 (Image credit: Razer Press Release)
With Microsoft's Project xCloud in testing, we're already tantalizingly close to haveing full console-quality mobile gaming at our fingertips. However, where Microsoft stands ready to push the power offered by Xbox consoles anywhere you may be, the Nintendo Switch has arguably already perfected the form factor.
But what if you could combine the two?
That's a very real possibility with the help of Razer's new Junglecat controller. The Junglecat essentially looks like a clone of the Nintendo Switch's Joy-con setup, but with Razer flair. With the help of a special phone case (which is, unfortunately, limited to a few select phones), each side of the Junglecat can be removed and attached to your phone, essentially replicating the Switch experience.
While the Junglecat's form factor might invite derision because of its obvious nods to the Switch, why mess with a good formula? The Joy-Cons aren't necessarily the most comfortable controllers to use, but they're currently the best example we've seen of bringing console gaming to life on the go. When applied to xCloud, the experience get a lot closer to something some Xbox fans have been clamoring for for a while now: a portable Xbox.
There are some downsides here, of course. First, the case you have to use with the Junglecat is limited to the Razer Phone 2, Samsung Galaxy Note 9, and Galaxy S10+ for now (with the Huawei P30 Pro taking the Note 9's place outside of the U.S.). Though it's possible we could see Razer expand its range of supported phones, that severaly limits the Junglecat's potential here — though the Razer Phone 2 is a tempting option at $399 (opens in new tab).
There's also the fact that a lot of Xbox players might simply prefer to use what they're already familiar with: the Xbox One Wireless Controller. For anyone who counts themselves among the group, the already available controller mounts will work just fine and are much cheaper than the Junglecat's $100 price.
While neither Razer nor Microsoft have officially confirmed the Junglecat will work with xCloud, our sources have hinted it's likely in the works. Frankly, it'd be silly not to have the two pair up, because such a pairing would marry the best of Xbox's powerful hardware with the hardware experience Nintendo nailed with the Switch.
Ultimately, though, one could argue that this is a band-aid solution for a true portable Xbox of sorts. It does raise an interesting idea, though: What if Microsoft went all-in on its own Switch-like accessory, with broader compatibility, to pair with xCloud? It's highly unlikely, but a man can dream.
Would you use the Junglecat as your go-to setup for xCloud gaming? Let us know in the comments.
Mobile gaming
(opens in new tab)
The Razer Junglecat is a mobile gaming controller that essentially turns your phone into a Switch.
Game time
(opens in new tab)
The Razer Phone 2 is a solid deal at $400, and it could prove to be an excellent option for xCloud with tis 120Hz display.
Dan Thorp-Lancaster is the Editor in Chief for Windows Central. He began working with Windows Central as a news writer in 2014 and is obsessed with tech of all sorts. You can follow Dan on Twitter @DthorpL and Instagram @heyitsdtl. Got a hot tip? Send it to daniel.thorp-lancaster@futurenet.com.
Why do you need the expensive Razer Junglecat, when there have been loads of telescopic game phone controllers on the market for years, for a fraction of the cost? E.g. the $10 ipega 9087: https://microware.in/wp-content/uploads/2018/08/microware-ipega-9087-1-1... YT: https://www.youtube.com/watch?v=0CMAnIo-jy0 The ipega 9083: https://i.ytimg.com/vi/2W7mwJ1jVP0/maxresdefault.jpg YT:https://www.youtube.com/watch?v=6K_feISAkCY Several others:
https://www.youtube.com/watch?v=0nl30gMy9I4
https://www.youtube.com/watch?v=R1pm876OiKw All of the above are under $30.

Thanks. This is what I mean.

We just need something like a new Sony Xperia Play but with the sticks of the PS Vita.

See my comment above. There's already a lot of excellent telescopic game controllers out there for mobile phones.

I'm surprised Microsoft didn't leverage the scalable nature of UWP games to make an Xbox portable. The same tech underlies the ability to scale graphics up from standard Xbox One to Xbox One X could be used to scale down from standard Xbox One to a portable Xbox. Then you could have lag free local play at low settings, and scale up graphics using cloud computing whenever it's connected to the internet like they did with Crackdown 3. Maybe we'll finally see something like this with Windows Core OS and Game Core.

I think the logic is that it's an easier sell to get someone to pay ten bucks a month (or whatever) and use the device they already have than get them to drop $1-200 bucks on a dedicated portable. The idea behind xCloud seems to be convenience. I mean, unless it is blocked in someway I actually wonder whether the xCloud app will be usable on Android powered TV's.

I think it will. Looking at Microsoft now they want to offer the self's on all hardware. The biggest one I think will be them moving to android for mobile phones and this will help push xcloud.

The next best thing to that idea is the GPD Win Max and Smach Z, which are both due for release relatively soon. There's also the GPD Win 2, but on average it performs worse compared to the Switch.

This is from Razer and it's all good, but there's Chinese cheap versions of this too. Sounds like an interesting accessory but it's no Xbox One controller.

I bet this is way better to use than the cheap ones. I used cheap Switch controllers. And they suck bad.

It won't be. Something like the $30 Saitake 7007X is all you need.
Windows Central Newsletter
Get the best of Windows Central in in your inbox, every day!
Thank you for signing up to Windows Central. You will receive a verification email shortly.
There was a problem. Please refresh the page and try again.