R.B.I. Baseball 15 rounds the bases on Xbox One March 31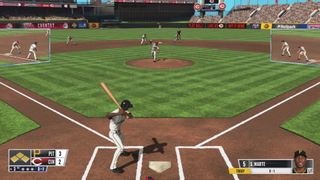 R.B.I. Baseball 15 will be hitting the Xbox One next week on Tuesday, March 31. Play through the baseball season as a part of your favorite teams in authentic, MLB-licensed ballparks.
R.B.I. Baseball introduces a number of new features to the franchise, including online multiplayer, stat tracking, and full team rosters. Here is the full list of changes coming with R.B.I. Baseball 15:
ONLINE PLAY: Play in online multiplayer mode in friendly and ranked games.
BALLPARKS: Newly crafted authentic MLB ballpark designs for all 30 franchises.
FULL ROSTERS: Set the active 25-man roster from each franchise's 40-man roster. Beginning in April, roster updates will be available throughout the season.STAT
TRACKING: Track batting and pitching statistics in season mode.
GAMEPLAY SETTINGS: Pick the competition level – Easy, Medium or Hard.
R.B.I. Baseball 15 is coming to the Xbox One via the ID@Xbox publishing program, and will be available for $20 on release. You can pre-order the game now from GameStop.
Source: GameStop (opens in new tab)
Windows Central Newsletter
Get the best of Windows Central in your inbox, every day!
If my Braves didn't look like they were gonna have as bad a year as it appears they will, I'd consider getting this. Can't wait until the 2017 season when they should be able to go after some nice free agents, lol.

New park, big money, big names. Also means you should get the AS Game within ~10 years. They like to visit the new parks. And that always helps to get cool new things around the park (think: 8k scoreboard in 2023?)! haha

Exactly. Lol, this and next year will most-likely be lean seasons but after that, I'm excited to see what happens.

Does the bat look out of proportion to anyone else?

I bought a release day baseball game in 2012, and I don't think I'll ever get one again...what I have works fine. I would actually be ALLLL about getting the newest baseball game every year if they kept up on rosters, and I mean daily! When my Tigers play a 1:05 game, when I get home after work and want to replay that days game, the starting lineups better match! I mean...pay some super fan of each team to update their starting lineup when they are announced, it isn't that hard. I could even forgive a little with callups/send downs...as they might have to even create the player.

I dont care for RBI, Its sad that 2K gave up. EA should drop NBA live and take on MLB instead. Leave the NBA game to 2K, they are fully invested in that game..

These baseball games look "sick". Sighs. If only us Cricket fans had such luxury.

I'd wait for reviews on this one. RBI Baseball 14 was absolutely terrible, just carried entirely off the name alone. They appear to have fixed some of the major flaws (stat tracking is hugely important in a season mode, and the full rosters and parks should help as well) in this one, but we'll see.

Read that as "R.I.P." *sighs*

Still $20? That was a huge price point barrier for a ton of people who love RBI and didn't even read any reviews. Meh, oh well.

Great baseball games. Non existent cricket games.

We need a good Baseball game for Windows Phone pleeaaaaaseee!

YES! Finally a baseball game. If only the major devs cared also.

So this is the only descent mlb game ever being available on Xbox one?

MLB the Show is exclusive to PlayStation

Besides RBI, MLB doesn't have a triple AAA game for Xbox.

I want a good baseball game for WP