Ready, set, go: Lumia Home Trial Campaign begins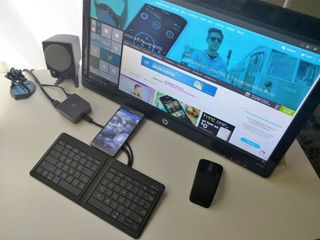 As part of the new Lumia Home Trial Campaign, Microsoft has recently begun sending Lumia trial kits to some users (including me) to try the new phone and provide feedback to help shape up the future of the platform.
The Lumia Home Trial Campaign begins on December 11th and ends on January 1st. Through the campaign, participants will go through nine "fun" challenges to help master the skills using a new Lumia 950 handset.
And Microsoft is making sure participants have everything they need to go through every challenge. The Lumia Home Trial Kit sent invited members a very elegant package containing:
One Lumia 950 handset pre-installed with Windows 10 Mobile build 10586.0
One Microsoft Display Dock
One Microsoft Arc Mouse (Black)
One Microsoft Universal Foldable Keyboard, which connects via Bluetooth to any Windows, Android, iOS device
One USB Type-C to Type-C cable
One USB Type-C to USB 3.0 cable
One USB 2.0 to mini-USB cable
Two charging cables with USB Type-C connectivity (one for the phone and one for the dock)
One month of AT&T service
User guides and warranty information
Lumia Home Trial Kit Unboxing Gallery
As a participant of the #LumiaVoicesTrials, I got my hands on the one of the kits, and here are a few pictures of the equipment unboxing:
Image 1 of 11
Lumia 950 specs
Swipe to scroll horizontally
Category
Specification
Operating System
Windows 10 Mobile
Display
5.2 inches
WQHD (2560x1440) AMOLED, ClearBlack
Rear Camera
20MP
Backside-illuminated image sensor
PureView
True 16:9 sensor
Fast Focus
High resolution zoom
4K Video Recording
Front Camera
5MP
Still image capture
Video call
Video recording
Processors
64-bit Qualcomm Snapdragon 808
Hexa core
1800 MHz

Memory & Storage
RAM: 3GB
Internal storage: 32GB (expandable up to 200GB)
Network
GSM Bands: 850 MHz, 900 MHz, 1800 MHz, 1900 MHz
LTE Bands: Band 1, Band 2, Band 3, Band 4, Band 5, Band 7, Band 8, Band 12, Band 17, Band 20, Band 28
Wi-Fi: MIMO WLAN IEE 802.11 a/b/g/n/ac

Sensors
Accelerometer
Ambient light sensor
Barometer
Gyroscope
Magnetometer
Proximity sensor
Location
A-GLONASS
A-GPS
Cellular
Wi-Fi network positioning
Dimensions
8.2 x 145 x 73.2 mm
Ports
Micro USB Type-C
Battery
3000 mAh
Other
Wireless charging built-in
Fast Charging
NFC
Bluetooth 4.1
The ultimate goal of the program by putting great new hardware in the hands of people is to collect honest feedback to understand better what people think (good and bad), and other issues that may exist with the new devices and features.
Eventually, this feedback will help Microsoft to improve its products, features, and services. Of course, this also includes trying to push Continuum -- perhaps one of the most exciting features that can transform your phone into a PC-like experience to get things done quicker on the go -- to more people.
I have tried the Lumia 950 and Continuum for phones many times in the past, but they were all store demos. This time around with the Lumia Home trial kit, I have the chance to get hands-on with the new handset and Continuum using the Microsoft Display Dock on my terms.
Thus far the experience has been great, the Lumia 950 is a fantastic device, even more, when you configure Windows Hello. In addition, Continuum is extremely easy to set up with the Microsoft Display Dock (opens in new tab), just plug the peripherals and tap on the phone screen to start Continuum. Although, this solution won't be replacing my main machine, it's a unique solution for those times when you don't have your primary machine nearby.
Unfortunately, there is no way we know of to sign up for or enroll in the Lumia Home Trial Campaign.
What do you think about the Microsoft approach to keep building momentum with its new Lumia devices? Are you part of the Lumia Home Trial Campaign? Let us know in the comments below.