Ready, set, go: Lumia Home Trial Campaign begins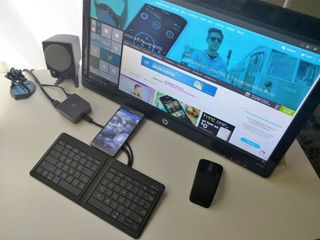 As part of the new Lumia Home Trial Campaign, Microsoft has recently begun sending Lumia trial kits to some users (including me) to try the new phone and provide feedback to help shape up the future of the platform.
The Lumia Home Trial Campaign begins on December 11th and ends on January 1st. Through the campaign, participants will go through nine "fun" challenges to help master the skills using a new Lumia 950 handset.
And Microsoft is making sure participants have everything they need to go through every challenge. The Lumia Home Trial Kit sent invited members a very elegant package containing:
One Lumia 950 handset pre-installed with Windows 10 Mobile build 10586.0
One Microsoft Display Dock
One Microsoft Arc Mouse (Black)
One Microsoft Universal Foldable Keyboard, which connects via Bluetooth to any Windows, Android, iOS device
One USB Type-C to Type-C cable
One USB Type-C to USB 3.0 cable
One USB 2.0 to mini-USB cable
Two charging cables with USB Type-C connectivity (one for the phone and one for the dock)
One month of AT&T service
User guides and warranty information
Lumia Home Trial Kit Unboxing Gallery
As a participant of the #LumiaVoicesTrials, I got my hands on the one of the kits, and here are a few pictures of the equipment unboxing:
Lumia 950 specs
Category
Specification
Operating System
Windows 10 Mobile
Display
5.2 inches
WQHD (2560x1440) AMOLED, ClearBlack
Rear Camera
20MP
Backside-illuminated image sensor
PureView
True 16:9 sensor
Fast Focus
High resolution zoom
4K Video Recording
Front Camera
5MP
Still image capture
Video call
Video recording
Processors
64-bit Qualcomm Snapdragon 808
Hexa core
1800 MHz

Memory & Storage
RAM: 3GB
Internal storage: 32GB (expandable up to 200GB)
Network
GSM Bands: 850 MHz, 900 MHz, 1800 MHz, 1900 MHz
LTE Bands: Band 1, Band 2, Band 3, Band 4, Band 5, Band 7, Band 8, Band 12, Band 17, Band 20, Band 28
Wi-Fi: MIMO WLAN IEE 802.11 a/b/g/n/ac

Sensors
Accelerometer
Ambient light sensor
Barometer
Gyroscope
Magnetometer
Proximity sensor
Location
A-GLONASS
A-GPS
Cellular
Wi-Fi network positioning
Dimensions
8.2 x 145 x 73.2 mm
Ports
Micro USB Type-C
Battery
3000 mAh
Other
Wireless charging built-in
Fast Charging
NFC
Bluetooth 4.1
The ultimate goal of the program by putting great new hardware in the hands of people is to collect honest feedback to understand better what people think (good and bad), and other issues that may exist with the new devices and features.
Eventually, this feedback will help Microsoft to improve its products, features, and services. Of course, this also includes trying to push Continuum -- perhaps one of the most exciting features that can transform your phone into a PC-like experience to get things done quicker on the go -- to more people.
I have tried the Lumia 950 and Continuum for phones many times in the past, but they were all store demos. This time around with the Lumia Home trial kit, I have the chance to get hands-on with the new handset and Continuum using the Microsoft Display Dock on my terms.
Thus far the experience has been great, the Lumia 950 is a fantastic device, even more, when you configure Windows Hello. In addition, Continuum is extremely easy to set up with the Microsoft Display Dock (opens in new tab), just plug the peripherals and tap on the phone screen to start Continuum. Although, this solution won't be replacing my main machine, it's a unique solution for those times when you don't have your primary machine nearby.
Unfortunately, there is no way we know of to sign up for or enroll in the Lumia Home Trial Campaign.
What do you think about the Microsoft approach to keep building momentum with its new Lumia devices? Are you part of the Lumia Home Trial Campaign? Let us know in the comments below.
Mauro Huculak is technical writer for WindowsCentral.com. His primary focus is to write comprehensive how-tos to help users get the most out of Windows 10 and its many related technologies. He has an IT background with professional certifications from Microsoft, Cisco, and CompTIA, and he's a recognized member of the Microsoft MVP community.
Sure hope they filtered selected users by carrier.... Posted via the Windows Central App for Android

If only they had listened to comments section in windows Central a lot earlier - like a lot lot earlier, MS's phone division would have been in a quite good position now.. Just saying ;)

They provided one month free att service...

Sounds like it comes with one month of AT&T service.

I will get in January - because of Mine is Lumia 950 XL - black with bundle ( India )

You post this info in every post about Lumias. I wonder when you will understand that n​obody cares, It's not something worth mentioning I think and you only make spam.

Show me where I posted this - don't do spam by making fake profile . you fake hater. and you fake : see in january

Still this is not relevant to the article!

Are you part of the Lumia Home Trial Campaign? Let us know in the comments below. READ Article properly - comment your own thoughts separately instead of commenting on others.

There are tons of posts unrelated to the article... Why do you people have to waste more space for us people scrolling through comments of your "hating/ bashing" of this guy? His post is relevant... Enough. Whether or not he is getting the home trial kit, he will get a Lumia to promote/give feedback...if only on this website... Everyone who responded to bash this guy, get a life... You wasted everyone else's time scrolling through your bs... And here I am wasting more space to get you. If you don't care for someone's post... Thumb it down... If you like it , thumb it up... That's why we have that feature. Responding to start some online shiz most of you keyboard warriors would not say to that persons face...

Thanks for understanding bro

@Aakash006Sharma the Lumia home trial campaign already began so you should have received it by now. Plus it only has the Lumia 950.

. We actually don't have any Lumia 950 XL yet. We're awaiting their arrival. Once we do get them - I'd get back in touch at the beginning of the new year to send you a trial for a couple of weeks. Thanks for your patience Aakash, ( This is a message from Official team of Lumia ). If you don't know anything - don't write fake comments. first ask from officials

If the official statement has this crappy english(which i doubt) it makes no sense. Also please stop spamming like a mr. know it all.

i have cut four lines, and some words from these lines because it have some NDA words, and statement - and it's english from Official team of england - who whave much better english then you - annd we are from hindustan ( our hindi is the best - our national language

WTH man, implying that's my fake account and saying that THEY DON'T HAVE Lumia, how's even possible for Microsoft to sell phone on Indian market but don't have phones for testers and press XD, this kits were available for them even before official launch. As I Can see on Youtube and twitter every's participant of Trial Campaign L950XL has been delviered in India. It's not a hate but personal opinion and facts. You act as a kid who's told that he's not as cool as he thought. Please think about your usage of internet, You wannabe MS expert.

if you don't have info - then don't write : Indiand bloggers got Lumia 950 xl at the oberoi hotel ( from bloggers mind ), new delhi - where we all attend the event, but I will receive dock, mouse, and keyboard from Some other Official team from UK and I don't want to prove to you - who don't have any work to do, but comments on others

GO FOR IT!!KILL Laggdroid and iShit !!

It was a true statement in the days before Lumia Denim update came to my phone.. Now my 1320 leads like ****

Assdroid to be more appropriate :D

My gf has a great ***, so Assdroid actually gives me some blood flow...

Seriously. This isn't call of duty. Just be respectable. And no wars with other platforms. Everyone likes what they like.

We thought its a far cry thing :D

LOL yeah, because THAT will happen for sure...

Lol.. Delusional Windows fans are funny...
....
Heck. I'm a Windows fan, but at least I'm stubborn, not delusional.. Lol. SMDH.
....
That's the problem with this platform.. To many fans who cheer when cheering isn't necessary.. It's like those stupid participation trophy's kids who loose get... Lol.

Lol!!! Yeah right....... We have the absolute worst Mobile Ecosystem right now...

With every new article I always hop in with expecting win 10 mobile release news but always disappointment.....

You should stop "EXPECTING" :P

Expectation leads to disappointment..

Disappointment leads to anger, anger lead to dark side... Hhhrrmmmm.

Strong the dark side is....

No.. Not strong. Easier it is..

Just get the insider preview it's the same build that's on the 950s so it's pretty much RTM

Rtm and no option to set the global default notification sound, do you smell that? Smells like unfinished

That's debatable you can still change the notification sound for everything. MS just probably opted not to put a global default sound because most people that change it don't want one tone for all notifications. If you want it in the OS then post it in feedback. Plus with WaaS its never going to be "finished"

I thought that smell was what The Rock was cooking.

The people's champ is here!

Nah, that smells like teen spirit.

This does seem to be what Microsoft needs to do to continue to improve. A lab is well and good, but actual user feedback is just so much more valuable.

They just need the friggin apps. This is a waste of time, I'm afraid.

Totally agree... I've been a loyal WP user since 7 and I'm tired of getting lame ***/ half baked apps that get updates once every two years (if we're lucky) or get excited because an app is finally coming to WP but turns out that it's so far behind what Android and IOS has had for a while, then to have it dropped after a year or two. Bring the apps, and the people will come.

And yet here you are wasting time.

I work for a customer support company..user/customer feedbacks are very much important to serve or provide product better.

Wow... You're so lucky... I really hope Continuum will be a succesfull feature for Microsoft. The concept is amazing.

It is nice but the lack of apps usable for it is what makes it so so. Once remote desktop and citrix receiver (citrix already said they are supporting it) are usable with it then it will be great for business people on the go. All you need is a a couple small things and u can get to your company resources in your hotel. Only thing that would make it better it's a mini projector and a laser projected keyboard that is integrated into a phone case so you can use it without worrying about a screen and carrying a keyboard

The statement in the article regarding continuum... "Continuum. Although, this solution won't be replacing my main machine, it's a unique solution for those times when you don't have your primary machine nearby.​"... That is exactly what I said when I got my first digital camera... it won't replace my 35mm film camera. Then I said it again when I got my first phone with a camera... it won't replace my main digital camera. Now look where we are today... I use my phone's camera for 98% of my photography needs. The same thing will happen with Continuum!!!

I think they are trying to take what users want and bake it in but overall I think they need to add exclusive apps that beautify and enhance the experience,, that will help get users to give it a try.

I wonder who are the participants. It would be awesome if active Insiders would get this kit :)

Not likely.. There are too many of us.. :D

All they need is to restrict it to WP10 testers. That'd decrease immensely the pool of Insiders ;)

I got a letter in the mail saying that as an active insider with good feedback, I was selected for the program. I haven't gotten the package yet, but it sounds like they were pulling from the insider list. How they decided which insiders would get the package... your guess is as good as mine.

I got mine on Thursday and am loving it!

I'm really loving Continuum. I looking forward to test the camera. Thanks, Mauro

I hope they aren't just tapping die-hard WP evangelists for this. They will just fill out feedback forms with rainbows and unicorns drawn everywhere. Granted that's harder to find of MS users.

Actually, it was a Ninja Cat RIDING a Unicorn that was sliding down a Rainbow that I sent in to get the package. :P

So they should send to the whiners who ***** about the stupidest of things then I guess.

Yes, because those "stupidest of things" to you are things that can incrementally make the OS better. Sending it to people that find it difficult to criticize the OS, on the other hand, will just lead to more of the same. Zero improvements.

I see the 950 is the AT&T version. Shouldn't have MS sent 950 dual SIM with two SIM cards, one AT&T and one tmobile?! After all the testing should cover the dual SIM devices which will be the majority of devices...

Well hopefully they don't send it to fanboys, that would be useless.

You just read my mind sir....

I can confirm they did not because I did not get one.

:) Yeah, me too....Windows only tech but no free trial :'(

I don't think that's necessarily true. Fans should want the product to improve so that it gets better for them and lures more customers. That doesn't ahppen if you're not honest in your feedback. I would,'t hesitate to report the bad and the good.

I'm a fan, but I'm also critical, you can be both...and not be a total a$$ hat.

So they should send it to the whiners then? Got it

Exactly... Delusional fans will just say it's perfect, and send it right back..

Sent me one Microsoft I will give honest feedback. I am a illustrators.

Thank Christ you're not a writer.

I think you just won the internet.

It a good move toward the shape and foundation of surface phone. It another way of preparation for another level of windows phone evolution. Windows Phone and android phone never stand the same grand. It is a good idea Ms, well done

So no one out USA, why do we keep buying Lumias ?! (0_0)

technically it is a choice that you're making so if you want to hate anyone for not being able to participate, HATE YOURSELF.

I think the black version of the box with the Windows logo (not the AT&T version of course) they send some people looked a lot better than this boring white one. That said, if this was the bundle Microsoft was selling the 950 in, maybe it justified the 600€/700€* they ask for the phones and I would reconsider my position on not buying a WP device ever again. But otherwise there's no way any WP is worth the same as a flagship Android or iOS device. Bundling the display dock and a foldable keyboard would at least compensate for WP's abysmal lack of an ecosystem (ie. apps) supporting it. It wouldn't however make Microsoft as much money. So I understand that they rather try to milk the few people who are still predisposed to buy a flagship WP for 600€/700€ instead of going at a loss. But hey...there's always the hope that they do this sort of bundle when a phone running true Windows 10 (ie. "Surface Phone") comes out. (*official Microsoft prices. I'm disregarding pottential third parties offers, discounts and promotions)

If everyone got the package I got (2 dispay docks and free office), the Lumia 950 wouldn't look so pricey

They really should sell this as a bundle ... There's basically no merchandising in the stores other than a display phone by itself.

Agree - a bundle price and bundle marketing would surely help promote awareness and sales.

That's my point. The phone all by itself is way overpriced considering both the materials it uses AND the operating system it runs. 2 display docks and office is a nice bundle although if they want to push Continuum as a feature, I think this specific bundle would be more attractive (they could even cut the mouse out. Bundle the 950 with the display dock and the foldable keyboard). Otherwise no one will waste 600€ on a 950, plus 100€ for the display dock. Apart, of course, for WP fanatics. But those aren't enough to create any momentum for Microsoft nor awareness of the features being offered. If they're relying on them to push Continuum, they might as well start packing because it will flop faster than the iPhone 5C.

Whats with the negative vibes man? Have you used it? Talking about stuff you know nothing about makes you look stupid especially to a forum full of people who have the 950.

"Have you used it?" Continuum? Or WP?
Continuum no (and I don't intend to unless either Microsoft makes it work on the 930 or the Surface Phone doesn't turn into vaporware).
Windows Phone 10, yes. I've been here a lot longer than you mate, I've used WP7.5, 7.8, 8, 8.1 and 10. I have more than half a dozen Nokia Lumias here. Just because I've ditched WP for Android as my daily driver the moment Nokia left WP, doesn't mean I don't have contact with it. In fact, I have a Nokia 830 specifically dedicated to test WP10. It's all that phone does: run the test versions of WP10. Nothing else.
So yeah, I do know what I'm talking about when I say that the 950 is overpriced ;)

The "abysmal lack of an ecosystem" comment is so outdated at this point. I have every app I need except snapchat. Facebook, Instagram, YouTube, Pandora, Spotify, PayPal, Shazam, my bank's app, Angry Birds, Asphalt, Office, Uber, Twitter, Vine, Tinder, the list goes on and on. I don't know what obscure apps you're looking for but I really don't think an operating system, even if it's "subpar" to your standards, means the hardware itself should be. The phone also was built with very good materials and they put a cheap cover on the back figuring that everyone would buy a new cover anyways. The whole phone isn't made of cheap materials. It's literally just 1 piece of plastic and yet everyone is LOSING THEIR **** over it.

I actually like the back, the snug fit makes it feel and look like a satin finish alloy without the weight. No doubt the way it is designed some company will make an alloy back for it, if that turns you on. If it was an Apple and you didn't like the back then your screwed similar to accepting a poor battery that cannot be changed easily either.

"is so outdated at this point"
Oh it is, is it? Tell me, are you just in denial? Can't you admit that the lack of apps (or proper apps) on WP is a problem that has only got worst (and will continue if marketshare continues to sink)? Banking apps? Go to the browser. Your specific bank has one? Good for you. Maybe you can justify Microsoft keep dumping money on the platform all by yourself. Facebook? A piece of cr*p for anyone who's used the Android/iOS versions Instagram...ahahahahahahahah YouTube... double ahahahahah. You either use a third party or you have to use the browser because the app on the store is even worse than the browser version. Twitter...see comment about the Facebook app (the only thing the Twitter app has on WP that it lacks on Android is a dark theme, I'll give you that). Tinder - no oficial app. Vine - See comment about facebook and Twitter. And then there's all the other apps that just aren't there. This is no way to build an ecosystem to thrive. If you don't think so, pick up an Android/iOS device, use it for some time, then try to go back to WP and use its "apps". As for the phone itsel...yeah, good materials and premium materials isn't the same thing. I don't mind polycarbonate by itself. I mind, though, when you try to sell it as a premium material near 2016 when everyone else has moved on to leather, glass, metal...and yet you still ask the same premium that those other trully premium phones ask. "everyone could buy a new cover anyways"...you base this on what? Your whishes? Also, if I buy a phone knowing I'll have to buy a new cover for it, again, I'll not be inclined to pay as much for it as I would for a trully premium phone.

I got a galaxy note 3 when it was new, used it for two months and sold it dirt cheap cause it was useless compared to my WP. Don't remember if it was while I had 920 or 1520. It was slower, the social medias I use has superior 3rd party apps on WP (Twitter and Instagram), the Xbox SmartGlass was slower, which surprised me cause smartglass is a really slow poc on WP. The two things I liked about the note 3 was the pen and the multiwindow features. The rest was just crap. Xbox Music worked waaaaaaay better on WP. I tried to give Android a real chance...AGAIN...and it failed...AGAIN. OS wise I'm WP > iOS > Android in terms of OOBE. A rooted Android beats iOS thou. Preferably a PACMAN, KANG or Miui ROM. And I'd just like to let you know that I DO know what I'm talking about when it comes to Android, built my own Android ROMs, WP7 ROMs and WM6.5.5 ones as well. Just look me up on XDA-Developers, IzaacJ.

You say you tried Android and gave it a serious chance with a Samsung device? What are you really doing on XDA? Please. Buy a Nexus 6P. Android is streets ahead of beta Windows now. Posted from my Note 5

@DJCBS: what's wrong with third party apps? sometimes they are even better than the official apps. i guess the facebook app might be lacking to some people who live on facebook, but as someone who is only on facebook because other people are, i find it does everything i would need it to do. i guess i'm just not an advanced facebook user. tubecast is world's better than the youtube app on android. my wife has an android phone. i used to be on android (and before that iphone). i know what it's like to not have all the apps. its true we're missing some official apps, but we have a good deal of them. i'm more upset about games to be honest. and steam. i think the windows ecosystem is coming around. i don't think anyone remembers android was in the same spot and it took awhile to get out. and they didn't have to compete against multiple contenders. so its an uphill battle. but to your earlier points, this phone isn't mean to grow its user base that much. it's been pretty much stated it was targeted at windows fans. collect information from them to get a better product in the future. they know they're not their yet. that's why they aren't pushing sales and bundles, etc. that would kill them. they want the only people that are buying lumia 950s/XLs are people that are dedicated to windows and know there will be certain shortcomings. they have a little bit of a focus on enterprise too, but that push will be be full force next year.

Dude. I'm sorry. We are severely lacking many apps that consumers want, and need.... The apps you mentioned are a joke, and our dying little platform only has 5% of needed apps at the most....
......
For example.... In my case
There's no.. FWCCU app (Credit Union app)
Vance & Hines tuner app (for my Harley)
Mercedes app (for my car)
Tyme Security app (for my home security system)
Akai MPC app (to compliment my MPC)
......
Do you understand how many hundreds of thousands of products have accompanying apps, and in some cases the product will only work if you have the app?.... There's thousands of credit unions, and banks, in the us alone,, that don't have apps for Windows... The situation is critical... People need these apps! Important apps! Not Angry Birds. Lol..... Dude, seriously. That is why there is a literal app gap. It's a real, and detrimental, issue. This stuff isn't made up.
......
Windows Mobile 10 has potential, but it'll never go anywhere if the app situation doesn't DRASTICALLY improve..... That's a fact! It's literally a fact!.... If you guys don't believe what I just said, then I really feel sorry for you.

Rodneyej... 90 % of the apps you require are just UI specific to overcome your current phones limitations... In most of the cases you mention i would simply plug into continuum and use it in full version website @1080 on my 55" tv with a keyboard and mouse.

No, there is still an abysmal lack of an ecosystem. There are a few big name apps, but many lack much of the quality of iDroid apps (see Facebook, youtube, et al.). What are missing are the up and coming apps, the popular games (which may or may not come to WP after a year or two - once they are no longer popular) and small business apps the compeditors have. How many commercials do you see on TV that advertise their apps on iOS and 'droid, but completely lack an WP app. I would say upwards of 90%. Now, we can argue that a lot of these apps aren't that useful, but each time a company advertises their app and includes the iOS or 'droid logo and forgos the WP logo, it reinforces the perception/reality that WP lacks apps.

So as I say you havn't used it... the 950 or continuum so why do you think people who have the phone and box care what you say? when you have never used them? Don't you think you should find another subject that is more appropriate to have your tantrums because preaching to the converted is pointless... For the Record... My Windows experience started with Win 3.1 and NT4 and I have had every version since...

If you're talking Windows, mate, I've been using it since Windows 1. Remember that one? Probably not. But we're talking MOBILE here. In case you haven't grasped it yet. Now, as for what you "think" I can or can't comment on. I don't need to buy a 950 to know it's NOT worth the price they're asking for it. The internal hardware I'm very much aware how it works. The cheap feel of the 950 I'm also aware of since I've picked one up (just because I don't use one doesn't mean I haven't seen or handled one). And I am not making any point about Continuum. Actually, if anything, I'm saying many people who may innadvertedly buy a 950 will likely not even experiement Continuum precisely because Microsoft hasn't bundled the dock and a keyboard with the phone to promote it in the first place. And I'm not trying to preech to the converted. I have an opinion on Microsoft's handling of the sale of the 950 and Continuum to consumers. I couldn't care less what anyone who bought a 950 thinks or not.

I get that you feel justified in saying a 950 is overpriced due to the lack of apps you feel are essential to grow support, but I find it hard to agree that the phone is over priced compared to the flagships of Samsung and Apple. I mean just look at the out of contract pricing. Plus, the effect of missing apps will very from user to user. Plus, the 950XL comes with a free dock if you buy it before Jan, so that is a nice incentive along with the bigger screen, liquid cooling, and 8 core CPU. You say over and over that its priced poorly for a wider adoption, even though MS made no claims it was aimed at that wide audience. In fact, these two phones are aimed at fans of the platform. So while you want to make fun of anyone That likes the platform, MS built this round of phones for them.

"I couldn't care less what anyone who bought a 950 thinks or not"

..and yet you assume we give a **** about your opinion? Interesting.....

You'll learn he is irrelevant and a troll who basically is here to say something negative often about windows phone post nokia

And you're an illiterate brat who has been here long enough to know that my gripes with Windows Phone's poor development precede Microsoft's take over of the Nokia D&S division. But because you probably have amnesia related to going from Superboy to Nogitsune, you can't remember that.

It is all about you isn't it... I was just trying to make you aware politely that nobody really gives a **** about your antiquated agenda... This is the here and now...

Ooh someone is testy lmao you're here trolling every article about products you no longer use. Its pathetic.

Why did you change your name from Superboy, Micah? Posted from my Note 5

As much as he complains, I still feel he makes himself much more useful in the comments than you do.

You've run out of things to complain about so now you're criticizing the box? Sheesh...

You haven't been paying attention. Besides, I just said the black version of this bundle looks better. If you haven't seen it, you probably have no idea what I'm talking about anyway.

I have been using the 950 for a better of 3 weeks and agree with you.

I'm impatient for release date of W10 for phones.

When This Project Starts Getting Rolled Over In India. Just Want To Take Hands On New Lumias With Big Sibling Will Be Great Experience

Darn I wish Verizon carried the 950XL! But until then, or they carry another Win 10 Flagship I'm using an iPHone 6s+. Love it, but looking forward to a new Win 10 phone next year!!!

They have to put a fu***** pause button while recording a vídeo.

Ahhh that's really cool they are doing this, shame you can't sign up for it, but I think people like Daniel really tell the truth when it comes to reviewing Windows phone, as he doesn't praise the new handsets as things sent from heaven, he said they weren't the phones to change the game, but they were definitely a step in the right direction plus it gets people using and talking about the display dock and the maybe less desired 950, compared to the 950 XL, I was going to say where is the video, but I see one attached, enjoy the experience, I'm not sure if I'm going to get the dock!!!! Maybe with time I will because not everyone has Windows 10, especially in the West Indies, where I see the display dock coming in handy or maybe the mirror cast version so I don't have to worry about cables!!!! Thanks for giving us a Peek Guys!!!! :p

This is awesome. A phone is not something that can have optimal feedback if it is not the daily driver device. It also spreads the love and gives back to Windows loyalists and gives them another avenue to be engaged and feel supported. A program such as this would have been awesome for those who purchased dead end flagships during Windows Phone 7 / 8 Transition (Lumia 900, etc). 950 series coupled with Mozo covers are a very premium device OS/HW experience. Hopefully building up UWP will soon provide a premuim ecosystem experience.

It sure looks like a complete copy of a concept I sent to invent with Nokia 3-4 years ago. Except the mouse was a trackpad integrated on the keyboard.
They were not interested...
Don't see anyone sending me a kit as thank you for the idea... :-\

That is a fair bit of kit. To say I'm jealous is an understatement!

Well the irony of Microscroogle, me bought a 640 XL lte no usb charger and no earphones. How do I know the impedance matching of the earphones? Ooh well stop whinging!

I also really hate how they're clearly saving costs by not including a default earphone inside the box. They should know they are selling this to everyone and not just rich Americans and that not everyone already has a good earphone.

I've had my 950XL for over a week now. Its excellent

Lucky you Mauro - Merry Xmas lol I'm not one if the lucky ones but sounds like a great idea - put the tech in users hands and gain honest feedback. Mixed with the surveys they do and UserVoice, WC comments etc, be good to see what they design from the results.
Enjoy all you lucky peeps :)

I've had one for the past week. I must say that I LOVE that mouse that comes with it!

I was among the lucky ones to fill out that survey...now what??have to wait for that invitation letter??

I think then microsoft decides

Download "Disable Screen" app from store, and turn off your phone screen, while using Continuum.

Wow nice Freebie... As I have noticed on these forums Microsoft in the USA biggest problem is their customers non participation in actually learning what the product can do, they DON'T want change and only judge new products against the features of their previous phone neglecting to even notice the new features on offer...They fly off the handle blaming microsoft for this that, when all they need to do is look in the mirror to find the problem. Microsoft has taken on some massive projects in its time but finding a cure for stupidity is going to be tough...

"The Lumia Home Trial Campaign begins on December 11th and ends on January 1st​" Does this imply you're to send the devices back like review devices?

would anyone with the right hardware (950-950xl, dock,...) be able to also provide useful feedback? Awaiting my dock but willing to provide them with findings...

you can always use the Windows Feedback app. And the Windows Insider app that provides challenges as well.

Yes you can leave feedback thru the Continuum App...

NP... You will like it, it really is a pc experience, it could easily replace a decent percentage of pc users home pc... My Parents think it is akin to Witchcraft.. ;)

First you will be Wow this little box weighs some, in a reassuringly expensive way, you notice that it looks awesome too. Then you will be asking the question 'How can i fall in love with a little square box?' and thats before you see what it can do. :)

Wonder if anyone that is currently on Verizon received this with the AT&T hardware to test and will be switching afterwards.

I,m not from the USA but i guess Microsoft blagged that free month pass from AT&T for that very reason. 'Partners' and all that... So do you have two different phone systems AT&T & Verizon that have network providers who work within their frameworks?

Why does the dock not double as a stand too ?Thats seems so obvious to me, just connect phone to it no cable needed...With a bit of thought about both devices it could be a desk clock etc !

I think it is designed as such to go in your pocket but i,m sure you could have a desktop dock accessory that does just that. Microsofts Dt 904 wireless charger has gone awol maybe they are developing such accessories...

And I cannot even buy it... It is not available

Cannot edit....
I want to buy a package like this.... This is how Microsoft could market the phone/pc

How furtunate... Wish I could also write for them..


I would have loved to have gotten this. I could have shown it off at work, which is pretty much dominated by iPhones. Oh well.

this would come on very handy! I want in on it.

"Lumia Home Trail Kit Unboxing Gallery" You have a typo here in the first major subsection heading.

Microsoft gets more idiotic every day. This is such a stupid idea. Essentially, they're buying off people to support their horrible product. "Please try our device and our operating system, PLEASE! Really, it's cool! We're absolutely SURE you'll find SOMETHING useful to do with this!" Well, Microsoft, my wife and I broke and down and bought your stupid 950. We tried all the crappy gimmicks like "Hello" (it barely works only half the time) and Continuum (there is simply NO valid use for this). We held our noses and hoped that Windows 10 Mobile on a new device would be tolerable. Well, it's not. I've gone back to using the infinitely better Lumia 1020.

Best results for Hello is to look directly into camera not red light mine works nearly every time from good little distance

Windows Hello works fairly well for me. It's not as handy as Hello on the computer (i like that it logs me in as i'm settling into my chair and desk), but it's generally as fast as putting in a pin, if not sometimes faster. if its not working well, i'd suggest improving recognition. if you notice it doesn't work in various settings, take more pictures in those settings so it gets better. plus, many people have listed uses for Continuum. yes, maybe there isn't a valid use for you, but there are loads of valid uses I can think of myself, let alone what everyone else can think of. Plus, its new. Not many people have written universal apps yet. Windows 10 Mobile has only just arrived on the market. ****, Continuum pretty much makes Chromebooks obsolete. Even a lot of business usages for notebooks. This could probably replace a computer for a huge portion of the population that just watches netflix and browses the web. the fact that you're extremely satisfied with the 1020 surprises me as i just don't understand what issues people have that makes wp8.1 so much better.

They should have sent 950 XLs instead, and the first challenge is: Get Visual Voicemail to work on AT&T. Second challenge: Get either Microsoft OR AT&T to admit that it is their fault that VVM does not work.

@Gabe Aul plz push windows10 mobile!

An interesting sentiment, but if Microsoft bothered reading and / or listening to forums such as this or their own User Voices pages then Windows Phone/Mobile wouldn't be languishing in the state it is now. Posted via the Windows Central App for Android

I was in the city centre this weekend and sad to see only one of the two Carphone warehouses I went to even had the Lumia 950 dummy models on display with pricing - They did have them in stock in the larger store, but it wasn't on display anywhere, although the 550 was. I wanted to take a look at the Lumia 950 XL but they don't have them in stock at all yet, but should have a demo phone "within the next few weeks". I'm half tempted to buy one but would need to have a try of one first to see if it's got enough advantages over the 930

I am a Lumia 950 xl owner with the continuum dock. I always wanted to ask how to connect to external speakers or sound system. Can anyone help me please?

if using HDMI connector, it should come through the TV, otherwise I plug the speaker cable in to the headphone socket of the phone, or simply use my Bluetooth speakers.

Continuum is a fatastic creation but I cannot believe that the remote desktop app does not support it!!!! This is a school boy errors from MS. If I have a remote desktop I can do most things PC does today.

Do you get to keep the kit after?

I could've read the article wrong, but as I understand it you do not.

I think this is a great idea even though I'm disappointed that I'm not a part of this myself. :-( The only thing I wouldn't like, had I been in the program would be the idea of having to pack it all up and send it back in a month, or did I hear that wrong? I've elaborated in great detail before what part of my digital life I envision Continuum filling, so I won't go into all that again, except to simply say that this baby would make the ultimate "second computer". And since it's so portable, and so flexible, I could actually see it eventually becoming my "main PC" in terms of frequency and ubiquity of use, as my intended "main computer" would be a gaming rig hooked up in the living room. Can't necessarily say that that one would see more "non-gaming" aka "regular computing" use, for what that's worth. Anyway, I think the approach MS is taking here is really good. But I see two drawbacks: a) again, you get people attached to these devices and then they have to send them back, and b) when looked at as a Venn diagram, it seems there is too much overlap between the circle that represents people who get these kits, and b) the circle that represents people who already have them or plan to have them shortly. In other words, I'm not quite sure just how many "new hands" this is going to get these devices into. But then again, if this is about tweaking and perfecting the system, then getting it into "the most trusted" hands is going to be a whole lot more important to them than just getting it into "as many hands as possible". .....that said, please send a kit my way, MS! :-) Cheers!

This is a great idea! Hopefully Insiders all around the world will get increasingly interesting in giving valuable, useful feedback based on perks like these in the future :) Even without the perks, I will continue investing time and love into the feedback program because I like what MS is doing, and I want everyone else to see and understand that as well - also it would be nice if I didn't feel like I had to defend my new Windows-based hardware every time I got it upgraded =/
Windows Central Newsletter
Get the best of Windows Central in in your inbox, every day!
Thank you for signing up to Windows Central. You will receive a verification email shortly.
There was a problem. Please refresh the page and try again.