Readit for Windows 10 updated with lots of improvments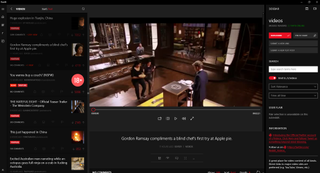 Last week, the development team Message Across Studios launched a version of their popular Windows Phone Reddit app, Readit, for Windows 10. Now the app has received its first update, and as you will see, there's quite the long list of performance improvements, additions and fixes in the new version.
Here's the change log for version 1.2.5.0:
More responsive/better performance
Light theme is even lighter, matches system apps
Dark theme now matches the system apps more
Redesigned login dialog
New favorites bar in title bar/header
Right click subreddits to add them to favorites
Reorder favorites by drag + drop
New way to jump to subreddits from the title bar/header - ctrl+J will bring you there as a keyboard shortcut
View a random sub from the jump dialog
View a random subscribed sub from the jump dialog
Ctrl+f from anywhere in the app will open search
Added open in reading mode in the ellipsis menu when viewing a post - opens edge in reading mode to that page
The currently viewed post now has a highlight indicator in the list
Version number is now in settings, tied to the installed package
Go directly to comments by clicking the comment count/new comment count/etc. This may not always work, still adjusting this. (Kind of a beta feature)
Fixed album size cutting off images
Fixed settings being reset/notifications continually happening
Disabled clicking author/subreddit in post list to prevent accidental clicks
Various UI modifications/adjustments
Various bug fixes
Other things I can't think of
Download Readit for Windows 10 / Windows Phone (Free) (opens in new tab)
Source: Readit thread on Reddit
As official as a third party app can be.

No but probably the best third party reddit so out there been on wp for ages now and swear by ot

The Best Reddit app in the store, and yes it is third party

I love this app on my WP and now on W10! Thanks dev for the dedicated support! Awesome app! Keep up the good work!

the app is universal but don't have all the features of the WP version... when they reach features parity they will replace the mobile version

What features are missing? If anything, I noticed significantly more features than the WP version.

Well for one, they don't sync posts you've seen. I'm really hoping that is coming soon.

Readit app ui looks like mytube.

And that's a good thing, yes ?

Been pretty happy with Reddhub on Windows 10. Will see how this fares. I am using the WP version of Readit and so far liked its progress and functionality.

Windows 10 is growing fast many software tools are updating to the latest microsoft windows release.

Still not letting me sigh in.

Me neither, but reinstalling solved.

I can sigh in any time. Sigh! See I just did it. Sigh! :)

still not letting me sign in.

oh boy, all this time I thought the "Sent from Windows Central app for Android" or whatever, was actually a bland joke, The thing does exists lol... ...

As far as I can tell on r/readit, Caleb is spending his evening free time bug hunting - a really super dedicated developer. You can bet that this app will continue to improve, and improve quickly

When will the mobile one go universal?

John, the word "improvements" in the article title is misspelled.

360 Total Security shows a malware...probably false positive. "Detected and intercepted Trojan attacks. Program: C:\Program Files\WindowsApps\57858MessageAcrossStudios.Readit_1.2.2.0_x86__nts9jg5frnds0\Readit.exe Name: HEUR/QVM03.0.Malware.Gen"
Windows Central Newsletter
Thank you for signing up to Windows Central. You will receive a verification email shortly.
There was a problem. Please refresh the page and try again.