Realarm picks up another update with new features, languages and sounds
The popular alarm clock app for Windows Phone, Realarm has been bumped to version 1.1. The developer has implemented a bunch of improvements and even some new languages.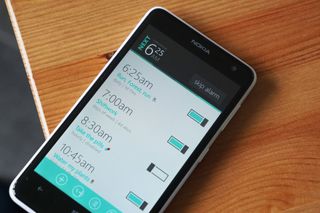 As well as the new additions in the Realarm update, the patch also adds monetization to the experience, requiring users to buy an in-app purchase to unlock more functionality. Here's a list of improvements included in version 1.1:
Added in-app purchase
Added 26 new sounds
Established sound categories
Added Swedish language
Added Bulgarian language
Added Hungarian language
Improved handling of snoozed alarms
As for the in-app purchase, without providing a penny to the developer you're still able to enjoy the best alarm clock available. The only limitations on this "trial" (if you will) is a limit of two alarms (that remain active even after you update and fail to purchase the IAP) and limited backup and restore functionality.
It's a superb alarm clock app and one we strongly recommend you download should you be looking for said functionality. Also, the IAP is worth the small fee to keep development going and support the developer.
Download Realarm for Windows Phone (Free)
Thanks to everyone who tipped us!
Windows Central Newsletter
Get the best of Windows Central in your inbox, every day!
Rich Edmonds was formerly a Senior Editor of PC hardware at Windows Central, covering everything related to PC components and NAS. He's been involved in technology for more than a decade and knows a thing or two about the magic inside a PC chassis. You can follow him on Twitter at @RichEdmonds.
I know that he needs money, but this only two alarm thing is very bad.

Then pay him. One of the biggest reasons developers don't make Windows apps is the low ROI.

I still think that this is the worst way that he could handle this thing. BTW, this is one of the reasons why I bought a RPi 2, to build an alarm clock for myself.

I think this is the best way. IAP brings the highest revenue to developer, while not suffering downloads count hit. This means bigger motivation and energy in the batteries for developer, which in return results in better product. IMO its win-win solution.

Give me a link to your work, please.

Your comment makes you look very bad.

It's 2$ IAP and I think it's worth every penny. I don't think there is better alarm app in store.

75.8% users have 2 or less alarms. I think limitation to 2 is not that much aggressive, is it? :)

Sorry, I have to say that, but I don't care about that 75.8% when I have 4 alarms lol

Yes, I understand :) But developer has to take care of majorities :)

Keep up your good work! Realarm is the best alarm app in windows store!!!

Then buy more alarms. I really don't understand the problem. It's not very expensive, and the developer it's worth supporting.

Use the basic alarm for further alarms that's simple

Better this than ads. I hate when apps have ads.

Top 10 worst comment ever.

How is this app better than the default one? In what scenarios can I use this?

This app is better than the default one in every possible way. I hope you can figure out the scenarios in which you can use an alarm app yourself.

One of the many things I like is the live tile

It's hard to describe why it is better. But in almost every way it is. It's more flexible, more of a half-way house between an alarm and a calendar, and "quick alarms" are deleted once expired, whereas on the default alarm they remain in the list which can quickly get clogged up.

That feature alone makes it better

Ah, maybe try it and find out why. The only *slight* negative is you can't use custom tones, but that's because of an OS limitation.

Please help me i am not able to hear but where is only vibration in windows 10 :( all apps can't find only vibration...

Best alarm app in store, I can set alarms adjusted to the shifts I have to work. Also alarms every third Tuesday every month and things like that. Great app, worth every penny!

It didn't work during quiet hours, has that been fixed?

AFAIK 3rd party devs cannot modify phone behavior during quiet hours. Realarn uses system alarm, hence handling of them is completely under system control.

That app was recently featured in myAppFree, I am so happy I "bought it"! It really looks good and works good, great app for ppl working on shifts (like every 4th day, etc).