Is Surface Go a good tablet for kids?
Is the Surface Go a good tablet for kids? Absolutely. Here's why.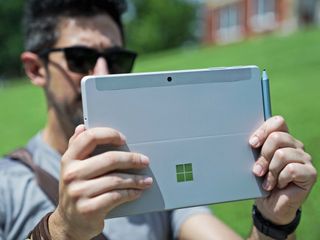 The Surface Go, Microsoft's latest and most portable device, is undoubtedly suited for those on the move. It's fun to use, it's built to match Surface quality standards, and it has the hardware inside to act as an able companion for everyday tasks. Visiting Microsoft's Go webpage, it's clear from press images that children are included in the intended user group.
Let's take a look at a few good reasons why the Surface Go is indeed a good tablet for kids.
See at Microsoft (opens in new tab)
1) Surface Go uses Windows 10 S mode
Children usually aren't exactly aware of the potential for damage that malware and viruses contain, so handing them a device that's free to download any app or software can be a risk. Unintentional clicks on pop-up ads or devious buttons on webpages can happen to just about anyone, experienced or not, so why not remove this scenario from the equation entirely?
The Surface Go comes with Windows 10 in S mode, which means that only apps verified by the Microsoft Store can be downloaded and installed. Even if your child accidentally starts downloading new programs through the Store, you can be sure they won't cause any long-lasting harm.
Windows 10 in S mode still has all the goodies you'd expect from standard Windows 10, including access to Microsoft Office (opens in new tab), a set of tools that will no doubt come in handy when it comes time for homework.
Four good reasons why you should buy a Windows 10 S PC
2) Surface Go is the right size and weight for small hands
Starting at just 1.15 pounds (522 grams) without a Type Cover attached, the Surface Go isn't a device that most kids will have a hard time holding onto. That means fewer drops and less potential damage.
Considering it's also only about 0.33 inches (8.30 mm) thick, small hands can easily grip the edges. There's plenty of bezel around the sceen that makes the tablet easier to hold onto without accidental presses on the touch display, as well.
As for the Type Cover, Windows Central Executive Editor Daniel Rubino, in his review, mentioned:
The keyboard may seem a bit small for Rubino's adult-sized hands, but it's just about perfect for children.
Four reasons why the Surface Go's bezels are so thick
3) Surface Go doesn't cost as much as other Surface devices
Microsoft's Surface lineup often sets the standard that other laptop and tablet manufacturers attempt to emulate, but there's one problem: Surface devices are generally quite pricey.
That is until the release of Surface Go. It's the cheapest Surface device yet (starting at about $399) (opens in new tab), but it maintains the same level of attention to design and durability. It's not going to cost as little as some other budget devices, but at least it will sting a bit less if your child drops the Go instead of a Surface Pro or Surface Book 2.
Best laptops under $300
4) Surface Go has an IR camera for Windows Hello
One of the coolest and most convenient features on Surface devices is the IR camera made for quick and secure logins with Windows Hello. Asking your child to get into the habit of remembering long, random passwords isn't always feasible, but that doesn't mean you have to leave the device unlocked.
After setting up Windows Hello, all your child has to do is look at the camera to log in. It's convenient, it's secure, and it will cut down on the time your child spends asking you to type in passwords.
5) Surface Go has the power for light gaming and homework
There are currently two available Surface Go configurations, one with 4GB of RAM and 64GB of embedded MultiMediaCard (eMMC) storage and one with 8GB of RAM and a 128GB solid-state drive (SSD). For word processing, web browsing, video watching, and even some light gaming (what kid doesn't love Minecraft?), either configuration will get the job done.
Do you need the more expensive Surface Go? Probably not.
Sure, 8GB of RAM and an SSD will speed things up, but for homework and entertainment purposes, the lighter model should be enough, and it costs about $150 less (opens in new tab) than the higher-end model.
See at Microsoft (opens in new tab)
Related resources
Senior Editor, Laptop Reviews
Cale Hunt is a Senior Editor at Windows Central. He focuses mainly on laptop reviews, news, and accessory coverage. He's been reviewing laptops and accessories full time since 2016, with hundreds of reviews published for Windows Central. He is an avid PC gamer and multi-platform user, and spends most of his time either tinkering with or writing about tech.
And... they will become familiar with an operating system they might very well need when they get job.

Never thought of that. There was only one windows laptop in this home and 9 iDevices. Took some time to get used to. Now, we've added another Windows desktop-surface studio. Lots to learn!

@JellyBeanGurl, random question can I use your comment as a reference point? Not many will actually comment on how little their household uses windows pcs or laptops.

I've used windows all my life and I have issues occasionally with windows at work because it's always an old version of windows. It would be far worse if I was used to only mobile or even chrome OS.

We had a bad hire weeks ago. I'm in game industry. A lead front-end programmer (a few other major studio just reached out to me in the past few days). The freshman got assigned to my team, knows no Windows. She don't know what is installer, don't know where to find the installer and don't know how to install or setup VisualStudio, Unity, Unreal or dev environment.
She has no idea how to operate GitHub (resources, codes, branch got deleted accidentally). We have instructions for basic PC setups, but she's slow... she knows no shortcut keys and operates Windows inefficiently with a lotta mouse moving and clicking. She needs someone baby sit.
She's definitely unfit to be a game programmer. Re-assign and start training her to be a planner? designer? IT? Or, staff in the arcade center? Best fit I suppose. tbh... she's a trouble to everyone and... a time wasting. We feel bad (I can assure you we've been really nice to her), she prob feel bad about herself too.
She's lucky she's get hired by a major, meantime, unlucky cause she knows only iOS. Who's to blame? Her parents? School? Both.
If you are the typpa parent that thinks "My baby boy/girl's super smart, knows how to use iPad aka Computer without me teaching"
hnnnnnn... poor kid...

Why did you hire her? Shouldn't knowledge of all that been part of the screening?

And you want us to actually believe this fake story of yours? :))) how pathetic you fanboys have become?

Good points... one thing worth mentioning is that if your kids share your digital book library on Amazon or Barnes & Noble or if your public library is using Hoopla or Freading to loan digital content, you will have to turn off S Mode -- neither of those applications are available from the store. You would not be able to read periodicals from Amazon or Barnes & Noble on this device, S Mode or not.

My children can't wait for the surface go, me neither by the way 😊

This article could have just said the Surface Go is a good computer for kids because it was designed for kids to use. (and nobody else)
Using one for an adult is like the tricycle race in the Revenge of the Nerds movie.

Boy you guys are really trying hard to sell this device. You know what my little nieces call my Surface Pro? An iPad. Marketing sure is king isn't.

Most kids and adults call any tablet an ipad... adults need to tell them what the differences are between an ipad and the other tablets. As most kids won't understand the context of terminology in adverts.

That's funny, I have adult users away work who I've assigned galaxy tabs to and they call them iPads; I don't bother to tell them it's not an iPad anymore : )

Like others have said, non-tech-savvy and kids call any tablet iPad, but you don't expect enterprises ditching Windows and start running business on a iPad right? Kids grew up and graduate with 0 PC skills, What kinda carrier are they expecting? Stuff in arcade center, in fast food, production line? Anything that can earn'em 3k-10k a month?

And one reason they're not; SATYA NADELLA won't work to get apps they need and want.

My back up PC is a 7 year old used Dell Laptop that has an Intel i7 CPU and 4 gigs of
ram. I donot like to do a lot of Multitaskimg and can say it works fine using
Windows 10 Pro most of the time it's performance is very good so 4 gigs of ram should work OK.
i would buy the mid lowest priced 8 gigs model as a new back up PC. I think folks who buy
the cheaper model should quickly buy an Micro SD card to store games , Photos & non
essential Apps and full Windows Programs on. The main storage of 64 gigs should contain
the main OS, Office 365, Special business or school related programs , Electronic versions of
a Students textbooks. important documents ect. I think the Surface Go is better that an Ipad
because it is a full PC not a glorified Tablet OS device. Apple really should make a Tablet that run
the Imac or Mac Pro PC operating sytems for their Apple fans

A tablet that runs a desktop OS...nice thought...NOT! Just because Microcrap is a bunch of idiots, does not mean everyone else is. Your delusion beyond measure.

I think kids will need a smoother tablet experience than what Win 10 currently offers. Otherwise a cheap laptop will probably work better for them.

Yeah if you want your kid to hate you for the rest of your life..sure, get him/her a junk surface go with wincrap 10 and no tablet experience.

I do find it funny when people use words like 'microcrap', and such, totally ******* clueless, but as long as you know how to use one finger to tap big pictures then all good :) Brilliant idea getting kids on Windows as soon as you can, Microsoft will always dominate the business market, and especially Windows Server, and if you don't know how to use it or 'diss' it because you are ignorant of an amazing operating system that has changed the world (let's not forget, Apple use Windows on thier factory lines) then it's your loss, and even more importantly your kids loss. Hehe
Windows Central Newsletter
Get the best of Windows Central in in your inbox, every day!
Thank you for signing up to Windows Central. You will receive a verification email shortly.
There was a problem. Please refresh the page and try again.