Oculus Rift S recommended PC requirements: How to tell if your computer can run it
Make sure you've got what you need before the time comes to buy.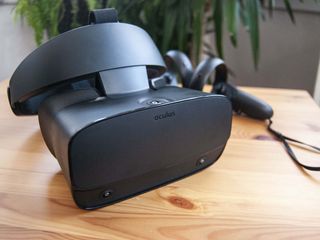 (Image credit: Windows Central)
The Oculus Rift S is the latest generation Oculus VR head-mounted display (HMD) from Facebook, and it builds upon the evolution of the PC VR market in several important ways. With a sharper display and no need for external cameras to track your position in the room, the Rift S is the easiest way to get into VR gaming on the PC.
This headset has a ton of great features, but it still needs a great computer to deliver quality VR performance. Just how great, though? Here's a quick look at how to check and make sure your PC can handle the Oculus Rift S so that you can plan ahead and ensure your purchase is a solid investment.
Related: Which graphics card do you need for VR?
How to check your PC specs: the easiest way
Just follow these simple steps:
Hit the Windows Key + R to open up the Run command window.
Type in "dxdiag.exe" and hit OK to open up the "DirectX Diagnostic Tool."
View the System and Display tabs to check your specs.
Another way to check your PC specs
Click the Start menu and type in Display
Select 'Display Settings' from the search menu
Image 1 of 2
Scroll down and click 'Advanced Display Settings'
Your graphics card will be listed under Display Information
Once you know your system's specs, you'll need to check out Oculus' system requirements for the Rift S, which are listed below.
Oculus Rift S minimum PC requirements
OS: 64-bit Windows 10.
CPU: Intel Core i3-6100 / AMD Ryzen 3 1200, FX4350 or greater.
RAM: 8GB.
GPU: NVIDIA GeForce GTX 1050Ti / Radeon RX 470 or greater.
USB Ports: 1 USB 3.0 .
Compatible miniDisplayPort video output (miniDisplayPort to DisplayPort adapter included with Rift S)
Oculus Rift S recommended PC requirements
OS: 64-bit Windows 10.
CPU: Intel i5 4590 / AMD Ryzen 5 1500X or greater.
RAM: 8GB.
GPU: Nvidia GeForce GTX 1060 / AMD Radeon RX 480 or greater.
USB Ports: 1 USB 3.0 .
DisplayPort video output
Having a higher-end setup for the Oculus Rift S makes a significant difference in overall quality, so while the minimum requirements you see here for the Rift S will absolutely get the job done, you may want to aim a little higher. With the recommended hardware, you'll notice better lighting effects and much faster interactivity when switching between the Rift UI and whatever game or app you're in, making the entire experience feel that much more natural and immersive. Upgrading your GPU with a pick from our collection of best graphics cards will no doubt make a big difference.
The latest Rift
Easy as it gets

The Oculus Rift S is the latest headset from Oculus. With better lenses, a decrease in Screen-Door Effect, and no external cameras to set up, the Rift S is a breeze to use. The $400 price tag is pretty nice, too.
Updated January 2, 2020: This article has been refreshed to match up with the latest information on the Oculus Rift S and how to obtain your current PC's specs.
Get the Windows Central Newsletter
All the latest news, reviews, and guides for Windows and Xbox diehards.
Russell is a tech nerd who chases the best of everything, from phones to game consoles to laptops and everything glowing or beeping. He's the Managing Editor of gaming content for Mobile Nations and can be found contributing to all of the Mobile Nations sites. Reach out on Twitter!