ReCore's launch trailer has more hints on its story and characters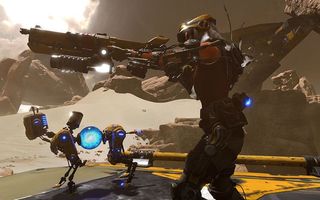 Microsoft has released the launch trailer for ReCore, the upcoming sci-fi action-adventure game for the Xbox One and Windows 10. The trailer reveals a bit more about ReCore's story and characters.
Microsoft says (opens in new tab) the trailer offers more info on the game's world of Far Eden, and its main character Joule Adams:
Microsoft has also revealed some of the actors who are doing voice and motion capture work on ReCore. Joule is played by Erika Soto, who you might have seen recently in a series of TV ads for Sprint as the very pumped up dancing woman. Dr. Adams is voiced by Connor Trinneer, who is best know for his role in Star Trek: Enterprise as Chief Engineer "Trip" Tucker. Finally, Kai Brehn, who makes his first appearance in the new trailer is played by Harry Shum Jr, who is best known for playing Mike Chang on Glee and is currently in the TV series Shadowhunters: The Mortal Instruments as Magnus Bane.
ReCore, developed by Comcept and Armature Studio, will be released on September 13 in the U.S., Sept 15 in Japan and Sept 16 in Europe. It will be the first official Xbox Play Anywhere game, which will allow Xbox One buyers to get the Windows 10 version for free, and vice versa.
Check out our ReCore interview with Joseph Staten and Keiji Inafune
Can't wait for it to drop. Have it preordered and I'm super curious about it :D

I kind of wanna buy this game, but Forza Horizons has won my September budget.. this two games being released back to back almost compares how movies get released, and how some movies get push back to prevent competition with other blockbusters

I'm in the same boat, Forza Horizon will defiantly eat up the budget for this month but remember that ReCore will not be a full price game so hopefully I can pick it up soon enough. This might prove to be a classic.

I have a strong feeling the new metroid is born. This game is the new classic!

Haha I've preordered Recore, FH3, BF1, TF2 (biggest edition, physical) and HW2 xD no more money for games until after HW2 xD haha

@IzzacJ What is TF2? Team Fortress 2? I dunno I thought that already came out.

Joing the ReCore subreddit: https://www.reddit.com/r/ReCoreGroup/
Windows Central Newsletter
Get the best of Windows Central in in your inbox, every day!
Thank you for signing up to Windows Central. You will receive a verification email shortly.
There was a problem. Please refresh the page and try again.