Red Bull Racers drives its way over to Windows Phone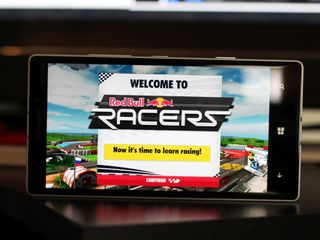 If you have been looking for a new arcade racing game experience for your Windows Phone, here's have a new one to check out. Previously released for iOS and Android, Red Bull Racers recently made its debut on the Windows Phone Store.
Yes, Red Bull may give you wings, but Red Bull Racers is aiming to give you some fast and furious racing action. Here's a list of its features:
THE WORLD OF MOTORSPORTS - Burn rubber and explore unique tracks in various game modes and compete against the best drivers in the world!
FUN WITH FRIENDS - Play with your friends, climb up the leaderboard, and show everyone who's No. 1!
BOOST YOUR RIDE - Use boosters to increase your race performance or to knock your opponents off the street!
ACTION-PACKED TRACKS - Race more than 100 events on Offroad, Formula, or Street-Tracks! Jumps, drifts, loopings and reckless overtaking with cars of real world champions!
UPGRADE YOUR CARS & BIKES - For a better performance on the track and better speed!
INTUITIVE CONTROLS Racing designed for mobile — easy but challenging! Red Bull Racers combines the fun of the legendary Carrera Slot Racing System now allowing exciting smartphone duells!
The bad news? Red Bull Racers is not currently compatible with 512MB devices.
Download Red Bull Racers from the Windows Phone Store (Free)
Windows Central Newsletter
Get the best of Windows Central in your inbox, every day!
I really liked the end of the article though :)

What that it doesn't support 512MB RAM devices? Lol

Hell yeah .! It doesn't support my 720 .!!!! HAHAHAHA man..! Well its a sign for change move towards better ram been 2 years with my device.! Hey microsoft plz launch 840 soon XD

512mb not supported. Sobs :'( -_-;;

Well, 512MB devices are now becoming a thing of the past. More devices nowadays have 1GB or more.

I wonder if W10 will actually run smooth on 512 mb ram devices.

I fear that it won't run smoothly. But I don't want to buy a new phone!

Well, Windows Phone would lose a huge chunk of market share in the emerging countries. Expect the usability of your phone prodigiously reduced to only light gaming and social media apps.

No, because Microsoft is releasing all of their new low end phones with 1GB RAM. Phones like the L435 and L535. Those are really cheap and both come with 1GB RAM. There is no excuse anymore.

Microsoft doesn't have a huge marketshare in emerging economies. Source: I live within one.

I have made up my mind I'm not updating to W10 on my 520.I'm pretty sure the phone will slow down with the update.

It was quite ok in previous build. Though latest build cause a lot of problems. But performance was still ok

Not every region has contract phones. Most of the Windows phones in India are either the 6xx series or 520. But technology advances fast! No other option than buying a new phone.

My socks have more ram than that.

Great, then you don't need to get a phone.

Buy 1gb ram phone. I am also going to buy Lumia 638 @ ₹5400

Bought the Lumia 638 a month ago on Amazon.Later realized that Microsoft has no plans to release the denim update for India.

Not available here in Brazil. Can someone say to me their contact info?

Change ur phone region download it and then change ur region again much easier

@guillherme why do u comment on the same thing all the time?? Just change ur region

Because he's not doing it for himself. But the people in Brazil.
Email: racers@support.redbull.com (got from Google Play)

Geez dude...Rude much? He contacts them to help them publish it to the Brazil store so all Brazilians can use the game too. Try thinking...it helps.

Those who will whine for 512 MB support not there, remember that no phone in 2015, whatever end, and every phone Microsoft has released, does not have 512 MB RAM. I know your phone might be JUST 2 years old, but then as the days go by, it's hard to support 512mb RAM devices. So its time to upgrade :) Those saying temple run works on 256mb ram iPhone 4, what about the other apps and ios 7 :)

There was phone called Lumia 630 which was released just a year ago whose price at that time was much nearer to the price of the now Lumia 640xl, but had only 512 Mb ram for some stupid reason.

You'll have to blame Nokia for that device. Every device under the Microsoft name has 1gb ram and the 630 has been replaced with the far superior 640.

640 replaced 630 not 640xl!

I was telling from the price point of view. I know they are completely different (purpose) phones.

I can't complain, and I know that the s4 is outdated too as it happens with tech. But feel sorry for the stupidity of nokia releasing recent 512 mb phones like 630. My 520 is waiting for a similar sized worthy successor

Releasing 630 with 512 was a wrong choice.

"Not currently compatible" so once 512MB ram devices can run it?

Surely most people buying 512mb ram devices expected an issue with some apps as it was widely reported on at the time. Still you made a conscious decision to purchase it knowing some apps may not work. Not the fault of MS so stop moaning.

You have got a point, but at that time the 1 Gb ones were expensive and the low end and mid range only had 512. Nobody is moaning. People are just saying that they wont be able to run the game. What would they get from moaning here. Will someone buy them a new phone?
Moaning is like: Why redbull why can't you support 512mb phones?
Stay cool 8-)

The 640XL is far more way costly than the 630. It replaced the 1320 not the 630.

It's not supported on 1520!!!!!

For PLUCKS sake... Could someone actually comment on the DAMN GAME instead of the ram situation?

I was going through all the comments trying to find one single comment about the game, then came yours :D So here's my comment: this game has more bugs than you can find in any Indiana Jones' bugs scene. It's appalling!!!