Red Dead Redemption 2 app hits iOS and Android this week
Red Dead Redemption 2 is receiving an official mobile companion app upon release.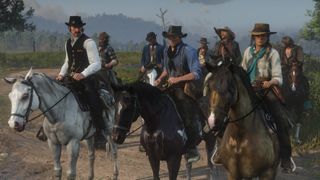 (Image credit: Rockstar Games)
Rockstar Games' upcoming western, Red Dead Redemption 2, is just around the corner for Xbox One and PlayStation 4. While a few days out, there's still a lot to learn about the highly-anticipated title upon its slated October 26 debut. Parallel to the full game launch, an official companion app has now been announced for iOS and Android devices.
The Red Dead Redemption 2 companion app promises to relay "real-time interactive information" when playing the console game. The app is capable of displaying the world map, with options to zoom, set waypoints of mark areas of interest. You'll also hook into the protagonist's in-game journal, serve up Rockstar Social Club statistics, and access a full game guide provided by Piggyback.
Image 1 of 2
Using the app can also enhance your on-screen experience, with an option to shift heads-up-display (HUD) elements to your smartphone. This mode doubles-down on immersion, without comprising on gameplay indicators.
The Red Dead Redemption 2 companion app is currently on track for October 26, 2018, alongside the Xbox One and PlayStation 4 release.
See at Amazon (opens in new tab)