Red Dead Redemption 2 PC version arrives in November, comes with a variety of bonuses
The western adventure comes to PC in November, with a host of bonuses for those that preorder.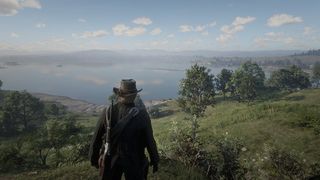 What you need to know
Red Dead Redemption 2 first released in October 2018 for consoles.
Rockstar Games has announced that the PC version will release on November 5.
The game is available through the Rockstar Launcher and other platforms, with a Steam version coming in December.
It's also been announced for Google Stadia.
Update: Oct. 17, 2019: Rockstar Games has released a trailer for the PC version of the game, showing it running at full 4K with a bunch of new graphical enhancements.
Red Dead Redemption 2 first released on consoles in October 2018 but if you've been patiently waiting for a PC version, you won't be waiting much longer. Today, Rockstar Games announced that Red Dead Redemption 2 is coming to PC on November 5. It'll be available through the Rockstar Launcher, Epic Games Store and other digital platforms, with a Steam version arriving in December.
Pre-purchase availability will begin on October 9 at 11 a.m. EST for those who want to grab it through the Rockstar Launcher. This will include a variety of bonuses, including the Outlaw Survival Kit, War Horse, Treasure Map and Cash Bonus for Story Mode, as well as 50 Gold Bars for Red Dead Online. Preorders will also let you choose two free games from a selection on the Rockstar Launcher.
Naturally, with this game being on PC, it's going to come with a suite of graphics options and Rockstar Games states that it "features a range of graphical and technical enhancements for increased immersion." In addition to PC, Rockstar Games confirmed that Red Dead Redemption 2 is coming to Google Stadia as a launch title.
Red Dead Redemption 2 is an epic, sweeping story and prequel to the original Red Dead Redemption. It follows the story of Arthur, a member of Dutch's gang alongside John Marston and several others. It was the largest entertainment launch of 2018 and the second-largest of all time, earning $725 million in its launch period and selling over 17 million copies in its first couple of weeks.
Samuel Tolbert is a freelance writer covering gaming news, previews, reviews, interviews and different aspects of the gaming industry, specifically focusing on Xbox and PC gaming on Windows Central. You can find him on Twitter @SamuelTolbert.
They treat PC like it doesn't matter and made us wait for over a year. That's fine. I can wait (I've had lots of practice). I'll pick it up when it's on some inevitable sale for like $10.

PC is less important than console.. Especially for that kind of games... With half of the PC gamers just torrenting the games and the fac that games like that have a bigger crowd on console it makes total sense...

Firstly, the only reason console kids don't torrent a console game is because you can't get it to work.
A few years back a lot of people got console games from torrents, like PS3 and Xbox360.
Secondly, you won't find a working GTA5 on any torrent page, there is no reason why Rockstar would make it easier with Red Dead Redemption 2.
Lastly, you should probably moderate your percentage as no online multiplayer games work from torrents.
Windows Central Newsletter
Thank you for signing up to Windows Central. You will receive a verification email shortly.
There was a problem. Please refresh the page and try again.