RedLaser Updated: Voice search and image recognition added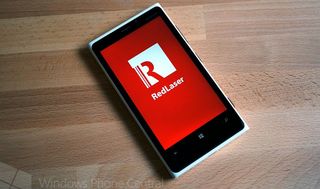 Now we're into 2013 we're seeing the updates for apps come in once more, today we got an update for the excellent eBay app, Redlaser.
Redlaser has been doing good service on Windows Phone for some time now and with the latest update we arrive at version 2.1. As well as the usual bug fixes and such they have added in the ability to search with your voice.
Scan, Compare, Speak Compare, Compare, Scan, Compare..
For those not familiar with Redlaser, it is an app designed to allow quick scanning of retail barcodes to aid in searching for products. You can then search from hundreds of local retailers to compare prices on items you're looking for. The app even reports that it can help you check out books from the local library. Here is the list of features:
Features
Scan all major retail barcodes (including UPC, EAN, UPC-E, and EAN-8) and QR codes
Search for prices from thousands of online retailers for millions of products
Search hundreds of local retailers to compare prices, find the nearest locations, and even check out books at the library
See all your local results and stores on a map
Keyword, Voice, and Image recognition search to find the best deal, even when you don't have a barcode handy
Get product descriptions, reviews, and nutritional information to help you make the right decision
Create personalized QR codes with your info, contacts, website's URL, and more with our powerful QR code engine
Create shopping, wish, and gift lists to share with friends and family via Facebook, email, or SMS. Also great for archiving your book, CD, DVD, and even your wine collection!
In use the app does what it says on the tin, scanning barcodes is painless and quick and the new additional features are quite a boon too. When we tried using the image recognition function we took a photo of a Lumia 820 and after a little thinking the app came back with a list of possible suggestions, top of the list was the Lumia 800. We're not going to hold that against it and actually find ourselves rather impressed. Scrolling further down the list it suggested a range of Nokia devices so it was on the right track.
Voice search essentially takes a recording and then processes it; in use it did a good job even with my crazy London accent. Anything you scan or search for is held in the app for later use. Overall it's a solid update for an already excellent app but we can't help but question why there isn't better Windows Phone 8 support. We hope that the team behind RedLaser make use of the lenses functionality sooner rather than later.
The app is of course available for both Windows Phone 8 and Windows Phone 7 devices and you can download it from the Windows Phone Store. If you already have it installed the link should prompt you to update your existing installation. You can also use the QR code below to do the same thing.
Windows Central Newsletter
Get the best of Windows Central in in your inbox, every day!
The list making feature is good but it needs an editing option. If I make a list of my books by scanning barcodes, and it doesn't recognise and find the title, there is no way of editing the books name in the list. You only see something like: 9872552377. Having ten of those in a list is a pain. The only edit option is to delete the item from the list.
The app also crashes when I try to search the code by typing those numbers.
Unistalled...

Works fine scanning items, although despite setting searches to local I still dont get local prices at all.
Shame there appears to be no help on using the voice commands..
This could be a great app with upgrade to WP8 and more help/advice on the operation of it

New wp8 user here... Why is this needed/better than the built-in Bing search? Image recognition is the only thing I see that's new functionality.

Bing Vision is good but it does not always give you the best price. Therefore apps like RedLaser, ShopSavvy are good alternatives to find a better price/reviews of the products in the market. Same goes with deals on Bing. Yelp is integrated but where are Groupon, Living Social, etc deals. An app is needed.
I am hoping one day Bing will be self sufficient.

Fair points. As a new user, new to smartphones entirely in fact, I haven't even used the Bing vision capability once. I very rarely go shopping without planning in advance (ie, desktop surfing), so I'm not sure I really need a dozen apps just to get the best deal while impromptu shopping. And it sounds like one could waste a LOT of minutes (literally and figuratively) on groupon, living social, etc.

I can only scan QR Codes & Microsoft Tags with Bing Vision as they've crippled functionality for a huge number of markets. It works if I switch to US English but then I have to suffer misspelled words & I think it messes with the voice recognition stuff which is flakey enough as it is without forcing me to mispronounce words too :P

I'll stick with Bing. No need to download an additonal app when the service is built into the OS.

Not for everyone - it's only in the US, UK & maybe a few other markets, but the rest can only scan QR Codes & MS Tags

Red Laser saved me about $50 at one store in price matching a few items this xmas. Great app and works well, must have for wanting to get the best deal on the product you want.

I love this app but after Portico and app version 2.1 I now get the green screen after a scan on my 920. I have to reboot or the camera doesnt work at all.

Exactly the same issue for me on my 920.

It is a fantastic application which could prove to be a money saver. My ultimate companion when I want to find great deals and cheap item prices. - Kale Flagg
Windows Central Newsletter
Thank you for signing up to Windows Central. You will receive a verification email shortly.
There was a problem. Please refresh the page and try again.