Refocus app brings Lytro-like effect to Windows Phone 8, impresses us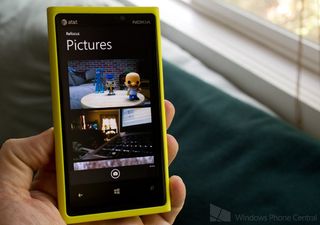 Refocus is one of the cooler Windows Phone 8 camera apps we've run across. The camera app operates very similar to the Lytro Cameras (opens in new tab) or the Pelican Imaging that Nokia is investing in that allows you to choose the focal point after you capture the image.
Refocus lets you shoot now and focus later by capturing a RFI image file (SPEFO Stellar Spectra Analysis file) that can be manipulated to shift the focus point. When you get things just right, the image file is saved in .JPEG format. While we are a little shaky on the science behind Refocus, it's an awesome camera app that is a must have for all the Shutterbugs in the crowd (or anyone else who likes to take photos for that matter).
Before we go too far, Refocus is a Windows Phone 8 app but may not work on every Windows Phone 8 device. There are a few hardware requirements that have to be in place for Refocus to work. The Windows Phone camera must support manual focusing, high resolution captures, and have a light that can be used to illuminate dark scenes. If you don't have one of these three elements, Refocus won't work. I'm not sure on the other Windows Phone 8 devices but Refocus worked fine on the Nokia Lumia 920 and HTC 8X.
Refocus's main page displays your image files captured by Refocus that can be retrieved, adjusted accordingly and re-saved. At the bottom of the main page is your camera button to launch your Windows Phone camera to capture a new image.
You can capture new images by using the shutter button or just tap the screen. Once captured you can adjust the perspective or focus point by tapping the screen or by using the focus adjustment arrows to the side of the image. Tapping the screen to adjust the focus works but the adjustment arrows are more precise. When the image is just right, tap the save button and your completed image is saved to your Pictures Hub camera roll. Images are saved at 1280x720 and 96dpi.
In addition to giving you the ability to re-focus images, Refocus will let you:
Share the completed images (Facebook, Twitter, email, etc.)
Upload the completed images to your Skydrive account
Open RFI files you find on the 'net or receive through email
View completed images on Refocus's Live Tile
There were a few bugs present with Refocus. Nothing that will cause small children to run crying from the room but hopefully easily fixed.
First, when the RFI file is re-opened from the main page of Refocus you can adjust the focal point, share the image but for some reason can't save the re-focused image. This feels like the developer simply forgot the "save" button in the programming.
The other bug dealt with the camera initialization. I did have a few occasions where the camera failed to initialize or the dreaded green screen fill the camera viewfinder. Turning on/off the Windows Phone set things right so the camera can initialize properly.
All in all, Refocus is a really neat photo app that only adds to the creative capabilities of your Windows Phone 8 camera. There is a trial version available for Refocus to let you see if your Windows Phone's hardware is compatible. The trial version does have a limit on the number of images saved.
The full version of Refocus is running $.99 and you can find it here (opens in new tab) in the Windows Phone Store.
Thanks, everyone, for the tip!
George is the Reviews Editor at Windows Central, concentrating on Windows 10 PC and Mobile apps. He's been a supporter of the platform since the days of Windows CE and uses his current Windows 10 Mobile phone daily to keep up with life and enjoy a game during down time.
I started playin with this yesterday and it's a good start, but to be a paid app, I think they NEED to:
1. Allow higher resolution images
2. Let me choose the focus points. This would take fewer pictures, saving space and let me get the shots that I want.
3. Have export options like animated GIF of the various focus points or even just a built-in collage to show focus progression
4. Stich together different focus point to have a perfectly focused shot at all depths (OK, this one might be ridiculously ambitious, but a guy can dream, right?) :)

1. Higher resolution can be achieved but the rate of fire (fps) will decrease and can lead to taking longer to get the shot(s).
2. Agreed but the OS and firmware have some limitations at the moment to do fine-tuning to the manual focus, so the app can't do minor refocus.
3. Agreed.
4. Key feature to success!

Please keep in mind that I have almost ZERO coding experience! I can only think of the logic behind the task at hand. 1. I'm OK with that...maybe as an option. I would likely use this sort of app in a set up shot.
2. Damn OS/firmware limitations. :)
3. I love agreement, but a small part of me hates to see the convo end. :)
4. Can you imagine having a macro shot where everything is in focus? I love the crazy, blurred effect of depth of field in some shots, but I'd like to have something new to play with in that image.

1.) Higher resolutions would require a different means of capturing the images which would make capture considerably slower (up to 30 seconds / image). That was actually used during early development but deemed inacceptable performance. Another problem is that the whole image data has to be kept in memory at the same time. Higher resolution captures would likely exceed the memory available on low memory devices like the Lumia 620. It might come back as an option in a future update.

2.) Nice idea but it would need to rely on the device's autofocus and again would slow capture times significantly compared to the way it is done now. This might enable capture on the Samsung Ativ S though (given that manual focus is what's not supported there). Again: might be coming in a future update but no concrete plans right now.
4.) Theoretically possible but would require images without movement (of either the camera or the scene) to work properly (otherwise results could be... "interesting").

Hopefully Nokia will integrate it into their future phones.

Ok, the app is cool.....BUT

Jay (or anyone else), any idea how they made that tile move like that????

Think I've worked it out...just hadn't thought of doing it....very cool though

It's one of the new tiles available in 7.8 & 8. Other apps are also using it, like Photostream. There's no trickery, the app just provides a few photos to the tile and the OS does the rest.

The 'science' is simply that it takes multiple photos from all focal ranges and allows you to select the one you want afterwards. The tap-to-select feature woks just like it would in the normal camera -- it finds the shot that has the sharpest version of the point you tapped.

Yeah, this doesnt quite feel like Lytro. Its just multiple photos.

They are most probably using focal stacks to do this. The basic idea behind this is to capture multiple images with different focal points, and then when the user clicks at a particular point, it figures out which one (or more) images to blend together to get the necessary object/point in focus. Probably why this can only support low res photos. Will be interesting to see how well this works when objects in the scene are moving. Just to play the devil's advocate... :)

Well the movement problem and the low res problem are kind of related but not in the way you assume. Capturing hi res images takes more time making the movement problem a much bigger issue. Another reason is memory consumption. At 1280x720 the raw data kept in memory is > 40 MB. Additional memory is required for actual display, processing of the data, etc. So higher resolution images quite likely would lead to problems on more resource constrained devices like the Lumia 620.
Correct on the focal stacks - it's the underlying technique. Therefore: Lytro-like effect instead of Lytro-like technology (although a lot of what is used for focus calculation is the same algorithms that are used for Light Field photography).

Works fine, it feels a little bit like the Lytro camera. I bought it so maybe the app can get a little support so it could be much better!

It is exactly how I show support for the devs. Besides, I hate how ads make an app look like it split its pants.

Doesn't work on the Samsung Ativ S.

Samsung has not implemented the possibility to manually set the Camera focus. That's the problem. There might be other ways to achieve the desired effect but for now the Ativ S remains the only device that is not supported.

I hope the developer will made it available in Indonesia region. I want to buy this app with my operator billing...

The App is currently available in all countries that don't fall under Special certification rules. Once the bugs are worked out I will try to extend the reach of the App but I'm not sure if maybe the SkyDrive upload functionality might lead to Problems during certification.

It does take multiple shots with different focal points, to see that use it on a moving target. But this is still a great app.

Refocus is my App. I'm happy to see you like it and can assure you that I'm currently working on resolving the bugs I have been reported so far.
I have one correction on the article though ;) I'm not using SPEFO Stellar Spectra Analysis files. It seems I have overlooked that application already using the file ending. It actually simply stands for "ReFocus Image".

Another thing that perhaps isn't quite clear from using the App itself. Only manual focusing must be supported by the device in order for the capture to work. The other two options are more of an information to the user. Without Hi-Res capture you will only have 640x480 images.

As for unsupported devices. The Ativ S is not supported due to Samsung not supporting manual focusing. The Huawei Ascend W1 has also problems with Refocus though in Beta Testing it seems like I will be able to fix it for the upcoming update.

I wasn't able to download this app to my 8x. I get "This app is not available for your phone".
Windows Central Newsletter
Get the best of Windows Central in in your inbox, every day!
Thank you for signing up to Windows Central. You will receive a verification email shortly.
There was a problem. Please refresh the page and try again.