Reminder: Be patient when upgrading to Windows 10 Mobile build 10149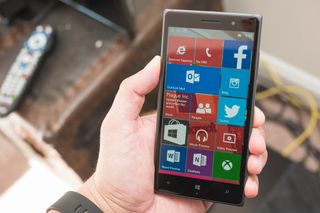 Microsoft just released Windows 10 Mobile build 10149 to Windows Insiders on the Fast ring, but if you're planning to move on up, you'll want to exercise some patience during the upgrade. Just like in the last build, the lock screen will appear frozen for about 10 minutes after the upgrade while it migrates your data.
From Microsoft:
So there you have it. If you want to avoid causing any unnecessary issues with your device, try to avoid the temptation of messing around with your phone until the date and time appear on the lock screen.
Source: Microsoft
Dan Thorp-Lancaster is the former Editor-in-Chief of Windows Central. He began working with Windows Central, Android Central, and iMore as a news writer in 2014 and is obsessed with tech of all sorts. You can follow Dan on Twitter @DthorpL and Instagram @heyitsdtl.
Gosh! That's why when I upgraded to build 10136 my phone didn't work properly just because I restarted it when it had frozen. Now I'm on WP 8.1

I'm on build 10149 right now... Boy what a difference. My Lumia 521 have never been so smooth and responsive. Loving it

Can I upgrade my Lumia 525 to this build? Is it more stable than before or I should wait for later builds

u can,it is not perfect but its running like a dream on my 620.few hicks here and thr but it does the job

How about 535? This good and fix for my unit with sim 2

Scaling issue seems to be gone and I only experienced my 535 hanging/freezing once only for now.
Also facebook app works now because now I can see the extra alert/prompt which before was hidded because of the scaling issue.

Oh, boy. I just reverted from 10136 due to a misunderstanding... I couldn't get OneDrive to work. Perhaps I get to try again. Yey.

The OneDrive app got an update yesterday on 10136 which fixes it

What? Another build already? They really have sped up the fast ring! I finally rolled back today to 8.1 cause of Alarms not going off.

Anyone run into issues on the last build that killed Wi-Fi and mobile data? Combine that with a broken USB port and there is no way forward or backwards for me. Hoping there is a fix for the data issues so I can at least upgrade.

I did upgrade to 10136 and reverted in no time on a Lumia 830. No issues with hardware, though I did have the whacky Outlook and other Apps issue. A reset resolve those but i still had problems with OneDrive. Since OneDrive is crucial to daily life LOL I had to revert after a few days of fiddling. No issues. I hope you can recover.

Unfortunately not. I found out my USB port doesn't work, only after upgrading.

My phone is the same. I am hoping that I can update after the big rush. My phone can use wifi but it is likely to cut out and only work again with a reboot.

I did a hard reset and I am currently downloading the update which is further than I got last time. Hopefully it will finish

I have a question, in general all the apps should work okay with w10? I lose any data updating from w8.1? I may update this time

Well, apps that don't store data in cloud will be a problem u less you install them to SD. I had no problems except for the odd Office apps issue and also disappearing folders. Creating new folders would make one magically appear. Quite a frustrating bug since you think an app is pinned and it is, but the folder is hidden somehow. Also, picture hub experience is still kind of painful.. Or rather, picture file picker in some app dialogs.

IMO its faster/better and more stable to update the phone in a fresh state. I always skip the restore part of the upgrades.

Does this version re-add custom ringones for certain people in the contacts section? That and the lack of word keeps me from testing too long as they are essential to my daily driver. I try each build but usually within a week it's back to trusty 8.1

Updating my 920 as soon as I get home. This is hopefully the build that stays on my device. And it happened so fast too. Posted via the Windows Central App for Android

Got it. Updating right now

Thank you for let me know!!!

Mine just keeps crashing in the middle of it downloading the update lol
At least the settings app crashes. It seems to still continue the download process in the background as every time I reopen the settings app and navigate to the update section, progress appears to be made.

I am looking forward to get all this builds combined into a steady OS. its more beautiful now. but this is my last year using windows phone.getting tired of all these changes.but I AM VERY HOPEFUL!!!!! lol

Mine finished updating and I was going through all the options in settings fixing things it decided to change(like it decided to give me a random background for Start rather than "none"). Anyway, once I got to Phone Update, it indicated it was downloading one and then came up and gave me the "Schedule a restart" or "restart now" message. It's rebooted and I've got those gears-a-turning. I sure hope this isn't some endless cycle of installing the same version. I know it's the new version as it had things like the flashlight toggle(which is super helpful and quick). The new build also is lightning fast compared to the previous insider builds. I might not do a hard reset this time, just to see how far it takes me.

Well, damn. I thought it bricked because the battery died. Oh well, windows recovery tool may need to be utilized.

Well thanks for this reminder :)

Is office on this one yet? Upgrading to the previous build actually made me buy my first Android handset. MS needs to release the 1030 to make me switch back this fall. I am downloading the update to my 1020 now fingers crossed. Posted via the Windows Central App for Android

Office apps are in store(beta), not included in the build, you have to download them.

Updated my 635 from 8.1. Took nearly 5 hours from start to finish. Sincerely hope this isn't the case with the official release. Most consumers will lose it in a fit of anger. Posted via the Windows Central App for Android

It went well for me, Lumia 920. I also got the migrating data screen, and after that, it was done.

Anyone else have Settings, Store Beta, Music and a bunch of other standard apps telling them an update is required from the store?

I got that too.. Is there any work around for this bug?


The system apps are updating in this build or still remain in app list?? Is this issue fixed??

Does this build install on 4GB Memory Devices?

I'm clicking the button, it's not doing anything just flashes with a progress bar and then back to the original screen. Sucks because I just reverted back to Win 8.1 and installed the previous build.

I hope this build will install on my Icon. The last one would not.

Are the PDF files opening now..??

Anyone with download issue...mine 1520 wont even start downloading...its just sits at downloading 0%...

god sake.. Ive the same. Download button is not responding, later it starts downloading itself, but progress still at 0%. Any ideas? (Lumia 830)

uuh, I just checked phone again and its on 30% :) It seem you just have to try your luck again and again, until you got lucky..

Just be patient. As you probably are now aware, it will just sit there and you think it's not doing anything, but it is. Mine did the same thing then all of a sudden it started installing. So the downloading is a background process and one thinks something is wrong.

The preview Windows 10 for phones on Lumia 635, it's lags? They have problems?

I updated to this build over night, and when i woke up my phone was powered off. When i turned it off it went to the rotating gears and then a sad smiley face, tried everything but it just goes on. Can anyone help me resolve this issue?

I also had the same problem yesterday, first time I saw that sad face smiley. Dont worry. Use Windows Phone Recovery Tool. That solved my problem. I am back to WP 8.1. This build is a little too risky if you cant hard reset the phone

Updated from build 10036, none of my apps open... When I try to open settings, it says: Can't open setting right now, an update may be available in the store. BUT the store also won't open haha, rolling back to 8.1 and then reinstalling the new build, installing on a lumia 930!

Same here. Does not work at all. did a complete reinstall

Same here too. But I think it is migrating data in the background, because after a while, some apps can be opened, setting also can be opened too.
I think this happen because I disabled PIN before updating to this build, so i didn't see the lock screen frozen, but migration process still running in the background - in think. So just wait.

Dont reinstall this build. maybe next one. This build scared the daylights out of me

My lockscreen frozzen for 2hrs. What should I do now??? Day & time do not present on my lockscreen. When I try to access to Setting or notifications, PIN appear but I cann't unlock it, fill PIN and nothing happen. Should I restart my Lumia?

stuck on 0%downloading, scared of this shit should i move on?

greetings from Brasil , Folks! Mine finished last night only after 1 hour of gears time on off and so on! Most of the bugs I have noticed from prior build were now solved and I am 100 % satisfied . I think things are getting well this time.Two days before I was about to leave my Lumia but I have changed my mind once more. I strongly suggest you guys insist on upgrading.It´s really stable.

Qual é a versão do seu Lumia Xará? :) é o 930?


Review, Windows 10 Mobile 10149: http://www.windowsblogitalia.com/2015/06/video-tour-completo-di-windows-...

Am I the only one who actually GOT the MIGRATION screen? I went from 8.1 straight to 10149, no lockscreen image without date etc. All apps working fine, and the build is pretty good. :D L920


Well i have got the migrating data screen Also updated from last build on a L920

The post-upgrade migration status screen appeared in my phone (L630 Dual). It work usually

I have a lumia 1020 with a windows build of pre 10136. As we all know that to upgrade to build 10136 we need to move back our phone os from windows 10 preview to windows 8.1 . Now the issue I am facing is that my phone is not being detected by recovery tool released by MS and LUmia. Hence under no circumstances I am able to roll back to windows 8.1. Can anyone please help me to update my phone to build 10149.

I finally upgraded to 10149 direct from 10136. It took a few attempts but once it started installation everything ran well. I got the migration screen. So far, even without a hard reset, this build has been running fantastically. Animations are smooth and clean, phone is as responsive as ever, I'll keep testing

Good to know after the fact.

I downloaded the build and i keep getting connection issues. Wont text. Cortana doesnt work. Cant access anything online

When i upgraded . My L730 shows post upgrade migration window

i m not able to update my Lumia 525 ... its stuck on 0% from last hrs....... Is anybody facing the same problem.. ???

i am also facing that problem any solutions

is ur mobile working..iam also facing the same problem

I have got a trick to save windows phone os package which is downloaded by windows phone recovery tool. So that no need to download 1.69gb to roll back. Hahaha

after updating my lumia 925 to build 10149 i faced these issues 1)switching on or off takes a hell lot of time with blank screen for atleast 30sec. 2)not able to add contacts from my gmail account 3)after updating the GLANCE from store beta, it got missing from settings 4)store beta app crashes more often. 5)not able to download language pack

Well it took me directly to the start screen after updating, I checked out couple of things and then after some idle time screen got locked and now it's been an hour that the time and date aren't coming up,lock screen is frozen.. I don't know what to do.. Posted via the Windows Phone Central App for Android

Can I update this build from 10136 to 10149 I am on build 10136

my phone is stuck when installing its showing the blank screen..and restarting frequently...on lumia 525 can any one give me the solution

i waited for 20 min...after the date and time appeared i unlocked my screen...but none of my preivious apps are installed...no whatsapp, no facebook...I tried downloading it from store...that also din help....wat to do?? please help guys

I downloaded the update but when installing it worked fine for some time then a sad smiley appeared and the it restrted again and again until it stopped after some time then when i manually restarted it i see the gears and the suddenly the phone automatically swithes off please help
Windows Central Newsletter
Thank you for signing up to Windows Central. You will receive a verification email shortly.
There was a problem. Please refresh the page and try again.