Reminder: T-Mobile launches JUMP! upgrade program and new plans today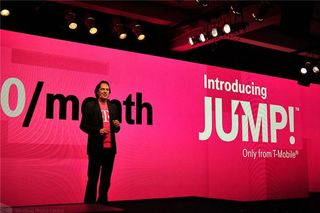 This is a quick reminder to those who are looking at T-Mobile for their next Windows Phone or are already a customer. The US mobile operator has launched its new family plans today, alongside the new JUMP! program. The latter enables customers to upgrade their smartphone up to twice per year with protection against malfunction, damage, loss and theft for $10 per month. The former unlocks a new, cheaper plan for families.
Available in-store or online from today, consumers are able to access the new plans and JUMP! program so be sure to get stuck in.
Rich Edmonds is Senior Editor of PC hardware at Windows Central, covering everything related to PC components and NAS. He's been involved in technology for more than a decade and knows a thing or two about the magic inside a PC chassis. You can follow him over on Twitter at @RichEdmonds.
I hope to see this in the UK too. I think so far only O2 is doing something similar here with their "refresh" contract...

Wish AT&T adopted this philosophy. Their plans are pretty pricey and I can see them losing many customers to T-Mo. Bad news is that they'll probably keep increasing their rates to make up for lost revenue which is bad for those of us who still have a year to go. I might actually take a pass on the L1020 (family plan/1 line ready for an upgrade) just so I can start working my out.

I really want that 1020 though. You guys get all the best phones while we get the best prices. I think this sounds like a good program for us T-Mobile customers and I'll be enjoying an unlocked 920 for the time being.

RaRa, do you get 4g on your 920 w T-mo?

If the area is refarmed to 1900 then yes else use an unlocked Rogers variant and you get 4G and LTE

I don't have the L920 yet but I get about 85% 4g coverage on my unlocked HTC Titan where I live.

See this Verizon? I wanna pay less for my phone damn it!

The more phones the more environmental pollution

If only tmobile had a 1020 to use this on.

Get the 925, and then in 6 months when a t-mobile variant comes our, just upgrade.

That's a good strategy, but it assumes Tmobile will actually get a 1025 or whatever in 6 months.

I think that is the entire strategy behind the Jump! program that I am banking on.

What's T Mobile new plan rates? And I hope they significantly improve there network! I live in New Jersey and there network is rather spotty.

yea i havent heard of new family plans, what did i miss?

They are the same.. 1st line $50, 2nd $30, 3rd-5th $10.. Data pricing 500 Mb free, $10 extra per 2 GB more including mobile hotspot, $20 unl data ($10 extra per 2 GB more mobile hotspot), no overages on data plans.

Now if only TMobile, or anyone else for that matter, would act like they will actually be selling the 925 starting Wednesday.

I'll be selling the 925 Wednesday..

I'd gladly pay $10 a month for a JUMP like plan on the Rogers network.

hmmm, i cant wai for 925.
Im happy with Rogers unlocked 920 - yellow, having LTE on T-mob, but getting tired of having problems receiving MMS (picture messages).

Bring it on T-mob !!!!

Access point solves those issues but it kills internet sharing

i know. Now i have both running, bu sometimes MMS refuse to receive and send with LTE ON.

I'd love to switch to T-mobile, but their network just isn't up to par yet. Where I live, most of the areas that I go only have 2G coverage on T-mobile. Meanwhile, AT&T has LTE almost anywhere I'd be going. Even if T-mo would offer 3G in most areas I'd switch, it doesn't have to be LTE. But sadly that's not the case right now...

I 120% feel the same way. Jesus this is my life. 2G everywhere. Which isn't terrible, like I am able to browse the web... But as soon as I go to places I never go to that often like a mall I get 4G IIIII lol. Like wtf. But 3G replacing that 2G average would be nice. I mean, 3G has officially been out forever.....
May I ask what area your in? Im curious how many areas struggle with this.

You are right. Outside of Hooterville, the coverage bites a big one! RED in NC

I'm going with the L925 outstanding device plus come the holidays I'll be able to upgrade that for a new WP8.1 DEVICE...

8.1 is not coming out this year. MS said Q1 2014. GDR3 will be out later this year with 1080p and Snapdragon 800 support.

Microsoft has never actually made any statement on update availability, its all from the rumour mill. So nothing should be quoted as factual statements made by Microsoft, this is why people are always moaning when things dont get released on dates that are nothing more than speculation.

As far as I know Q1 2014 means July - Sept this year 2014. Microsoft year is July to June.

Im pretty sure the rumors say Q1 2014 calendar year, not FY.

How well will this work for WP fans on a carrier that doesnt seem to carry more than one flagthip WP device a year? This seems geared towards their multiple year round android flagship releases.

I think you may see that change with jump here..

When my contract is up next year, I'm going back to T-Mobile. ATT just too expensive.

I'm in a similar situation. I ventured to ATT to get HTC Titan, but kept my tmo line alive via a family plan. All I need to decide if I will be happy with 925 in light of 1020's characteristics.

Yea the 1020 looks amazing. Hopefully they make something similar on other carriers

Lovely, they want you to pay more a month just to be allowed to upgrade every six months if you do not pay full retail price for a device. Still sounds like a contractual obligation while not calling it as such.

My friend on AT&T called it a Phone Rental scheme!!! But I like it and my wife already has a SGS3 so I'm already paying $7 for insurance, $3 more won't break the bank. I'm using the ATIV S so I'm waiting on a Phablet before JUMPing on this myself.

You're really only paying $2 extra on top of your insurance because jump includes PHP which is $8.

Unfortunately looks like another phantom promotion. The #nocontract and #jump promotions both are ONLY for new customers and existing customers out of contract. Otherwise you have to pay a migration fee! #hate2waite = #stillmigrating for most customers! Hard to be passionate about a brand that does this smoke and mirror promotions.

I received my L925 on Friday; you guys are going to do a jaw drop when you pick it up for the first time. The build quality is great for such a light phone. T-Mo officially lit up LTE this month, 150 million POPS and I'm sure coverage will continue to improve. I average 18-28 dl & 8-15 ul. Central California
Windows Central Newsletter
Get the best of Windows Central in in your inbox, every day!
Thank you for signing up to Windows Central. You will receive a verification email shortly.
There was a problem. Please refresh the page and try again.