This remote may offer a better way to access Cortana on your Windows 10 PC or phone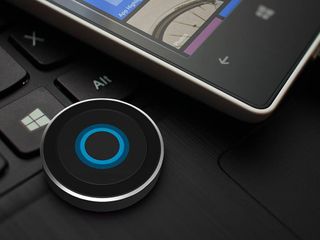 The launch of Windows 10 this week will expose many more people to Microsoft's Cortana digital assistant, which was already available in Windows Phone 8.1. Now a mobile device accessory company called Satechi has revealed plans to launch the Cortana BT Button, which it says will help Windows 10 PC and phone users to access Cortana better in locations like a car, an office meeting and more.
Satechi says:
The button has a Bluetooth wireless range of 40 feet and Satechi claims the battery inside will last up to two years. The Satechi Cortana BT Button goes on sale in late August for the price of $22.99.
Source: Satechi (opens in new tab)
That's a great idea but not for me

What is the word for forth? Ah "I quad you on that"

Then why bother comment? who cares if you are going to buy one or not...

What happens after 2 years? Can you change the battery?

Spend another 23 bucks and buy a new one?

What if they stop making it?

Then I guess after 2 yrs.....you're out $23.

it's probably a replaceable coin cell battery. EDIT: Just looked it up and yes, it takes a standard CR2016 coin cell battery.

Thanks. Saved me from having to do the look-up.

No one will be using Cortana in 2 years.

I find your lack of faith disturbing

Hardware being made for Cortana? This should answer questions as to if people are going to support Windows 10. This is clearly a niche product which means they're counting on a lot of users in order to sell to a small percentage of them. Good to see accessory makers jumping on board.

I believe they also make them for Siri and Google.

This is the first such product for a Desktop/Laptop system, though. While it will work with phones, I can't help but notice the timing waited for availability on the Desktop first. Now what I need is a wall-mounted 21" tablet in my kitchen, and this button on the counter. Then I can ask Cortana to bring up recipes for me, etc. ;) However, if you're kneading dough, you'd be better off with "Hey, Cortana!", so perhaps I should just stick it in the car. Perhaps I'll put it on my "Christmas Wish List".

It's already available for Siri

In other words, they are already available for the useless personal assistants, so now we'll be getting a button for the one that works. Cortana ftw!

i rly want to buy it :D but i dont think it will sell here in greece :(

While driving my car my phone is connecting to Bluetooth, could I have this and my phone connected at the same time?

Or maybe you can just use your windows phone to access cortana

Hard to use the phone to activate Cortana when you're driving.

Most cars with Bluetooth have a button on the steering wheel, you can access Cortana that way.

On my aftermarket bluetooth car stereo I've added Cortana's "phone number" to the stereo's speed-dial for easy access, as explained in this article: Here is how to use Cortana in your car with Bluetooth.

I can use Cortana through the Voyager Legend I have, and it works pretty well.

I access Cortana all the time in my 2014 Chevy Cruze. I press the phone button on my steering wheel, I say "Voice", it then accesses Cortana through my car's Bluetooth, mic, and audio system. Works extremely well. Now if I can get that button, I can bypass my car's voice assistant and access Cortana immediately. So I might buy it to shave off the time it takes for me to press the button, it say "Ready", I say "Voice", it says, "Okay, accessing 1520" and then the pause where the handshake happens and then Cortana's prompt comes up for me to give her a command. It is an 8-10 second delay between me pressing the phone button on my steering wheel and being able to speak to Cortana. Yes I am impatient but it's a perfect scenario to use it. Or if the environment it too loud for "Hey Cortana" to work, then there you go again. Sometimes it's too loud for "Hey Cortana" to work but she will still correctly hear what you say. Happens on my Lumia 1520 all the time.

Do you have a phone book in your dash? You can add Cortana to your favourites.

I'm going to say no since most Bluetooth devices can only connect with one other device at a time. However, if your car has microphones in it I would think you can still say Hey Cortana to activate it. No need for a button or messing around with a touch screen.

The phones support multi-BT. It will work.

True, do you know if any Windows phones support multi-BT?

My 1520 is connected to my car and Band at the same time all the time. If that is what you are asking.

At least I have my phone and iPad connected same time to my car. iPad for the music and telephone for calls.

You should be able to. You can have multiple devices connected to your phone as long as they are not using the same protocols. ie. you cannot have two bluetooth audio devices connected at the same time. I assume this will act as some type of bluetooth HID device.

I'd say yes, Bluetooth 4.0+ supports a single Central and multiple peripherals. Even now my phone has my headphones and Microsoft band connected.

MS should Include this function in Nokia Treasure Tag

I was hoping someone would make something like this!

This needs a mic for desktop setups that don't have one.

I guess even a LE Bluetooth widget will drain battery faster than CPU-enabled `Hey Cortana` command. Also how am I suppose use it in a car along with hands-free?

Since your hands-free probably connects with your phone via bluetooth, it should be the same as answering a call.

great. I would love to have it.

tha is really great.i will love to have one. I wish it has a microphone too.

what? then what is it? :D

It's a Bluetooth "button".

you sure its only button and it only saves you from saying hey cortana?

The microphone in my desktop monitor will finally be usful. In a few years we'll probably see Cortana "buttons" with biometric scanners built in to identify the user.

I can't think of a reason where I'd want to use this, where I either don't have the phone on charge already (desk / car / bedside table) and couldn't reach the phone face as easily as the button. I'm sure someone will find it useful, I just can't see it, other than being a gadget/gimmick.

This will be great for my Windows tablet car install. Once I upgrade the tablet to 10, I can have this button mounted to my steering wheel and be able to give commands to the tablet without taking my eyes off the road.

i can see cortana is going to be super popular

Wonder how long until we get some Chinese knock-offs with interchangeable battery options and 1/2 the price. C'mon Windows 10... Let their be a plethora of options to confuse us. Seriously, I'd rather have a glut to choose from than settling for limited options.

Put it to the corner of keyboard. I think that cool !

Some newer computers are getting dedicated Cortana buttons.

I would like this for my car... Hey Corana does not always work... So I use my band most of the time to interact with her... But if I could just get her yo respond by hey Cortana, then I could do all by voice over the hands free... In both if my cars, hands free interaction ia with the car that will pass on the information to the phone... I want to interact with the phone directly ans hey Cortana just doesn't work well in a car...

You know what would work for the PC? Pressing and holding the Windwos key. You know how it can work on the phone when you're connected via bluetooth. Ask your car to call Cortana.

Submit that windows key idea to Microsoft in the feedback app. I'm sure it would get a lot of votes.

Unfortunately, using my car's built-in voice controls is a miserable experience. I have to push a button, say "call name", wait, say "cortana", wait, (car misunderstands), say "cortana", wait, (car misunderstands), turn off my air conditioner or heater in case the slight noise is interfering, yell "CORTANA", give up, pull phone out and try to activate Cortana without being too distracted. If this button works as described, it's a simple, single buton press.

Since I regularly use Drive or play music through my phone, I got a simple phone mount. It makes Cortana easy, double-tap to wake up, hold the lower corner to activate; no need to take your eyes off the road.

As I was reading through the comments, I had a similar idea of just mapping Cortana to a key - I think that the Windows key is a great idea.

As much as I love this, in my car I already have Cortana as a contact in my dash, on my bike, I'm already bluetooth attached to a headset where the main button activates cortana, and in my house, Hey Cortana isn't draining any battery.

Not every phone has hey Cortana. A lot of us have older phones.

Great idea! If the build quality and functionality is excellent, I'm in.

Glad to see the support. Two thumbs up for that reason alone. Keep it up guys!

I think I like this. It's be cool if the Cortana circle was animated.

Make a hardwired one and it would be perfect for my CarPC.

What phone is that in the picture❔

930/Icon. Edit: I'm wrong, it's not 930
no antenna lines.
Edit 2: Looks like it could be a white 640.

That's awesome actually :D rly helpfull just press button and start talking to cortana since hey cortana doesnt work all that good yet :P

At Windows Central: Will you please update this article when the device is up for purchase or preorder? I know you probably will; I'm just checking.

on another note, Cortana can't say 6tag. She says 6 t a g...

Hmm I guess this could solve my problem of saying "hey Cortana" and having 3 devices respond.

Is that photo of the button one you guys took, or is that just shopped in?

What's wrong with using hey Cortana??

Not quite related but what is that gorgeous phone in the picture here? Posted via the Windows Central App for Android

I really like the hands free thing I got for my car at the link below. Pressing and holding opens Cortana on my phone. http://www.amazon.com/Kinivo-BTC450-Bluetooth-Hands-Free-Input/dp/B009NL... This Satechi option could be cool for my desktop PC though.

LOL. "Hey! Cortana!" from my BT headset or within proximity to my Surface Pro works just fine. Good idea, though for Apple. Evidently, Siri doesn't listen too well.

This is pretty cool but would depend on your phone and car. My phone currently does not support Hey Cortana, and I can't access it directly from the car voice recognition system. I do have Cortana saved as a contact in the car but this eliminates that step. (2013 Honda Pilot and Lumia 927).

how much does "hey Cortana" draing the battery anyway?

Neat. I still want to see a free-standing Cortana microphone-speaker combination (similar to Amazon's Alexa).

what about 730 plzzzzzzzzzzzzzzzzzzzzzzz any one ????????????????????????????????????????????????????????????????

Honestly this is exactly what I've "dreamt up" for my car, awesome someone is making it!

If they make a ring version (preferably for index finger) with a button, I might grab one.

It s pity I cannot change Cortana own language....I have set English on win10, but cannot have Cortana in Italian :(

but if i'm connected to the button with bluetooth, i wouldn't be able connect my phone to the car...

I can't wait to hey this for my car Posted via the Windows Central App for Android

Get* Posted via the Windows Central App for Android

i forsee this thing becoming a selfie shutter button /s. would be awesome for phones without hey cortana feature. and classic cars that dont have all those in car audiovisual devices.

I like it, but would prefer to have Windows 10 integrated into my infotainment center.

Does it have a mic? If so, can it be used with PC as well?

I would use this so much more than the 'Hey Cortana' function. Especially when I am driving.

Does it also have a high quality microphone? If not... Why bother?

You can request to be notified when the button is available via following link: http://www.satechi.net/cortana-button

Still in many countries the Cortana is not available. Siri is at least available even if it cannot speak the language. They should make Cortana available to everyone not just to few countries. I hope I will get her soon, but I do not think that that is the reality.
Windows Central Newsletter
Thank you for signing up to Windows Central. You will receive a verification email shortly.
There was a problem. Please refresh the page and try again.