Report: Rockstar is remastering three Grand Theft Auto games for Xbox, other platforms
A remaster of Red Dead Redemption is also reportedly being explored.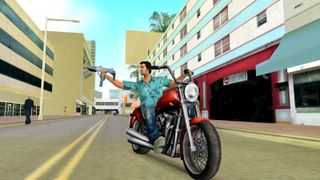 (Image credit: Rockstar Games)
What you need to know
Rockstar Games is reportedly remastering three Grand Theft Auto titles.
This ports are being planned as a compilation that includes Grand Theft Auto III, Vice City and San Andreas.
Ports of other games, like Red Dead Redemption, are also reportedly being explored.
Rockstar Games is remastering three Grand Theft Auto games for Xbox, PlayStation, PC, Stadia, mobile and Nintendo Switch platforms, according to a report from Kotaku. The games in question are Grand Theft Auto III, Grand Theft Auto: Vice City and Grand Theft Auto: San Andreas, which originally launched in 2001, 2002 and 2004, respectively.
These games are reportedly being remastered using Epic Games' Unreal Engine, while development of these remasters is being led by Rockstar Dundee. The Scottish studio is newest addition to Rockstar Games and was known as Ruffian Games before being acquired. Ruffian Games was the lead developer of Crackdown 2 and also provided support work on titles like Halo: The Master Chief Collection.
The plans for these remastered games have also reportedly shifted due to the pandemic, with the possibility that the games might launch in November but the mobile and PC ports could be delayed to 2022. It also appears the three games will be bundled together as a digital-only package. Per the report, new ports of games like Red Dead Redemption are also on the table, though this could depend on the sales of the remastered Grand Theft Auto games. 2019 western adventure Red Dead Redemption 2 sold over 38 million copies as of earlier in 2021.
Rockstar Games' latest entry in the GTA series, Grand Theft Auto 5, recently crossed 150 million copies sold, with a new version of GTA 5 for Xbox Series X, Xbox Series S and PS5 scheduled to launch on November 11, 2021. Grand Theft Auto 6 is also reportedly in development, though it seems like that game won't arrive until possibly 2025.
High crime
(opens in new tab)
Heists are waiting

Grand Theft Auto V is a massive game from Rockstar that allows players to live out their high-stakes criminal dreams. A huge campaign focuses on three very different men drawn together by circumstance, while GTA Online continues to grow with constant updates.
Samuel Tolbert is a freelance writer covering gaming news, previews, reviews, interviews and different aspects of the gaming industry, specifically focusing on Xbox and PC gaming on Windows Central. You can find him on Twitter @SamuelTolbert.
I want gta4 to see fake NYC in 4k

Garbage. This trend in the industry to rehash, remaster, and repackage games is something I see as lazy and an easy cash grab. Zero risks, little development too. Relaunching a game from ten, five years ago won't make it more fun. Nostalgia is a short trip

I personally agree, however, it seems a lot of people like these rehashes. I can see the benefit for certain games but not like every single game in existence lol

Your opinion is garbage. Why don't you just don't buy the games instead of complaining about it? A lot of people physically can't play these games any longer and many more have never played them in the first place. This stuff almost never takes away resources from newer games in development since its often outsourced to a 3rd party.

You have the choice to buy a new game or buy a remaster. Old GTA games remastered with improved controls would be highly appreciated.

Sooooo...... No GTA 6 planned I am sure.

I'm not really of fan of remakes or remasters since in most cases they are just cash grabs but in some cases, they're needed. I have the GTA: San Andreas for port for the 360 and the controls are terrible. Shooting was almost impossible. If issues like this can be fixed in a remaster, then by all means. Also, three full games for the price of one helps to soften the blow a bit.

Same with GTA 3. Tried to play the PS2 classic version on PS4 and the controls have not aged well at all. I'd imagine Vice City would be the same. In this case, a remaster makes sense.

This is great.
But I would like them to do the same for GTA 4. It's the only one of the games that, even though I had it since launch, I was never able to play because the PC port was so awful no matter how powerful the PC was, the game would run terribly.

Of course they are, because money.

I would get it simply for the soundtracks. Best in-game music ever.
Windows Central Newsletter
Get the best of Windows Central in in your inbox, every day!
Thank you for signing up to Windows Central. You will receive a verification email shortly.
There was a problem. Please refresh the page and try again.