Resident Evil Zero rises from the dead for a remastering on Xbox One, Xbox 360 and PC
Capcom is making good on its promise to shareholders to release more HD remakes, with Resident Evil Zero HD hitting Xbox One and PC in 2016.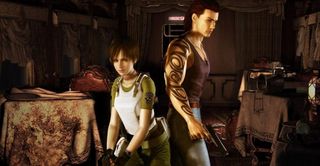 Resident Evil Zero was originally a Nintendo Gamecube title and utilizes the same highly detailed static backgrounds as the Resident Evil 1 remake. Zero follows Rebecca Chambers from Resident Evil 1 and convict Billy Coen as they attempt to escape the zombie leech infested Arklay mountains. The game uses a mechanic similar to Resident Evil Revelations 2, which allows you to switch between both main characters.
Koji Oda is returning to direct the remaster, as well as various other members of the original development team. The game was widely praised for its horror and designs, but some criticized the character switching mechanics and story.
Capcom recently confirmed to investors that it would be looking to produce more HD remasters, citing the impressive Resident Evil 1 remaster sales.
Although details are scant, I wouldn't be surprised if Capcom sweetened the deal by including split-screen co-op for Resident Evil Zero considering you're meant to control two characters simultaneously anyway. As the video says, we'll just have to stay tuned for details.
Browsing the comments section of the above video reveals a general desire for more classic Resident Evil remakes, I'm not sure whether they'll fit into Capcom's 'remaster' intentions. Resident Evil 2 and 3 would need to be rebuilt from the ground up, and judging by the quality (or lack thereof) of recent Resident Evil titles, I'm unsure whether Capcom still have the confidence to green light this sort of project. I hope they prove me wrong.
How do you feel about HD remasters? Sick of them? Love them? Hit the comments.
Resident Evil Zero HD will hit Xbox One, Xbox 360, PC, PS3, and PS4 in early 2016.
Jez Corden is the Managing Editor for Windows Central, focusing primarily on all things Xbox and gaming. Jez is known for breaking exclusive news and analysis as relates to the Microsoft ecosystem while being powered by caffeine. Follow on Twitter @JezCorden and listen to his Xbox Two podcast, all about, you guessed it, Xbox!
Why won't they do RE5! There best song RE franchise! Dammit!

RE5 was released like, yesterday. No need to remake it at all.

If you say re5 is the best in series the I guess you very young or you are crazy or both :) from re5 I done for "modern" resident series and I gladly to pay 100$ or or more if they make remake collection from Veronica , 1,2,3 and who need remake of this , it 6 years old if you want you can buy it right now ... Btw ! Never had a chance to play this but I know I from the glory time of resident evil so I will give it a try

RE5 was their best seller. Reported by Capcom themselves. Look It up.

Need the first 5, Veronica, Zero, 1,2,3. All need to be coop as well. More scares... Poor Silent Hills... Though I can't wait till this are remade for vr. Then Matrix level vr.

Until they remake RE 2 I'm pretty done with the franchise. Lost interest trying to play 6.

It was a good 20 year run though...i didn't mind 5, but 6 killed it for me.

Zero, REbirth, 2 and CVX are the best ones. If they remake 2 I'll preorder it, was my favorite one back at the time!

Aren't people tired of this zombie bs already?

Would've bought thus in a heart beat if it was releasing for Wii U. Same reason I didnt buy the RE1 remaster.

Nintendo needs to get its crap together first and Nintendo fans need to be more willing to support third-party developers otherwise these companies are going to keep skipping the Wii U.

i think that they skip Nintendo the same way that iOS and Android devs skip windowsphone. Its not as easy to develop on Wii U

Guys I want RE3 remake
Nemesis

Please CapShit maje it happen

I really enjoyed RE0, was the first Resident Evil game I completed.

Kids, kids,kids..... The best one is RE4... And trust me i have played every RE. Well everyone except the 6th

You are so right. 4 is one the the best games OF ALL TIME.

RE4 remaster would be welcomed.

4 was superb as were 1,2 and CV on the Dreamcast

Digital or physical copy? Or both?

If they re-release RE5 for my Xbox One I'll buy it immediately. Played the hell out of that game on the 360. Capcom if you read this, make it happen and take my money.

I wanted to get the remake, but I will never buy games on the marketplace. Only on disc! Same with music albums.

I hope they improve on the control system on the previous remake

I think it's a great idea to do remakes of RE. would like to see RE 2 and 3 since RE 1 remake looked fantastic. I have yet to bought it but I will once I'm done with the trippel a games that's been released this spring. Posted via the Windows Central App for Android
Windows Central Newsletter
Thank you for signing up to Windows Central. You will receive a verification email shortly.
There was a problem. Please refresh the page and try again.