Big Indie Pitch winning game Revel coming to Windows Phone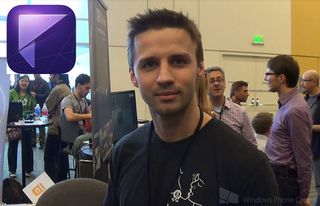 Last week's Apps World was an event dedicated to mobile games and apps - and the craft of making them. Apps World culminated with the Big Indie Pitch, a contest in which game developers pitched their games to members of the press. I look forward to telling you all about my experience with the Pitch very soon.
In the meantime, let's look at one of the two games that won the Big Indie Pitch. New York-based developer Odin's Hammer bought their social interaction/photo game Revel to the show. Revel is a unique scavenger hunt-style game in which players take photos of things in their environment and try to outdo their peers. And though it's a long way off, Revel will be coming to Windows Phone!
Revelations
Mobile videogames tend to be solitary experiences. Yeah, sometimes they have online multiplayer. But if you're at a party or a bar and you're playing a game on your phone, then you're probably ignoring the other people around you. Games usually aren't a good fit for mainstream social environments. The team at Odin's Hammer wanted to change that by creating a game that encourages players to talk to other people. New people, not just the ones you already know.
In Revel, up to eight players can join the same game. The online matchmaking component automatically detects whether a game is going on around you and makes that game easy to join. Once everybody is together, each person gets a 5 x 5 game board made up of little icons. Each of these is an item to scavenge in the environment around you.
Once you find an item, snap a picture and that space on the board becomes yours. Other players can vote on the accuracy of your photo, so you can't just take pictures of the wrong things. Get give pictures in a row and you win, not unlike playing Bingo.
Revel offers a wide variety of themed boards for players to choose from. If you're at a bar, you'll want to choose the bar theme. Others include clubs, libraries, parties, etc. They even had a theme set up for Apps World. Some of the pictures that players had to take included other developers' booths and a Windows Phone user (like me!).
The cool thing about Revel's design is that it encourages you to interact with other people in your environment. If your photo objective is a blond woman, then you're going to have to ask one to take her picture. That's breaking the ice! And even shy members of a game can enjoy seeing the pictures that everyone else takes.
Camera pointed at Windows Phone
Revel aims to be ubiquitous by appearing on every mobile platform under the sun. It's out on iOS right now, but it will be moving to Android next, followed by Windows Phone. All three versions will support cross-platform multiplayer, so anybody with a smartphone will be able to join in.
In order for a multiplayer game to be omnipresent, it also needs to be free. Revel is a free to play game, monetized by a combination of sponsorships and in-app purchases. Companies can sponsor whole themes or individual tiles within a theme. That could be a great way to get your company's booth noticed at events like Apps World, for instance. Players can also choose to buy currency. That currency can then be spent on items to mix up your opponents' boards, reshuffle your own, and other helpful effects.
Odin's Hammer couldn't give an ETA on the Windows Phone version of Revel, but it should hopefully be out by the end of the year. They are a small team (like everybody who participated in the Big Indie Pitch), so they have to finish the upcoming Android port before starting on our platform. At any rate, it's great to have another developer sets its sights on Windows Phone – especially with an award-winning game.
Windows Central Newsletter
Get the best of Windows Central in in your inbox, every day!
Paul Acevedo is the Games Editor at Windows Central. A lifelong gamer, he has written about videogames for over 15 years and reviewed over 350 games for our site. Follow him on Twitter @PaulRAcevedo. Don't hate. Appreciate!
Great! Hope that will be available here in Brazil. Anyway, I am here to help. :)

U will be remembered in Brazil after 2 or 3 years. This was the real man who supported the OS a lot

No Xbox live no play lol kidding.

it's great to see more games being added to the catalogue :)

See that too. Looks like someone from S... C...

Thats so Simon Dexter! And definitely who you're thinking of from S... C... I was so thinking "what's he doing in here?" hehe

He is. He used to be a gay porn star. Do a google search for "Harley Sean Cody" plus he's uncut. Glad he's doing something brilliant with his life now

Okay, that's quite enough.

Not trying to stir trouble but this is what happens when you post a cringe-inducing photo of two Lumias who are DTF. It made this site look like a horny seventh grader's tumblr.

What the actual fuck? Comment on the topic.

He's so cute :3 And now he's making something new and interesting. Can't wait to play with it.. :D

And the best kisser! (so his shirt says)

Im just sick of seeing WP being considered last.... Just sick of it❕
..........................
But, it's not changing anytime soon.... Damn❕

Why becoz they don't earn more from wp. They get all their profits in abundance when their is released on ios and android. the second reason may be some one among ios or android is bribing the some developers not to release or develop apps on wp.

The reason (in this case) is already stated in the article. Small team addresses larger markets first and then moves on to smaller ones.

I know that.. That's besides the point... Edit ;-)

Who's asking why❔❔
I'm just saying that it gets old seeing it app, after app.... It's frustrating...

Reading your complaints gets old too...

Ok, how often do you here me complain?... Who are you anyways?

Developers should consider wp as growing os not a small os.The growth of Windows phones has been great previous year.

I think windows phone is growing quicker than people want to believe its performing very well and we will get more releases at the same time as the other phone OS's soon :)
http://www.fiercedeveloper.com/story/why-microsoft-finally-winning-over-...

Very interested in this time. But end of the year? Its gonna be a ghost town by the time it hits windows phone like other certain games before it

We have to fill the app gap and games launching late on WP wont let us grow further.

Thanks Paul Acevedo for the great article and controlling the stray comments. We appreciate the support!

I don't care if WP will be the last. But I do care if it take TOO long to come to WP.


Candy crush coming to wp feb end??

Bring them apps here better for us! We still need a lot of ports from IOS a lot of old games could be ported! Also android!

Cool. Now we all have something to look forward to for Christmas.
Windows Central Newsletter
Thank you for signing up to Windows Central. You will receive a verification email shortly.
There was a problem. Please refresh the page and try again.