Quick Review: AGF Leather Shell Case for the Lumia 1020; go retro!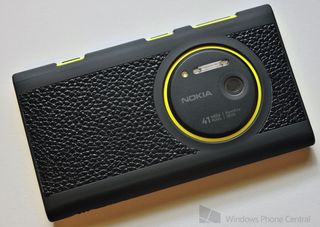 Following up on our quick review of the Speck CandyShell Grip case for the Nokia Lumia 1020 is AGF's Leather Shell Case. Also available at AT&T online and stores, the case goes for the same $35. While the Speck case offered mid to high level of protection from drops and falls, the AGF shell offers a lot less, making it a tougher sell.
Still, if you're looking at that image above and you've owned a 35mm camera in the past, your interest might have just increased. Yes, while we think $35 is too much for what is arguably just a plastic shell offering limited protection, it does look super cool. Combined with the large camera housing of the Lumia 1020 and the case makes the phone look like a classic 35mm film camera, which is very apropos.
Head past the break for more images and a video tour!
Although protection is light, it does cover the vital polycarbonate corners, which are the most likely to take dings during a drop. For that, we're pleased. The case is also easy to snap on or off, so unlike the leave-it-on Speck, this case you can toss on when you need or go naked when you don't.
The inner shell is made is glossy plastic while the outer shell is a smooth, matte material with minimal drag. Combined with the faux leather that runs down the middle and it looks rather classy. Granted, it's not a full wrap around, genuine leather case, like the one spotted supposedly coming from Nokia, but for a basic shell, it's stylish and to the point.
It's a shame that the price is so high though, even though protecting our $700 investment is a top priority. Our bet? Lots of companies will start making cases that go even further in simulating the retro camera look and they'll do it cheaper.
Having said that, if you don't mind the price, it is a cool shell and we're kind of jazzed to use it when hitting the bar.
The AGF Leather Shell Case is available now from select AT&T locations and online for $35 (opens in new tab). Find more accessories for your Lumia 1020 in the WPCentral Store (opens in new tab)!
Windows Central Newsletter
Get the best of Windows Central in your inbox, every day!
Daniel Rubino is the Editor-in-chief of Windows Central, head reviewer, podcast co-host, and analyst. He has been covering Microsoft since 2007 when this site was called WMExperts (and later Windows Phone Central). His interests include Windows, laptops, next-gen computing, and for some reason, watches. Before all this tech stuff, he worked on a Ph.D. in linguistics, watched people sleep (for medical purposes!), and ran the projectors at movie theaters because it was fun.
Now that looks nice❕.. The 1020 is a hit❗❗

I don't think we've sold one today. I'll keep my eye open.

I can believe that. I haven't yet seen a single commercial on TV about the 1020.

Yeah, what happened to this huge marketing push❔... Can't they ever get it right❕❕

I agree. This looks very classy.

Thanks for a very interesting blog. What else may I get that kind of info written in such a perfect approach? I've a undertaking that I am simply now operating on, and I have been at the look out for such info. VPN Service

Ow this wonderfull sky behind me is hit let take photo

Not very attractive, IMO.

Only ⬆my⬆ opinion matters... LOL❕

I want this phone now just so I can buy this case lmao

I think you mean "pleather".

Not bad. The logo is ghastly. Still waiting for the wireless charging case...

Looks like a real camera, nice

Looks like your camera was slipping on you there Dan! I was wondering there for a second if the 1020 was moving on its own....

Okay the Camera is Awesome but this case made me actually want to ditch my 920. Looks nice!

Awesome. I just wish Nokia would release creative cases like this with the built in wireless charging. Now, ill have to own three separate ones. Camera grip, charging case and this fancy thing.

Interesting, the phone was sliding away. Does the case or the screen make contact with the surface?

Is that in Z51 suspension package❔.. Magnetorheological shocks❔

that has a very nice retro feel...I would consider it.

Wow, just released and more cases than the 928!

Mmmm. The case makes me want the phone.

@web: well! In my point of view, It look like a camera than a cell phone.

That case looks really good, but they should have added some sort of lens cap, with that I would probably be willing to shell out $35.
But as it is, even if it looks great, $35 seems a bit steep for a piece of plastic. Still waiting to see more on the official Nokia leather case we saw renders of earlier. Any word on it Daniel?


Checked out this case today when buying my 1020, cheap piece of plastic really. Wait for the $5 knockoffs from eBay if ur smart;)

The case may not be of the highest quality, but someone had a really good idea. Yes, I like the reference to old 35mm camera cases, it ROCKS!!!

Now if only it was better constructed, and maybe with real leather??

Nokia is making its own leather case for 1080, which looks way better than this one:
http://www.phonearena.com/news/Nokias-premium-leather-case-for-the-Nokia-Lumia-1020-is-outed_id45278


the problem is there has been no word on availability of that Nokia case apart from the leaked render
people that are getting a 1020 now are not going to wait for a month until Nokia comes up with it and are going to buy something else to protect their 1020;
and once you invest in another case you are unlikely to buy a second case even if its a better Nokia one


@bkydcmpr I link to our story on that leather case within the article here You linked to PhoneArena, who cited us for the article...I mean I give you guys everything and you still ignore it, lol

Phone Arena again❔.. I guess some of us like to argue with those WP hatters over there.. That's tough territory for WP users, and you have to have thick skin... I would say thay you wouldn't believe the stupidity that goes on over there,, but I know you would.

Agreed, the same goes for GSMArena ! I see at least one WP haz no appz comment per article

Who wants to bet that one of these OEMs copy's the "big round camera on the back" design of the 1020❔❔.. You know it's gonna happen, and I hope Nokia sues the britches of them.

They should make the camera grip look like that. Not just a plastic shell hosing a battery. This really makes the 1020 look really nice looking.

Its free space for developers . Lets they make it better;)

I just purchased this case with my black 1020. Looks absolutely delightful and the pleather feels nice in the hands.

Eeeeewwwwwwweeeeee ! That case is ugly

Yeeee i want this fish yeyeye sososo much

I want Rodney case from robots movie ;)

Wow! It looks like someone put your article through a para-phrasing grinder and made it like it was their own. I haven't heard of TechEngage.com but this can't be good, no?
http://www.techengage.com/agf-leather-shell-case-for-the-lumia-1020-go-retro/



Got this case from the online store...sending it back. I personally don't see the practical appeal. Doesn't protect the corners or even create space for the screen to be set face down. Its a ridiculous price for a cheap piece of plastic and fake leather.
Speaking of leather, the site advertises it as a leather case with a picture so small you can't tell what it is. Dumb imho. Seems like I would just get the wireless charging case if i wanted this kind of protection. Just my two cents.

I bought it and I love it!!!

I wonder if you can cut the wireless charger module out of the wireless case and add it to this...


Hi, i want this cover!!!
Can anyone help me? I live in Amsterdam, the netherlands, and can't find a way to get this cover. At&t are out of stock on the website?
Hope for your help.