Review - Exact Express Envelope Sleeve Case for Surface Pro 3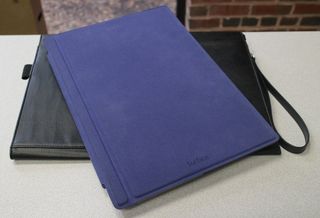 The versatility of the Surface Pro 3 is one of its strongest assets. And I not just talking about its functionality. I am also referring to its aesthetic versatility. The Surface has the ability to look at home in an art studio or an art gallery, a living room or a board room.
A big part of what image it gives off is the accessories that accompany it. The Exact Express Envelope sleeve case for the Surface Pro 3 is a plain and simple sleeve for business professionals.
Design
The Exact Express sleeve is constructed from stitched PU synthetic leather with a glossy pebble grain texture. It has a protective flap that folds over the top and is held closed magnetically. The expandable sides have openings that leave access to all of the Surface's ports and controls. On one side is a loop for holding the Surface Pen.
The main pocket of the Exact Express sleeve is lined with a soft suede-like material that offers a pleasant contrast, both in feel and color to the rest of the case. There is a smaller outside pocket on the back for quick access to documents.
Adorning the top-right corner is a silver ring, to which a leather lanyard clasps for carrying.
How is it?
The Exact Express sleeve covers all of the basics of shielding your device and carrying your stuff. It is stiff enough to protect your Surface, whether you are carrying it in-hand or in a briefcase. Though it was thoughtful to include a pen loop, the placement of it leaves the Surface pen dangling off the side, exposed to potential damage and looking a little awkward. I feel that it would have been better if it were sewn into the side panel, where it would be more tucked away.
The side pocket is an excellent addition as well. It may not be well-suited for carrying a mouse or other accessories, but that isn't what it is intended for anyway. Putting anything other than documents in there takes away from the look that the Exact Express is trying to achieve.
And that is really the point of this sleeve. It is a serviceable sleeve, but what it does well is look good. The Exact Express is meant to compliment the professional who is using it. This case's ideal partner is not a travel mouse, but a tie.
The beauty of it is that this sleeve gets the job done without breaking the bank. Sure, your average CEO is not going to run out and buy the Exact Express sleeve. Likewise, this case does fit in with my year-round cargo shorts and band T-shirts. However, a sensible businessperson could certainly find this to be a reliable solution for them.
You can pick on up in either black or brown on Amazon for $14.95, half its regular retail price.
Related articles:
Get the Windows Central Newsletter
All the latest news, reviews, and guides for Windows and Xbox diehards.