Review – Toast wood cover for Surface Pro 3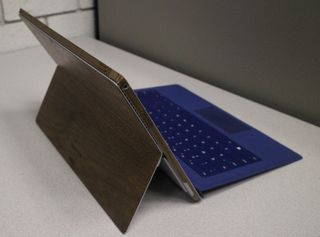 When you spend $800 or more on a Surface Pro 3, you want take measures to protect it from harm. But often, a cover makes it heavier, reduces certain functionality or just takes away from the aesthetics of the beautifully-crafted device.
The Toast wood cover for the Surface Pro 3 does nothing of such. Not only does it protect the body while keeping it light and slim, but it also enhances the Surface's form by adding a skin of natural wood.
The case against this 'case'
It is important to start by pointing out that the Toast cover is not a case; it is a stick-on skin constructed of several pieces of real wood. Each panel is laser-cut to fit perfectly over the back, sides, and even the buttons of the tablet to provide a layer of protection from bumps and scratches.
The application of the Toast cover is easy but takes a careful hand. After cleaning the body of the Surface using the included alcohol pad, you simply peel the film from the adhesive backing of the wood and stick it to the corresponding panels of the device.
Though easy in principle, you must be sure to line it up correctly before applying pressure. Once stuck on, it is incredibly difficult to pull off without damaging the thin layer of wood. I slightly misaligned the piece around the audio jack, which then broke when pulling it up to readjust it. Thankfully, it is barely noticeable.
The cover for the back of the Surface is made of two pieces, one for the top and one for the back of the kickstand. This separation allows for the stand to be used through its entire range of motion without interference. There are single panels for the top and left side of the Surface and a two-piece section for the right side. Toast even includes covers for the power and volume buttons.
The result is a fine wood finish over the body of the Surface framed by the thin metallic lines of detail showing through from underneath. The wood and metal combo is reminiscent of a vintage Hi-Fi stereo cabinet or the interior of an antique car.
It has the looks but...
Not only is a Toast-skinned Surface great to look at, but it is very nice to hold. The wooden cover gives the device some added grip and comfortable warmth in hand.
The beauty of the Toast case is undeniable. What is debatable is its effectiveness against damage, but the company itself markets their covers as artistic additions and not protective cases. Still, the wood is durable enough to guard against scratching. If you want anything beyond that, you will be better served looking elsewhere for protection.
Make it yours
To top it all off, Toast also offers custom-engraving on their covers for a negligible $5. You can choose from four locations on the back of the Surface, along with three different sizes of text. It was a no-brainer for me to spring for the custom text.
You can take the personalization even further by contacting them for a custom case based on your own design.
The takeaway
Toast makes a beautiful cover that compliments the Surface Pro 3 mightily. If you are looking for a unique way to dress up your Surface, you just found it. I cannot recommend this cover highly enough, especially for the price.
The Toast wood cover comes in four flavors: Walnut (pictured), Ash, Bamboo, and Ebony. It goes for $44.00 or $49.00 with the personalized custom text. You can get it directly from Toast's website.
Windows Central Newsletter
Get the best of Windows Central in in your inbox, every day!
Yeah, but I would rather have a black keyboard with that cover! Blue doesn't match with wood.

Definitely leaning towards picking one up..

How rich are you? :P you buy almost every gadget and then almost every case and every stand for you gadgets!!!

Aren't business write-offs awesome?! Maybe I should start a website that reviews expensive liquors. Hmm...

you know you can't buy women, right? but as you're thinking in this unrealistic way, go shopping for a new world point of view ;)

Clearly you haven't been shopping lately.

Not to burst any bubble; you can only write it off after you spend it first, and you don't get it back as a tax refund, which stinks. So the liquor will definately help!

That's because Daniel Rubino lives in a homeless shelter and lives on a diet of Ramen noodles and sardines. Don't judge. :P

I wouldn't mind having a wood case for my 1520...
............
Then I can say my 6"cher has wood.
...........
I know.. I know. Sorry.

*facepalm* (chuckles quietly at joke while hidden behind palm of hand)

NIST would have to get wood for his 4.5"cher.

Well then, I guess it'll have to be the Surface case for me :-)

Is it possible to remove the cover again without causing any damage to the surface?

Removing the cover will not damage the Surface. It will likely destroy the cover though.

It looks beautiful. My concern would be heat dissipation while gaming... afraid the extra layer of insulation would make my poor Surface even hotter while I'm shooting at Klingons.

That would be my concern. Not just for gaming, heat dissipation in general.

Uh, the surface has vents all around, and a fan...

My worry would be the heat of that back panel when you do something system-intensive. The back metal panel where the grill is gets super hot on my SP2 when using Premiere Pro, so I wonder whether the adhesive might unstick if you're not too careful..

How thick is it, do you still have full kickstand flexibility?

It is super thin...less than a millimeter. Kickstand works perfectly.

Seth, would this or the case you reviewed a few days ago affect using the dock? Thanks

The last case I reviewed definitely cannot be used with the dock. With this one, it fits in, but I cannot get the charge light to come on, which makes me think the wood is slightly too big. I think with a slight modification it would work.

Thank you for the response. I appreciate that. Salamat.

Good way If you like classic furniture :) !

That's pretty awesome. Wish I had a surface pro 3 to deck out like that.

I wish I was a renowned tech magazine writer and reviewer

Who would buy such ugly and antique case for a surface? Man, wtf

That's really neat. I normally hate skins because they fade out and look ugly/tacky after a while but if this is real wood I'd imagine it looks pretty Gucci. We need more skins like this. Leather ones!!

Toast makes leather case, but as far as I can tell, not for the Surface Pro 3.

To me this case looks incredibly ugly and ruins the beautiful minimal and modern industrial design of the Surface 3

Thank you. I was thinking the same thing. Like cladding a super modern house in wood to make it look like log cabin. WTF.

You guys should also look at all the skins, they look pretty nice :) http://www.toastmade.com/surface/

Looks like real wood... The Skinomi I put on my ASUS transformer looked OK. Just didn't look like real wood :( The Toast looks great!

it looks like the fake wood on the walls of my grandma's basement.

Heh. It looks better in person.

I don't think I could handle the stress of applying that cover. Its bad enough trying to align a screen protector.

It really wasn't bad. I just messed up a little near the audio jack and the wood was so thin in that area that there was no avoiding breaking it.

Oooh, that bamboo looks lovely. If only I had a Surface to put it on!

Wow, i wish i could afford a SP3, i would i,sta buy this protection! Looks great!

WOW. The case they have the the HTC one M8 in the same color as yours with the HTC logo etch option looks fantastic!
http://www.toastmade.com/htc-one/

Oh my god. Our company, Wooden Plank Studios, is all about wood. We've got wooden furniture in our office, wooden Xbox Controllers, wooden ordners... We have GOT to get us one of these with a nice engraved logo.

ONCE, i've had laptop with wood sticker applied. It is a perfect beauty nonetheless. It also so perfect it camouflaged flawlessly on wood chair. My friend sit on it. You've been warned.

Wonder if they do a mirror version.

Looks great. Does applying it violate the terms of the M$ Extended warranty?

If only my SP3 wasn't ever so slightly warped so the screen wasn't bulging out slightly at the top. ​

Daniel will it still fit the Pro 3 Docking Station?

It fits, but I think the wood is just slightly too thick to get the SP3 to charge. There is a very small piece of the wood you can remove on the side of the Surface that should let you charge it in the dock. I think I may test that theory later today.

Let us know - this is what holds me back.


Still waiting on finding out if you got it to work with the dock...


Hey, sorry. I did indeed. I cut the side pieces where the kickstand hinge is and removed them from there down. You may be able to get away with just cutting off the pieces that cover the bottom corners. Start there and work your way up.

Walnut color looks like an old mansion kind of wood. I would get one, but I am looking at Surface Pro 4, so I have to keep this like this so I can still get some money out of it looking nice. And this sticks to the body, so it would be hard to get. rid of in the future.

It's going down. I'm yelling timber!

I hate cases/covers. But this one is beautiful. I might actually get it.

Wait. I don't get it. Anyone think that look better than Surface itself? It turns a great looking device into something like this. You want to protect your Surface, you put it into a sleeve. When you use it, you want it naked. If anyone put this on my surface, I would be really mad.

I would never be able to align it properly. LOL

Hey Seth,
On behalf of everyone here at Toast, thank you for your candid, accurate : ), and thorough review of our Surface Pro 3 cover and for so enthusiastically endorsing it to your readership, in addition to emphasizing that we engineer covers, not cases. Because we use actual wood for our products, some of the smaller finishing bits are a little more delicate than the more substantial panels. As such, we are happy to offer you and all our customers a one-time "butterfingers" replacement on side wraps & button covers. I'll get yours out to you in tomorrow's mail - we can't have you running around with a cattywampus Surface Pro 3 cover! Thanks again for giving us a shot and sharing your feedback. We appreciate you. Best,
Dana
Toast Customer Service

Hi Dana, Thank you so much for your reply. You guys make a great product. The broken piece was completely my fault, but that is awesome of you to cover for my fat fingers. :) Seth

Just ordered due to the outstanding customer service. Ebony wood model for SP3 on the way. Thanks!

Some people don't like it but I like the vintage look and feel of real wood. Not only that it takes good craftsmanship and skills to pull it off. And this looks awesome.

Just my opinion but this looks a little tacky, like a cheap wood veneered cabinet. But it should provide some good protection against scrapes when putting the SP3 down/picking up from the table. Personally I use something similar on my SP3 but its the transparent rubberised sticker Skinomi - TechSkin. Works very well, gives extra grip and protection against scratches. Just don't use the included screen protector if you use the pen a lot

I can tell you that the pictures do not do it justice. The wood looks like hardwood floors, not cheap paneling. It is quite nice.

Looks to me Microsoft is heading in the right drection, apps are up, SP3 is selling well, now it's tlme for replacement phones for 920, 1020 and the 1520.

This is a sexy piece of hardware. I want.

Anyway we can get some coupons for this? Promo code or anything? Was about to order but though id ask first.

I just put one of these on my SP3. I'm frustrated by the lack of options for cases like this - I wish there were companies selling something like the macbook air shell case, but for the SP3. This is pretty much the only option I had for something that was more than just a sticker, but still did not interfere with tablet (kickstand/type cover) functionality in any way. I've had the toast case on my surface for about 3 days now. Some concerns I originally had:
1) Heat: I have the i7 SP3. Covering up the original aluminum (great heat conductor) with wood (poor heat conductor). I haven't noticed any issues. Fan kicks on and seems to cool the tablet just fine, like before.
2) Wooden Toast cover pieces not completely flat. Where toast does laser cutting, logo engraving, text engraving, it seems to make the wood curve slightly. It's also more brittle in these areas. I was concerned that it wouldn't stick down flat all the way. But, the adhesive toast uses is very strong, this hasn't been a problem at all. Everything adhered flush to my tablet. Application went pretty well, pieces that curve around corners are a little tricky to align 100% straight. I was able to get all the pieces on and correctly aligned with a careful hand. One of my corner pieces is not perfectly aligned - it leans a bit to the edge and looks a little goofy to someone who is OCD and looks very carefully. Really, this is a top notch product, a great company to support, and I'm quite happy with this product! Ebony looks pretty good, however I'm left to wonder if I should've gone with oak or walnut...
Windows Central Newsletter
Thank you for signing up to Windows Central. You will receive a verification email shortly.
There was a problem. Please refresh the page and try again.