Review: Inateck Bluetooth 3.0 ultra slim keyboard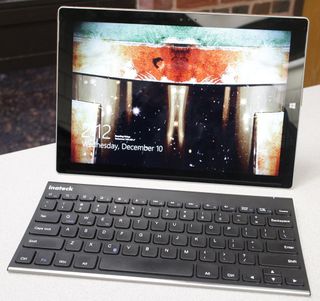 Usually, when you think of wireless keyboards, names like Microsoft and Logitech come to mind, as they have long been the standard bearers of such devices. However, one name that may not be familiar to you that deserves a look is Inateck (opens in new tab). They have put out an ultra slim Bluetooth 3.0 keyboard that warrants your consideration.
Design
From a design perspective, Inateck's Bluetooth 3.0 ultra slim keyboard is just about everything you would want in a compact portable keyboard. It is extremely thin, measuring about 0.5 inches (1.5 cm) at its thickest point. The vast majority of it is only about 0.25 inches (.75 cm) thick.
The keys are low-profile, which prevents them from snagging and getting damaged in a bag. They are also sufficiently spaced apart, helping to avoid fat-fingering them (pressing the wrong key), a common occurrence on smaller keyboards.
The Inateck keyboard also includes a ton of double-function keys for easy access to Search, Copy, Cut, Paste, and music/volume controls. It runs on an embedded rechargeable battery and charges via Micro USB.
Additionally, this keyboard is compatible with Windows, iOS and Android. And because it is Bluetooth, you can use it without having to plug in a dongle.
It looks good, too. The main body and keys are matte black with a shiny silver metal bottom and front lip. Overall, it is pretty impressive.
Setup
Getting up and running on the Inateck Bluetooth ultra slim keyboard is a piece of cake.
Just power it on using the inconspicuous power slider on the bottom of the keyboard. Then press Ctrl + C to fire up the Bluetooth pairing. After that, the keyboard should show up in your list of discoverable Bluetooth devices on your computer.
Using the Inateck keyboard
Having carried the Inateck keyboard around for a few days, I can say that it is great for putting in a computer bag and using with a tablet (in this case, my Surface Pro 3). It takes up very little room and is very convenient to turn on and start typing.
The keys are well-defined, so typing is a breeze, despite being a compact keyboard. I thought I would have a problem with how flat the keyboard lays on the table, but it was actually very comfortable to use.
While physically using this keyboard was a very positive experience, I did run into issues with the keyboard's responsiveness. There were many times that I would press keys, and nothing would show up on the screen. After trying a couple more times, it would work again.
The problem seemed to get better after disconnecting my Bluetooth mouse, but not completely solved. It is difficult to tell whether it was Bluetooth-related or a problem with the keys themselves.
In fairness, I only used the Inateck keyboard with my Surface Pro 3, so this could be a very isolated experience, and it's possible that it is not directly related to the keyboard itself.
For that reason, I still highly recommend you take a chance on the Inateck Bluetooth 3.0 ultra slim keyboard, especially if you can get it on Amazon (opens in new tab) for $21.99. That is nearly 40% off the regular $35.99 price tag.
Related articles:
Is this (finally) a bt keyboard that works with windows phone? I remember windows mobile had the profile for bt keyboard, but the initial version of windows phone did not.

Nope. Windows Phone still does not support USB On the Go, nor HID at this time. Fingers crossed for Windows 10, especially since the Files app opens up great possibilities with using USB hardeives for external phone storage!

USB OTG and Bluetooth are two completely different things.

I'm aware. Doesn't change the fact that both would be awesome additions to Windows Phone, does it?

Sure would, and I'm guessing USB OTG comes in Windows 10. Microsoft can't wait too long.

Does anyone know of a Bluetooth keyboard with a numpad that is currently for sale?

Looks like the Logitech Bluetooth keyboard that's also Bluetooth and comes with a stand

"to avoid fingering them" seriously Seth ? That's the only word you can think of XD? I swear you made my day , I cant stop laughing.

Sorry for the off topic. Link to wallpaper?
Windows Central Newsletter
Thank you for signing up to Windows Central. You will receive a verification email shortly.
There was a problem. Please refresh the page and try again.