Review - Incipio DualPro Hard Shell Case with Silicone Core for Nokia Lumia 920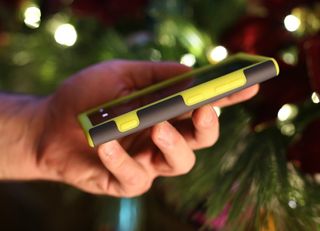 Few names are as well-known in the cellphone case world as Incipio's. They manufacture various types of cases for an incredibly wide range of devices. Today, we will be looking at the DualPro Hard Shell Case with Silicone Core for the Nokia Lumia 920, which retails for $29.99 right here in the Windows Phone Central Store.
As the name implies, the DualPro combines the full coverage of a shock-absorbing silicone jacket with a hard outer shell. The combination offers pretty comprehensive protection against scratches, bumps and drops. It has cutouts for the cameras and jacks, but completely covers the side buttons.
From an aesthetic perspective, most of the DualPro cases give your device a two-tone appearance, save the classic black on black. The hard shell comes in either black or dark gray and gets paired with a hot pink, yellow or light grey silicone sleeve.
The bright yellow offers small bit of colorful flare through the grey cover without making your phone look like a big plastic toy. Unfortunately, the color combinations are predetermined by the manufacturer, so you can only mix and match if you purchase multiple cases.
The double-layer case does add a little bit of bulk to an already beefy Lumia 920. However, it isn't so much that it feels very different in the pocket than a regular hardback shell. Nor does it add any discomfort in the hand. On the contrary, it's pretty comfortable to hold.
The biggest surprise to me was using the side buttons that are covered by the silicone. Unlike many cases that I have used with button covers, which often make using the side buttons more clumsy, the DualPro actually makes using the volume rocker and side buttons much easier to use.
At the end of the day, the Incipio DualPro is a solid case. It offers a lot of protection without hampering usage. I personally prefer something more basic in a sleek design, like a hard, snap-on back plate with corner covers. But I spend much of my time in office environments and at home, and switch to a protective armband or bike mount when active.
However, with its shock absorbing silicone and strong acrylic shell, the DualPro is perfect if you travel a lot, work outside, or are fairly active while using your phone.
Get the Windows Central Newsletter
All the latest news, reviews, and guides for Windows and Xbox diehards.