Review: Incipio Feather ultra-light case for Lumia 930 and Icon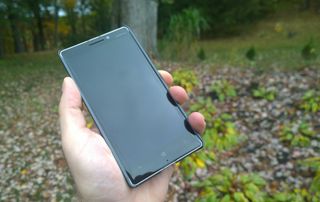 Even though Verizon put the Lumia Icon out to pasture less than a year after the launch, it doesn't stop current owners of the under-rated phone from needing a good case for it. Neither does it change the fact that the phone is alive and well in other markets around the world under the pseudonym Lumia 930. And for that reason, we give you the Incipio Feather ultra-light case for both.
Our head editor took a look at this case back in March, but I wanted to try it out for my Lumia 930 to see if it still holds up.
Incipio's Feather line of cases are well-known for both their durability and lightness. Lumia 930 case is no exception. This plastic shell covers the back of the phone, snapping into place over the sides of the phone, which extend just over the top and bottom corners just enough to shield them from damage.
This level of protection is what you should expect from a case like this, just enough. The Incipio Feather is meant to be a basic layer of protection against everyday bumps and bruises while remaining svelte in the hand and pocket. It covers the big risk areas, like the corners, though the top and bottom of the phone are left completely exposed. It's going to prevent a lot of scuffs and scrapes, but don't expect it to save your phone from a significant drop.
In addition to added protection, the Incipio Feather also offers style. The cutouts let enough of the colorful back and shiny metal sides of the Lumia 930 come through, which adds some flare against the black or gray Feather cases. I imagine a white Lumia 930 would good paired with the cyan or pink.
The finish on Feather falls somewhere between glossy and matte. Initially, the case felt slippery, but that seems to be only when new out of the box. After a short time using it, it became easier to grip.
At the end of the day, the Incipio Feather is a stylish addition to the Lumia 930. It enhances the form of the Lumia 930, making a rather boxy device a bit more contoured. Again, it won't save your phone from a catastrophic event, but it might just help it get through the day.
If you need a case for your Lumia 930 or Icon, pick one up in the Windows Phone Central store for $21.95, which is 12% off the regular price of $24.99.
Windows Central Newsletter
Get the best of Windows Central in your inbox, every day!
It Doesn't deserve to make a video about it or even an article

Do the WPCentral Store ship internationally?

It is hard to find cases and screen protectos for lumia in Malaysia. Do WPCentral ship to Malaysia?

Get it before its retired. :)

I used the incipio feather ultra light case on my 8X; loved it - very thin and light so it doesn't take away from the look/feel of the phone. Any chance the Icon was retired to prepare for something new? Or does VZW believe they can only support one flagship WP at a time? (HTC One M8 forced out the Icon?)

Verizon sales people push the iPhone. Even if you come in the store asking for Windows Phone, they'll try to sway you towards Apple products. I know this because it happened to me. Size it up nutshell, Verizon could give a rats 'A' about Windows Phone.

I've a similar red one for my 720, from Niukin

I have the Dual Pro. Love it more than the Feather. Still looks great too!

is soft to touch... so that means that in some time you'll get a brown case instead the color you bought?

No, it doesn't feel like it has a color coating that would wear off, if that is what you mean.

It is a soft touch coating, but not the kind that picks up stains. Word of warning though: I was using 90% Isopropyl Alcohol to clean some random stuff at my desk and some splashed on the case. The alcohol dissolved away the coating in places. Not an everyday issue, but a lot of folks use isopropyl for electronics cleaning at times.

i didn't mean that, i mean stains, i got a case for my L920, a yellow one, and now is brown hahaha after 2 months

I use the Amzer case. For the longest time I didn't use one at all, and my Icon was amazingly resilient. Then I dropped it on the ground one day and chipped a corner... On the case went. The biggest advantage is it's less slippery now.

On phones with wireless charging, all these reviews should test and report that feature.

What exactly do you want them to report? All cases have zero effect on wireless charging.

It does work with wireless charging.

I know the video does show this case works with wireless charging. It's the first time I have seen this important mentioned in a case review. Also, most case reviews do not even accept reader comments.

Sorry, but it looks like putting a sexy gal/guy in a gimp mask

Buy the case that serves no purpose lol

The Incipio Feather case is the first and only case I use on my L920. It is that awesome.

I had one of these for my 8X and I loved it except I found it always got in the way of the camera button, more an annoyance than anything that was eventually resolved by snapping that little piece off completely. I was going to get one for my 928 but then never got around to it (not my smartest move looking at the condition it's in now)

I have the imak cowboy on my 8x, similar to the feather case but it covers the corners and has a rubbery finish like the 8x itself.

i don't like it it makes the phone look cheap

Do I need to take off the cover if I'm using wireless charger?

Loved this case on my Icon. Until I dropped it one day, landing right on the corner and causing the screen to crack. I now have the Dual Pro case on my Icon (after having it fixed by SquareTrade). It just feels like an extra layer of protection over the Feather, but I do miss how sleek and minimal the Feather case is.