Review: mr Handsfree Butterfly II Headset Enhanced Bluetooth Headset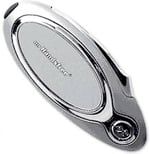 TreoCentral's Douglas Morse reviews the mr Handsfree Butterfly II Headset Enhanced bluetooth headset.
Read on for the full review
This new version, like its predecessor, is lightweight, stylish, and versatile. Supposedly, it can be worn without the ear loop.
The manufacturer's claims its enhancements include: - No middle piece between charger and headset - Bluetooth 1.2 instead of 1.1 - Talk time 10 hrs instead of 8 - Better sound quality - Better Bluetooth stability overall
Take a look at my previous review and note that the product has been improved without any indication neither in the TreoCentral store nor in the product photos, yet. You'll know you received the enhanced version as long as the faceplate is mirrored, not black. By the time you read this, only the enhanced version will be in stock.
Design
What you should like about the Blue Butterfly are the things that haven't changed. Its featherweight - less than half an ounce and the earbud felt comfy. With a wearable product like this, if it's irritating to wear, you'll grow to hate it. Comfort is everything. As minor as it may seem, one of the changes is the earbud is now covered in soft plastic, instead of foam (which can be prone to serious wear and tear, and just rot away with time). The unit is still teardrop shaped, about two and a half inches long and half an inch wide. The face of the earpiece is now a mirrored surface etched with the company's logo, a slick touch.
Like its ancestor, you'll find all of the functions crammed into one rocker switch. The lack of a multi-function button on the face of the unit is unlike almost all Bluetooth Headsets I've tested. However, some complaints must have registered in the Handsfree HQ because the functions assigned to either end of the switch have changed. The reassignment of functions has improved usability, making it easier to pair, transfer, hang up, and answer calls. The volume control has a unique solution. See below.
The unit pairs easily. Just hold the bottom of the rocker switch in until the unobtrusive LED stays on solid. And hurrah, they've changed the pass code to the standard "0000" and that's a relief. You get a clearly written manual on one of those mini CDs, though I would have appreciated a paper version to tuck in my pocket too. That said, the manual is short and is available on-line.
The AC adapter is actually "new and improved." Gone is the weird adapter piece on the cord. The 120/220V adapter itself is lightweight and horizontally oriented, perfect for those heavily populated power strips we all have. If you're like me, you have a power strip or two with half a dozen outlets, but you can never fill them all because the way most AC wall warts are designed, they plug into one outlet and block the one next to it. Also included is a little felt carrying bag for the earpiece itself.
Build quality feels solid. Sometimes with these plastic, lightweight pieces, you fear they'll rattle apart like a cheap toy. Not so with the Blue Butteryfly II. The only downside is the little rubber nub that protects and covers the AC adapter port. It doesn't fit snugly and, in fact, seems likely to rip out. This piece doesn't seem necessary anyway, and you may want to cut it away.
Functionality
As I mentioned in my last review, sound quality is uneven. Much of this is environmental. It's good to report that with this new model, on my end, callers sounded clear and crisp. But folks I talked with when using it reported a hollow barrel sound, a bit of garbling, but not everyone complained. One of the problems with the snub nosed design of this type of headset is that when it comes to audio fidelity, proximity is everything. Since the speaker rests in the ear, outside noises are filtered and callers are clearer. The short boom picks up outside chatter and amplifies echoy spaces. Of course if the party you're talking to is also using a headset, its quality is another factor in the equation.
Let's be blunt. This is a style over substance choice. If you want an unobtrusive headset, then get the snub nosed designs like the Blue Butterfly and make your callers suffer a bit as background and environmental noises are amplified. If this isn't acceptable, then grab a long boom model that drops a microphone as close to your mouth as possible. That said, I think the sound quality has been modestly improved over the last version. I'm waiting for a Treo 700 to see how much Bluetooth 1.2 improves not only this headset, but all of the ones I test.
Earlier, I said I'd discuss the volume control situation. Press on the rocker switch, get a beep and the volume will automatically start increasing. But there's no option to "step on the brakes." This actually works for me (though it might not for you) because I don't think I've ever wanted to turn down the volume on a Bluetooth headset. And if I did, I use the rocker on the Treo as my first line of defense. That said, pressing the rocker again starts to decrease the volume. Again, a beep will alert you to the change. This thing has enough beeps and blinking patterns to make R2D2 blush. You don't need a tour, so if you're interested in all the gory details, read the manual.
Most importantly, out of the box it works. It pairs easily, and using the thin end of the rocker switch like a standard multi-function clears up a lot of confusion.
The ear loop is soft and flexible and clips on for either your left or right ear. In most situations you'll probably want to keep it on for everyday use. The earpiece occasionally feels floppy on the ear.
Although not generous, the Blue Butterfly folks didn't skimp on accessories either. You get that soft felt carrying case and a lanyard. The lanyard clips over the earpiece stem and holds the Blue Butterfly II securely.
Conclusion
The Blue Butterfly II really is new and improved. Usability is better, and I'm now a fan of the simplified button situation. I like the fact that when I press the easy to find volume rocker, its first impulse is to raise the volume. Finding those little Braille-like raised plus and minus buttons on other headsets is out-and-out frustrating.
Although I couldn't test battery life claims and Bluetooth 1.2 compatibility (I'm not a Consumer reports tester after all) I'm quite willing to accept these claims due to the professionalism of both the mfr. AND improvement to this product.
One last improvement I can verify is that the price has dropped twenty bucks in the Treo Central store, something I'm sure you'll appreciate.
If you're willing to sacrifice a bit of sound quality for style, then this earpiece is highly recommended. Thumbs up to mr HandsFree for making some needed changes.
Swipe to scroll horizontally
| | |
| --- | --- |
| Ratings (out of 5)Features: 5Usability: 5Sound Quality: 4Cost/Benefit: 5Overall: 5 | ProsLightweight and unobtrusiveIntelligent designExcellent valueConsVariable sound qualityRubber nub on AC port doesn't stay inVolume adjustment is a bit strange |
(First posted at TreoCentral on Jan 19, 2006)
Get the Windows Central Newsletter
All the latest news, reviews, and guides for Windows and Xbox diehards.