Review: Plantronics Explorer 350 Bluetooth Headset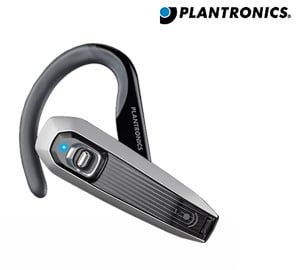 Finding the right Bluetooth headset can be challenging, not to mention very expensive to buy one only to find out it's the most uncomfortable headset you have ever tried. This is why it is great to read through our reviews here at WMExperts... we can help you narrow down which one may be right for you. In this review, I am going to share my experiences with the affordable Plantronics Explorer 350 Bluetooth Headset and whether I feel it's one to snag or one to avoid.
Design & Pairing
Plantronics Explorer 350 may not be the flashiest Bluetooth headset out on the market, but it looks okay. In fact, yesterday while walking to my car from the airport, a teenager actually said he really liked the looks of my headset. There is one light that can be either blue or red. It has only one button that will answer / end calls, redial, voice activated dialing, and adjusts the volume. The ear hook that wraps around your ear has a nice rubber texture that helps to keep it in place and makes if comfortable. The ear hook can also easily rotate around to make it fast and easy to put it on either ear.
Pairing was very easy with no challenges whatsoever. After it is paired, it connects to my PPC-6800 with just a click on the button on the headset everytime without fail.
The sound quality is okay. As with many Bluetooth headsets, I have to make sure that my body is not between the phone and the headset or I start to get some crackling. Out of at least 100 calls, I did experience about 3 or 4 calls where the other side mentioned challenges with hearing me. The sound quality on my end is as as good as can be expected with any bluetooth device.
It does come loaded with extras that include a car charger, a USB charger, and a car vent holder for easy charging and storing while in the car.
Comfort
When I first put the Plantronics Explorer 350 on, I thought something was wrong as it actually hurt a little bit in my ear. I took it off and looked at it and noticed that the earpiece actually extends from the body of the headset. The earpiece then has a little extention where the sound comes out. Because of this you have to get the the Plantronics Explorer 350 seated in your ear just right or that extention pokes you inside your ear. This was not a very good first impression for comfort.
But after playing around with it for a while I found the correct way to put it on my ear. Then all of a sudden I can barely tell I am wearing it. In fact, during my trip through the airport yesterday I even forgot I was wearing it and tried to go through the metal detector in security with it still on.
Conclusion
The Plantronics Explorer 350 may not come with all the bells and whistles (i.e. vibrate, caller ID, etc.) of many higher end bluetooth headsets, but it does compare very nicely with others in its price range. The only downside to the Plantronics Explorer 350 is that you have to have it just right in your ear to make it comfortable. I could see why those with really small ear cannals would have challenges with this specific model. The sound quality is easily what can be expected from a bluetooth headset.
JUST THE FACTS
Name Explorer 350
Talk time 8 hrs
Standby time 240 hrs
Weight 0.6 oz.
Relative Size Size (WxHxD) 0.75" x 2.63" x 0.50"
Excluding Ear Hook/Ear Bud
Car Charger Included
USB Charge Cable Included
Swipe to scroll horizontally
| | |
| --- | --- |
| Ratings (3 out of 5)Design: 3Pairing : 5Comfort: 3Overall: | ProsIncludes nice accessoriesSound quality is goodOnly one button to control the headset making it very easy to usePairing is fast and easyConsIt can be very uncomfortable if it is not seated just right in your ear |
Get the Windows Central Newsletter
All the latest news, reviews, and guides for Windows and Xbox diehards.