Review: Plantronics Pulsar P590E Bluetooth Stereo Headphones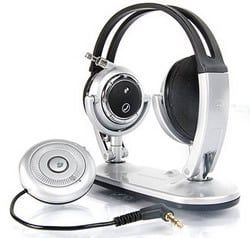 Have you ever wished that your MP3 player, Gameboy, or DVD player had BlueTooth (BT) so you could use a BT wireless stereo headset with it? I know I have. I first just originally wanted to review the Plantronics P590 Bluetooth (BT) stereo headset to use with my Sprint PPC-6800, but soon realized that the P590 can add BT capabilities to anything that has a standard sized earphone jack! Plantronics did not hold back with throwing in more extras in the box than I have ever seen, let alone would have even begun to imagine.
But of course, all the advanced features and add-ons mean nothing if the headset itself cannot deliver. To find out all the surprises that the Plantronics P590e Bluetooth Stereo Headphones ($74.95) offers that totally caught me off guard after I opened the box, and to see how well it actually does perform, read my review of this BT stereo headset that made me feel warm and fuzzy all over.
Design / Physical Build
At first glance it looks like a regular full headphone set. But upon closer examination, there are some very distinct and important details the P590 has to offer. The first thing you will notice is a clear glass looking tube sticking out of the right earphone. This is actually a telescoping voice tube, otherwise more commonly known as a microphone for when you are talking on the phone.
The headband is adjustable, so you can even use it while wearing a baseball hat. The headband also offers just the right amount of snugness to make sure the headphone stays in place while moving around without squeezing your head too tightly.
The earphones themselves have a soft foam covering that does have depth to it, that give a pillow type effect. The headphones fold in to help make it more compact when carrying it around.
All the controls are on the right headphone and are well placed so it is easy to find the button you want just by feel. The buttons includes volume up and down, jumping forward and back through your song list, phone call control, mute / pause, and the on and off button.
It is well built and feels very solid in its construction. It feels like it can take some wear and tear and keep on working.
I give it 5 out of 5 stars for its design and build quality.
Design / Physical Build:
## Sound Quality Okay, no matter how many cool features a stereo headset has, if it does not deliver on the quality of the sound, it really will not make much of a difference. Here again, Plantronics has delivered with a rich and full sound. You can hear the details in the songs. The range from bass to treble is very nice. When using it with a BT connection and when there is not anything playing, you can hear a little noise, but this is no surprise as this is common when using BT. When it is plugged in using the audio cable, there is never any noise detectable at anytime. This afternoon I also tested how far I could walk away before losing any sound quality with my BT connection. Normally with my Sprint PPC-6800, I can usually only go about 6-10 feet before losing sound quality with a BT device. Today we were in a cafe with my parents that was all but empty. I set my phone down next to my dad and started walking away while listening to some of my favorite music from the 80s. I had to go around a corner and nearly reached the far end of the cafe before noticing any sound loss. I stopped at that point, and I was a good 30 feet from my phone. Needless to say, I was a little more than impressed. I will give it 5 stars for its sound quality.
Sound Quality:
## Pairing In order to use a BT headset you must pair (sync) it with the phone you are going to use it with. This is simply a digital introduction to each other so they know that they should work nicely with each other. Pairing with my Sprint PPC-6800 was fast and easy. I did not even have to look at the manual to figure out how to put the P590 into pairing mode. But if you do need to, there are very clear directions included. Most of the time, all I have to do is hold the phone button down for 3 seconds to connect to my phone and I am all set. But once in a while, it takes a little more to get the two to start communicating. Only due to occasional extra time needed to get my phone and the P590 working together, I will give it 4 out of 5 stars for pairing.
Pairing:
## Comfort This is always a subjective topic to rate. What is comfortable for one might be unbearable for another. With that in mind, I have to say that the P590 is very comfortable. The foam around the earpieces are soft with plenty of cushion. It has a perfect amount of snugness in the headband to keep the phones on without squeezing my head... but I do have to admit if someone did have a head that was larger than most, I could see how it might be a little too snug. I have worn this headset for hours on end without any comfort concerns in the least. I give it 5 stars.
Comfort:
## Control / Advanced Features
The P590 has the all the basic controls that anyone needs to listen to music with the ability to answer and make phone calls. As I mentioned above, you can adjust the volume, skip back and forth between songs, and pause your music... as long as you are using WM Media Player.
When a call comes in you can answer the call, hang up, and mute yourself. You can also activate voice dialing if your phone has the ability, so you can call anyone that you have programmed to work with voice prompts on your phone.
One of the most unique advanced features is the universal BT adapter. This simply plugs into any normal 3.5mm headphone jack, and then it will transmit the sound to your headset in stereo via BT. I have found my self using this with my DVD player, my Nintendo DS Lite, and my laptop. I never even knew the P590 offered this, so it was a very nice surprise.
Since officially BT headsets are not allowed to be used on most airlines, they even offer an in flight option. This simply consists of actually plugging the headset into whatever device you want to use it with while on an airplane... basically turning it into a normal corded headset. This is just one of the many extra touches that Plantronics included with the the P590.
With all the well thought out extra advanced features that Plantronics has included with the P590, it certainly has earned another 5 stars.
Control / Advanced Features:
Battery Life
That battery life is very impressive as well. Once fully charged the P590 will give you 10 hours of talk time, 12 hours of listen time, or 130 hours (that is 5 1/2 days) of standby time. From my experience, it has certainly lived up to these specs. In fact, it has exceed the standby time. I am currently at about 7 days of standby time with even an hour or two of use.
Plantronics did not skimp on giving the customer several different ways to charge either the headset or the universal BT adapter. You can use the plug and connect directly to the headset and the universal BT adapter at the same time. You can use a USB cable that also has a Y adapter at the end so you can charge both again at the same time. Or you can use the charging stand with either the USB cable or the wall plug and set the headset on that to charge.
Again, as with every other aspect of Plantronics' approach with the P590, they have thrown everything they could think of at the disposal of the end user.
Battery Life:
Every Day Use
As you have probably guessed, I have been very happy with this headset. It has surpassed all of my expectations. Plantronics has include so many extras, that I have not even covered all of them yet. They even included a very nice high quality carrying case to make it easy for taking the headset on trips. You can fit everything in it except for the charging stand. Here are the extras that they include in the box:
It is a full headset style headphones, so if you are looking for a good set to be used while doing a lot of exercise, this may not be the best choice.
The headset is easy to use... it is comfortable to wear... it comes fully loaded. If you are looking for a good full BT stereo headset that can work with any electronic device that you own that has a standard 3.5 mm earphone jack, then the the Plantronics P590e Bluetooth Stereo Headphones ($74.95) should certainly be on the top of your list.
Every Day Use:
Specifications:
Bluetooth-enabled technology High fidelity stereo sound for superior audio performance
Battery provides up to 12 hours talk time and up to 10 hours audio listening time
Universal adapter plugs directly into most 3.5 mm audio devices, such as iPods, to enjoy wireless stereo listening
Seamlessly switch between calls and music listening
Telescoping voice tube provides clear calls and discreet conversations
Foldable headset design for convenient travel and compact storage
Adjustable headband and pillow-soft ear cushions for superior fit and wearing comfort
Dedicated buttons allow call and music control functions directly from the headset
Convenient desktop charging stand to charge and store your headset
Foldable Headset, AC Charger, In-Flight Cable, USB Charger, and Travel Case included
For stereo listening, Bluetooth devices must support the Bluetooth Audio Distribution Profile (A2DP). Devices that do not support the A2DP profile must use the Plantronics universal adapter.
Bluetooth mobile phones with built-in MP3 must support the Bluetooth Audio Distribution Profile (A2DP) for stereo listening.
Included:
AC Charger
USB Charger
Universal 3.5mm Audio Adapter
In-Flight Cable
Desktop Charging Stand
Travel Case

Ratings (5 out of 5)

Design: 5Sound Quality: 5Pairing: 4Comfort / Physical Build: 5Controls / Advanced Features: 5Battery Life: 5Every Day Use: 5

Overall:

Pros

Great sound qualityComfortable to wearLoaded with extrasIncludes universal BT adapter to be used with any device with 3.5 mm headphone jackIncludes cable for in-flight mode

Cons

Sometimes takes a little bit to reconnect to a paired device.
I've owned this headset for over two years, I bought mine when they were first released. Your review is spot on for a typical review period, but there are long term quality problems. The first problem may be related to early production models and people with larger heads because I haven't seen other complaints about it. About ten months after I purchased my original 590 headset a crack developed where the earpieces hinge on the headband. Shortly thereafter the crack expanded and the hinge broke. When I called Plantronics they shipped me a replacement right away at no cost to me so I was still very happy with mine.
However almost a year after receiving the replacement headset it stopped taking a charge. This is not a unique problem, as I've seen many user comments that mention it. My headset is out of warranty now (1 year term) so I haven't called about fixing it but I'm disappointed that I've had two headsets break,