Review: Prima Vertical Pouch Case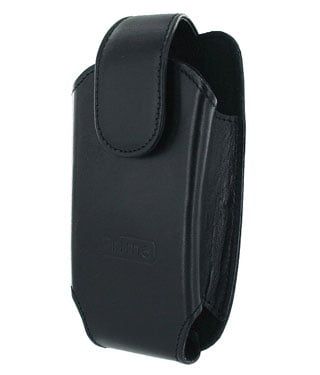 When you're looking for a case for a new device, a lot of the options tend to look the same. Finding that perfect case that fits your lifestyle can be a difficult task. Personally I have had phones that I kept a variety of cases to use depending on what I was doing.
Leather cases that have an executive or business look and feel to them are one that I tend to keep around for any phone that I carry. Prima has made several such cases that seem to be on par with some of the top case manufacturers on the market. Their Vertical Pouch case has many of the features that are standard issue with an executive style case.
Click on through to see this case under our microscope (figuratively speaking).
Look
As the name implies, this is a vertical pouch case with a matching leather strap that goes over the top in order to hold in your handheld. The unit that I have has a stamped chrome Prima logo on the front that actually gives it a nice contrast in color and keeps it from looking too generic.
Size
I have a couple of different devices that I tested in this case. My Dell Axim X51v cannot be squeezed into the case without causing major damage. A Samsung Blackjack that I still have around actually has room to rattle around a little bit. The ATT Tilt is a perfect fit, actually a little too perfect for my taste as the depth of the Tilt (it IS a pretty thick device) made it pretty snug. My only complaint here is that there isn't any elastic on this case to allow for a variety of sizes, so your phone either fits or it doesn't.
Usage
The Vertical Pouch Case has a leather strap that is held shut by a magnetic closure. The included belt clip rotates 180 degrees (and locks in 30 degree increments) allowing you to wear the case at an angle if you wish. The belt clip is not removable or interchangeable. The inside of the case is covered in the typical scratch-resistant fabric that you find on most quality cases.
Conclusion
Prima makes nice cases. The Vertical Pouch Case isn't going to knock your socks off, but it is a solid design that uses quality materials. If you're in the market for a professional looking case for you or someone you know, definitely take a look at this one. The Prima Vertical Pouch Case is available from the WMExperts store for $24.95.
Swipe to scroll horizontally
| | |
| --- | --- |
| Ratings (out of 5)Look: 4Size: 2Usage: 4Overall: | ProsQuality leather look and feelMagnetic claspConsLack of elastic makes it inflexible |
Get the Windows Central Newsletter
All the latest news, reviews, and guides for Windows and Xbox diehards.