Review: Samsung SBH600 Bluetooth Headphones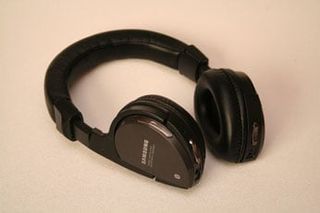 Ok, I admit it. I have a problem. I am addicted to Bluetooth Stereo Headphones. I just can't help it. I love music; and being a gadget junkie, anything wireless is just that much better. I've already found my favorite all around solution. Motorola's S305 headphones are lightweight and perfect for use in a wide variety of situations. The one knock against the S305's though, was the fact that they don't put out sound that you would expect from a pair of premium headphones. This brings us to my new quest. Find the perfect pair of high-end, audiophile quality Bluetooth Headphones. First on the pedestal are the SBH600's from Samsung.
Obviously, Samsung is one of the big names in Electronics. Their fingers are in every market from computers to TVs to some of the most popular Windows Mobile devices ever (BlackJack, BlackJack II, Omnia, Jack, Omnia II, etc.). Bluetooth is another one of those areas that they are intimately familiar with. My criteria for this review are going to be based primarily on comfort, sound quality, ease of use and additional premium features. Hit the jump for the full review.
Comfort
The SBH600's are of the DJ-style, over the head design. Because of the size and weight, this is a necessity. If I had to describe these headphones in one word it would be luxurious. The ear cups and the head band (at the top of the head anyway) are wrapped in thick leather that is amazingly comfortable and seals the sound in nicely.
After looking at the pictures I was a little concerned with the way that the ear cups were shaped (almost a semi-circle shape). After wearing them for an extended period of time I noticed that this is actually one of the better design features of the headphones. The front edge of the ear cups is fairly straight, and is in line with the headband. This edge sits directly in front of your ear and bears the brunt of the pressure of the headphones gripping your head. The earphones then flex outward to cover your ears. This prevents the pressure from being applied directly to your ears and makes these headphones infinitely more comfortable.
My one word of caution with these headphones is that I would be careful if you have very short hair as the transition from the leather to the plastic on the headband looks like it could be uncomfortable if you don't have any extra padding on the top of your head.
Sound Quality
Um, wow. The ear cups form a very nice seal, which is where great sound from a pair of headphones has to start. Outside sounds are greatly reduced and the bass is stellar.
For those of you that would knock Bluetooth and say that A2DP does not produce the quality of sound that a wired connection does, a 3.5mm port is included so that you can get the best of both worlds. In order to use the wired connection, the headphones actually have to be turned off. This preserves the battery, but prevents you from using the bass boost feature of the headphones. Most people won't have a problem with this as most music players have some kind of equalizer built in.
Ease of Use
Pairing the headphones with your phone is an exercise in simplicity. The SBH 600's support both the Bluetooth Stereo and Hands Free profiles. As with most A2DP capable devices AVRCP is also included to allow you to control your music player using the buttons on the headphones. Here is the rub, button placement is atrocious. The call and play/pause buttons are located on the back of the left and right ear cups respectively; but the surface of the headphones is stepped, making it very difficult to find the buttons by feel. Track forward/back and volume controls are located on the bottom edge of the headphones, and are also an exercise in frustration.
Additional Features
As I mentioned, a wired connection is supported and actually works really well. A wall charger is included, but unfortunately it doesn't use any standard connector. A carrying pouch is also included, helping protect your investment from dust and scratches.
Conclusion
This is a really nice pair of headphones. The sound quality and comfort are near-perfect. I would have preferred a standard connection for the charger, and the button placement leaves a lot to be desired (but it is something that you get used to quickly).
If you're looking for an amazing pair of headphones that give you the flexibility to use a wired or Bluetooth connection, look no further. Samsung's SBH600 is premium in every facet, and is well worth the $99.95 that they will cost you at the WMExperts store.
Windows Central Newsletter
Get the best of Windows Central in in your inbox, every day!
George is the Reviews Editor at Windows Central, concentrating on Windows 10 PC and Mobile apps. He's been a supporter of the platform since the days of Windows CE and uses his current Windows 10 Mobile phone daily to keep up with life and enjoy a game during down time.
Probably a dumb question but to clarify, the Samsung SBH600 are headphones and not headsets, as in I cannot use them for conversations from my cell phone, correct? And if they are headphones and not headsets, can anyone recommend a good set of "audiophile quality" (as in, over the ears) bluetooth headsets?

I used to own these until I accidentally sat on them. Yes, you can use them for phone calls, but I wouldn't recommend it, especially if you're used to noise canceling headsets. They offer no acoustic shielding from ambient noise, so unless you're in a completely quiet area, they're more trouble than they're worth for that purpose. For music, they're absolutely top notch. I would've reordered them if I didn't find some $40 Sony BT headphones when the Samsung's were still setting for ~$130. They have great sound quality, are extremely comfortable to wear, and have all the controls in logical places.

I agree, great for music...not so much for phone calls.

I notice that many of these bluetooth headphones / headsets do not identify 'real' specifications such as frequency range i.e. 20Hz - 20KHz. I believe (not sure) audiophile quality would have a wider frequency range say - 8Hz to 28KHz. In this review, I again did not see mention of the usable frequency range. It is understood that when conversating over the phone the frequency range will be limited by the specification of the Cellular Air Interface which is typically heavily filtered to reduce occupied bandwidth. However for music etc, this type of specification becomes important.

Your first paragraph was correct, I could find anything in the specifications (online or included in the packaging) that gave any information on the frequency range.

Does any one have any idea how to get these head phones to work on a PC with bluetooth. I am running windows 7. I can pair the head set but cannot get music to play through them. Any suggestions would be appreciated.

everything i have read i would like to purchase a pair of the Samsung SBH600 BUT cant find them ANYWHERE. no one has any to seel anyone know where i can purchase a pair????? help i have a LONG trip in 2 weeks and would love to have them to use on it
Windows Central Newsletter
Thank you for signing up to Windows Central. You will receive a verification email shortly.
There was a problem. Please refresh the page and try again.