Review: Seidio Innocell Extended Battery for HTC Touch Pro2/Snap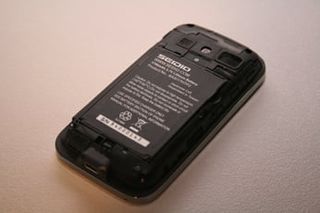 If you are rockin' an HTC Touch Pro2 (or one of the many carrier variants), chances are you are a power user when it comes to Windows Phones. For myself, the Touch Pro2 is the perfect form factor for a Windows Phone. The massive high- resolution screen, spacious QWERTY keyboard, in a fairly thin phone is the perfect balance of features and portability.
When it comes to power users, there is one feature that we can't seem to get enough of no matter what the specs are; and that is battery life. Traditionally, the quest for an extended battery meant compromises when it comes to portability because larger battery capacity meant larger physical size. Seidio's Innocell Extended Battery comes in an OEM form factor that gives you extended battery life without adding bulk or requiring a replacement battery door for your device.
For the full review of Seidio's Extended Battery, hit the jump.
Build Quality
I've used a number of Seidio products over the years and I haven't found a single one that suffered from poor build quality. The Innocell battery feels perfectly solid, with no flexibility or give to it at all. The battery fits perfectly inside the Touch Pro2, and doesn't require any fiddling or extra pressure to get it installed.
Performance
From a pure specification standpoint, the Innocell battery is rated at 1750mAh; compared to the standard HTC battery at 1500mAh. How much extra time the 250mAh gives you isn't an exact science, and will depend almost exclusively on how much you use and abuse your device. My own testing resulted in inconclusive hard data (the numbers were very close, but reproducing identical test scenarios was very difficult). Personally I gained around an extra hour or so when switching to Seidio's battery. My usage is fairly heavy throughout the day and I work in an area that is on the fringe of 3G coverage.
Conclusion
Personally, at $49.95, I found Seidio's Innocell Extended Battery to be a little on the expensive side; but I'm sitting at a desk for the majority of my time. On the other hand, if my primary battery were to fail, I would definitely spend the extra cash on the extended battery as it did give me a fairly significant boost in battery life.
If your phone always seems to be stuck on empty, or your battery just can't keep up with your habits; give Seidio's Innocell Extended Battery a look.
George is the Reviews Editor at Windows Central, concentrating on Windows 10 PC and Mobile apps. He's been a supporter of the platform since the days of Windows CE and uses his current Windows 10 Mobile phone daily to keep up with life and enjoy a game during down time.
I've used the Seidio batteries in the past for my HTC Touch. Worked perfectly and really sold me on the Seidio brand. Now, what I liked about the arrangement I had was the Seidio battery came with a charger, so I could use one battery while charging up the other one. Is there a (standalone) charger with (or available for) this battery?

I am ONLY interested if it comes with an external charger for the battery.

No there's not an external charger with the battery. I've had other Seidio Extended Batteries and didn't get a charger with them either. Does this work?

That looks like it'll work perfectly. Thanks

Cool. I've got one that I'm working up a review on now. Sneak peek, It works well and I haven't had any issues with it.

I Am starting to have issues with the Mobi Products Cradle w/ Spare Battery Slot for Verizon Touch Pro2 product. The issues are intermittent, at best, so I'm hesitant to blame the product just yet. This may just be a defective unit, but whatever the case, it's almost to the point that I can't rely on this product to make a Sync or Charge connection. However, I will probably consider initating the exchange procedure or RMA with Mobi(if exchange is not an option) because it is a nice product (when it works).The only feature that would make this product better would be to allow rotation into landscape. I purchased this product in late-Nov./early-Dec. of 2009 from the WMExperts Accessory Store. Issues/Workarounds:
There are times that the cradle will not charge my phone when docked; I can easily pull out the miniUSB that the cradle uses and my TP2 will instantly begin the charge connection. Other times I am having issues with ActiveSync/WMDC connection with this cradle; and I have confirmed that it's not my PC, the USB Hub, or the device by simply using a USB-to-miniUSB direct connection. I've also found that a (really)slight rock or tilt of the device in the cradle can cause disconnects.

I purchased this battery, from you all at WMExperts Accessory Store (Fast shipment!), and I can attest to the build quality. I would also consider myself a "power user" who enjoys every nook and cranny of these devices; from moding to flashing, and everything in between. I would say on average, with what I consider medium usage, I would get 24-36 hours with the OEM battery--with the Extended Seidio Innocell battery, and the same type of medium usage, I can get 36-48 hours. Two days without a charge is a major step up, and worth the price of admission. Still, if the tech is available, and works, it makes one wonder why it didn't come this way from the beginning.

for the same reason they didnt put flash on the tp2, just because they can doesnt mean they will

This is a good replacement battery or battery back-up. I have tested it for about a month now and notice that the juice you get about 10% compared with more OEM battery from HTC. I noticed that I had about 10-13% more power at the end of the day and that are of regular use to receive e-mail messages, make calls, text, and so on to note that you have to let the battery run through a few cycles the charger before I noticed that it is holding strong better. Would recommend the OEM battery.

Good day, where can i find a store that sells battery foe the HTC EVO 4G and a stand alone battery charger? Thanks

Good day, what i mean by stand alone charger is the battery cradle..thanks again

I would never buy Seidio products again after my last bad experience with their product and their sorry excuse for "customer service".
I bought a protective case and the thin band protecting the top of the phone broke shortly after. It is appalling that a company who charges over $20 for a flimsy piece of composite material that costs almost nothing to make refused to replace or make *any* concessions whein their product breaks after normal wear and tear in a reasonable amount of time. ... It is almost comical (I say 'almost' because it is rather insulting) that instead I was advised to go to their website and purchase a new one from them.
Windows Central Newsletter
Thank you for signing up to Windows Central. You will receive a verification email shortly.
There was a problem. Please refresh the page and try again.